(Eleuthera, Bahamas)  Lenny Kravitz's Let Love Rule Foundation and the GLO Good Foundation teamed up again for the 4th year, returning to Eleuthera offering free oral health care, to adults and children on the island for four days, from Friday, January 25th through Monday, January 28th, 2019 at the Parish Hall in Gregory Town.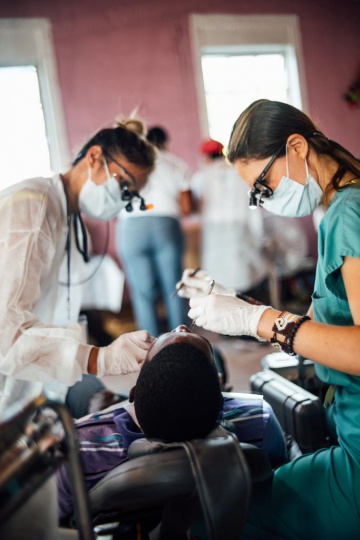 Key principals of the GLO Good Foundation, Dr. Jonathan Levine, and his wife Stacey Levine were on island with a full team of people from their New York based Dental Practice, to continue the work started in 2015. Mrs. Stacey Levine shared that in addition to special education times for children during the Saturday and Sunday, including essential tools like brushes, floss, and educational booklets, fun activities like yoga had also been added. "More than 100 people were seen on the first day," she said on Friday evening, adding that the team had arrived on Thursday to set up the temporary dental clinic facility at the Hall.  By end of day on Monday, the team had treated more than 500 people, and had screened over 100 children.
During an interview in 2016, Lenny Kravitz, a twenty year resident of Gregory Town, Eleuthera, who calls the township home, shared that he had a goal to have a medical and dental center here in Eleuthera that he wanted to build for the people.  At that time, he said, "Sometimes you have to just open your eyes and see what's going on around you.  A lot of times when people think of charities they think of these things where you have to go abroad, and these big ideas, which are wonderful, but there are things going on right in your own backyard.  Something that my mother taught me from a very young age is that charity begins at home, and this is my home."
So, what originally began as just friends visiting Lenny Kravitz for the weekend, has blossomed into an annual free oral health care event for Eleutherans, which they plan to continue.  The Levine's New York City Esthetic Dental Practice offers prosthodontics, endodontics, oral surgery, as well as periodontics.