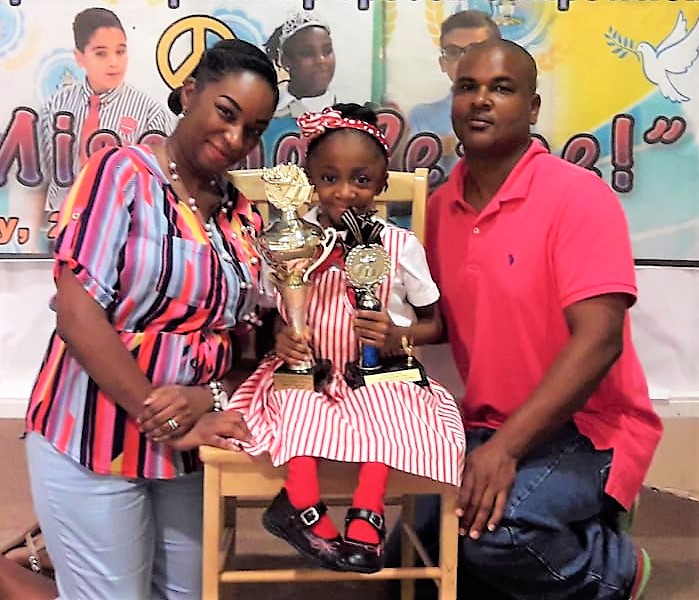 Truly an inspiration, 9-year-old Tamia Alexis Knowles, an intrepid 4th grader at the Emma E. Cooper Primary School in Palmetto Point, Central Eleuthera, claimed 2nd Place in the National RK Speech Competition, hosted in New Providence on Friday, November 23rd, 2018.  She competed amongst a group of thirteen 4th, 5th, and 6th grade student finalists from school districts throughout the Bahamas.
Tamia's story is one of overcoming personal challenges.  She was born with a genetic condition called 'osteogenesis imperfecta', better known as 'brittle bone disease'.  Despite her physical trials, she has consistently been a top performer throughout her four years in primary school, and has now taken that success to the national stage.
Before competing in New Providence, Tamia won the Central and North Eleuthera district RK Speech Competition, beating out seven other students, each winners in their own right, having each won at the school level to be able to represent their schools.
A popular item on the primary school calendar in Eleuthera, the annual District Religious Knowledge Speech Competition, took place for the second year in two different locations, since the split up of the Eleuthera School District into North and Central (from Savannah Sound going north) as one separate school district, and South Eleuthera (Tarpum Bay going south) as another, in 2017.
In the Central and North Eleuthera school district, eight young students (one from each primary school) from grades 4, 5, or 6 in their respective schools, competed in the Speech Competition, battling it out to be named as the top primary orator.  The young speakers spoke on the theme, "The Missing Peace", at the Methodist church in Gregory Town, on the morning of Friday, November 9th, 2018.  Competitors included; Tamia Knowles of Emma E. Cooper primary school, Lavaal Fernander of Governor's Harbour primary, Tamia Major of Gregory Town primary, Alexia Oliver of Harbour Island All Age primary, Kaynia Minnis of Laura L. Anderson primary, Kourtney Bethel of James' Cistern primary, Kya-Bre Roberts of Samuel Guy Pinder All Age primary, and Neikeelah Johnson of P.A. Gibson primary.
One audience member, taking in the well-prepared speeches, commented that all of the entrants were great, and could empathize with the judges having a tough time.  In the end, just two points separated third and first place.  Tamia Knowles of Emma E. Cooper primary, whose performance was described as fantastic – with a strong voice, confident delivery and perfect grammar – was rewarded for her talent, tenacity and courage, just beating out her competitors to take the 2018 win with 285 points.  Lavaal Fernander of Governor's Harbour primary kept her school near the top, coming in an extremely close second place, with 284 points, and Neikeelah Johnson of P.A. Gibson primary, hot on the trail, took the third top spot of the morning competition, with 283 points.
Held on the same day, the Religious Knowledge Speech Competition hosted in the South Eleuthera school district, at Fountain of Life Ministries in Rock Sound, had a slightly different format, with two to three students from each of the five South Eleuthera primary schools taking part – 14 competitors in total, this year.  This was to give the widest opportunity for exposure to the children in the competing schools, explained District Superintendent (DS) Mrs. Gibson.  Final results from the sizeable pool of competing students saw Tarpum Bay take second and third positions, with Gianni Meadows of Tarpum Bay primary in third place.  Javanna Rankine also of Tarpum Bay primary, finished once again in second place, repeating her excellent 2017 performance.   Jayda Burrows of Deep Creek primary school, who placed third in 2017, was awarded the top finish on the day as the overall South Eleuthera winner for 2018.