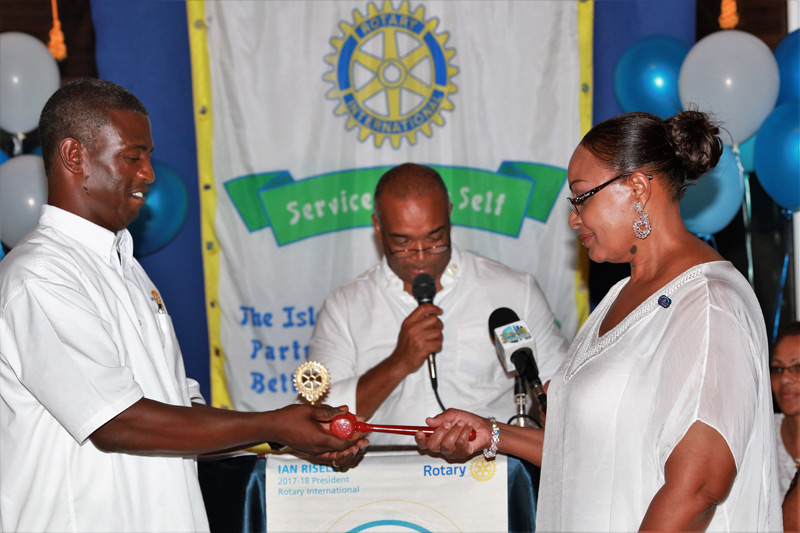 In an elegant all-white attire affair, the Rotary Club of Eleuthera, hosted their annual 'Change Over' event, where outgoing President Colin Moss symbolically passed on the President's gavel to incoming President Sherrin Cooper.   The event, hosted at Mrs. Cooper's Unique Village Restaurant, saw scores of community members from throughout Central Eleuthera come out in support of the Club and it's commencement of a new year, under new leadership.
Before pinning the new President, Colin Moss recognized two very special people, who contributed selflessly during his 2016/2017 tenure.  The first was Susan Culmer of Palmetto Point, who he awarded with the 'Rotarian of the Year' award for the Club.  Brian Carey of Tarpum Bay, was also recognized and awarded for 'Service Above Self' during the past year.
After receiving her instruments of leadership and taking her oath, with the assistance of Asst. Governor Timothy Ingraham, new President Sherrin Cooper addressed the capacity audience of colleagues, friends and well-wishers and lauded her fellow Rotarians for their commitment, dedication and enthusiasm, that they each displayed, and which had impressed her since attending her first Rotary meeting, she said.  As a former nurse, and well acquainted with serving, she expressed that at that meeting she knew that she was in the right place.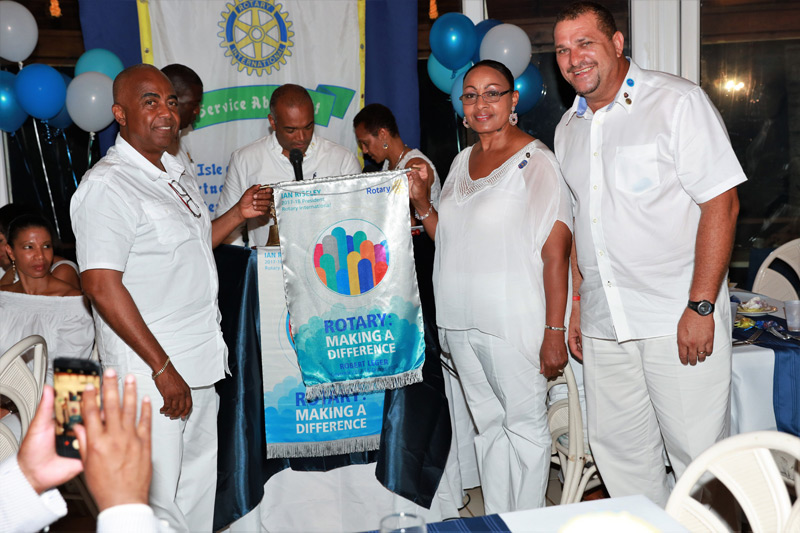 Mrs. Cooper stated that she would take inspiration from the Bahamas' theme for Rotary – "Grow stronger, Serve better", and would aim this coming year to work even harder.  Her focus areas would include, the island's youth – emphasizing peace and conflict resolution, primary school literacy, and PTA support; as well as healthcare – specifically prevention and support for the Cancer Society's mammogram machine project.
"We have our work cut out for us Rotarians, but I know that you can do it, because I've seen you all in action," encouraged new President Mrs. Cooper.  "At the end of my tenure, I would like for our Club to continue to be recognized as a strong and unified organization with a visible presence, because we focus on programs and activities that support youth, young leaders, and the community at-large."