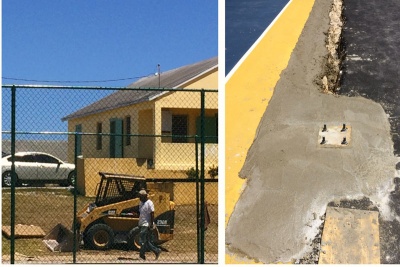 ELEUTHERA, Bahamas — A near $200,000 investment in a basketball/volleyball court and rock climbing facility at the Wemyss Bight Primary School by the grandson of the founder of Pan American Airways is set to create new opportunities for the South Eleuthera community.
Construction on the new Wemyss Bight Primary School Recreational Court has been ongoing for the past three months, led and financed by William "Doug" Douglass – who in 1994 co-founded investment firm K2 Advisors, now part of Franklin Templeton Advisors (FT).
Mr. Douglass has been coming to Eleuthera since 1962 and is the grandson of Pan Am Air founder and South Eleuthera resident Juan Trippe who died in 1981.
"This island and this community in particular meant a lot to my grand parents," said Mr. Douglass. "They envisioned that South Eleuthera was going to be the next big spot for the world and they had the confidence not only in the island's beautiful sea and land but more importantly its Bahamian people.
"Since Mr. and Mrs. Trippe's passing the economic activity of South Eleuthera has deteriorated. So today I'm happy to see the recent movement of bulldozers and work in The Original Cotton Bay. In addition, the recent announcement of The Jack's Bay development is great to hear.  I know that there is a lot left to be done on the charity for the lovely people of Eleuthera and that is where I am stepping in."
Mr. Douglass and local contractor Carey's Construction mobilized nearly one-dozen workers from throughout the island to construct the 92" x 50" cushioned court and 9 ft. high rock climbing wall. The recreational court will serve as a hub for community games and has already been tapped as an ideal location for an upcoming competition involving athletes from neighboring countries.
These are the kind of opportunities that Natasha Bethel-Sands, principal of the Wemyss Bight Primary School, is looking to see become more readily available to her students and other children in the surrounding settlements.
"We had one old swing that didn't have any seats and one basketball rim for the community that kept on breaking," she said. "It was not ideal, so this world class facility is a tremendous asset for the school and for the entire area, because Wemyss Bight encompasses so much of South Eleuthera.
"This gives us the proper exposure right here in Wemyss Bight and this court can touch so many people because we are central. Chris Brown came from here and who knows? The next big athlete could come right from here because of this."
The state-of-the-art recreational court is set for completion early April and will be dedicated in memory of Juan and Betty Trippe.
Source: Press Release