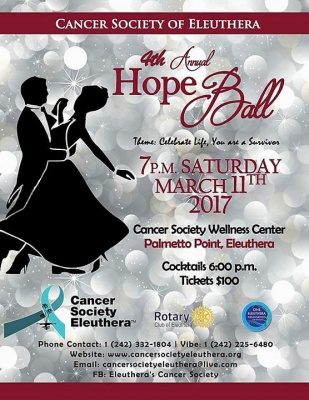 The Cancer Society of Eleuthera will be holding its 4th Annual Hope Ball on Saturday, March 11th, 2017. Cocktail hour will commence at 6:00 pm and the main event to follow at 7:00 pm.  Organisers promise that it will be "a beautiful night".
Themed as "Celebrate Life, You are a Survivor",  the  event will take place at the Health & Wellness Center located on Queen's Highway, Palmetto Point, in Central Eleuthera.
"This year we are seeking to connect and partner with families and church families and local businesses on the island of Eleuthera who have been affected by cancer first hand," shared The Cancer Society in a release.
"Our goal is to highlight cancer survivors on our island by honouring those that are still with us and remembering those that are no longer with us. A beautiful photo of their loved one will be displayed at each table. Each table can seat 12 persons and ticket donation per person is $100.00."
For this grand occasion they have scheduled  a dynamic Master of Ceremonies, Mr. Matthew C. Rolle I, out of Nassau, Bahamas. A selection of planned entertainment include:  the famous Freedom Marching Band; 2 talented local soloists, Malikah Pinder and Lateka Culmer who will serenade guests with their beautiful voices; a touch of comedy by the Master of Ceremonies, a very young and talented trumpeter from Nassau, Matthew C. Rolle I;  disc jockey Philip Bodie and; a talented spoken word artist, Shelly Elisee.
Candace Taylor will be the photographer for the evening
There will be 'prizes and more prizes'.
Delicious food and dessert will be served.
Tickets are available at the  Health & Wellness Center's office in Palmetto Point. Contact the Cancer Society of Eleuthera for more information: call 332-1804; email cancersocietyeleuthera@live.com; web www.cancersocietyeleuthera.org.