(Eleuthera, Bahamas) – Scores of cyclists were out bright and early on Saturday morning, February 18th, 2017 in support of the Ride For Hope (RFH) event, which sees riders traverse as many as 100 miles along Eleuthera's rolling hills and gorgeous coastal scapes, all in an effort to raise vital funds towards fighting cancer.  After a brief foray into New Providence for the 9th staging of the Ride For Hope, Susan Larson and Stephen Holowesko, original founders as well as siblings, returned to the place where it all began in 2006 for the 10th Anniversary event, choosing to host it this time against the back drop of the Cocodimama property on Alabaster Bay (Brownie Beach).
During an interview with Susan Larson on the morning of the event, she explained their main goals, saying, "We always have two main goals.  Our first goal is to put on a very memorable and safe event for our participants.  Our second goal is to raise as much money as we can for a very critical cause."
Recognizing some of the invaluable people components of the event's success to date,  Susan highlighted, "We have so many people that help us, beyond the cyclists, an incredible group of volunteers.  They give of their time and make the day very memorable for the participants.  Also, our corporate sponsors, who for the past ten years have underwritten the cost of staging the event.  That's an incredible thing, because it has enabled us to commit 100 percent of the funds that the cyclists raise to cancer causes.  Not many events around the world can say they can commit 100 percent of those funds raised, and the only reason we can do that is because of the generosity of our corporate sponsors."
RFH, noted Susan, had grown bigger and bigger each year, however, there were concerns that had to be resolved, she shared, "Our event this year is by design, smaller than past years.  We found that between year one and year nine, the amount of money that each participant raised was decreasing significantly.  In fact, over that period of time it had decreased by 70%.  The cost of the event was also increasing, so we had the wrong trajectory going with expenses increasing and funds raised individually decreasing.  As the popularity of the event elevated, the commitment to serious fundraising was not also there.  So we wanted to fix that."
She continued, "We recognize that everybody has a choice of events to participate in.  When we first started the Ride For Hope there were no cycling events that were raising money for cancer.  Now there are quite a few, so people who want to contribute to cancer causes have a variety of options now.  So we raised the individual fundraising minimum this year to $500, and we focused on people who have tried to meet that minimum goal and also raise more funds, and we want to celebrate the fundraising achievements of the cyclists.  The people that are participating, some 150 riders, are doing some serious fundraising."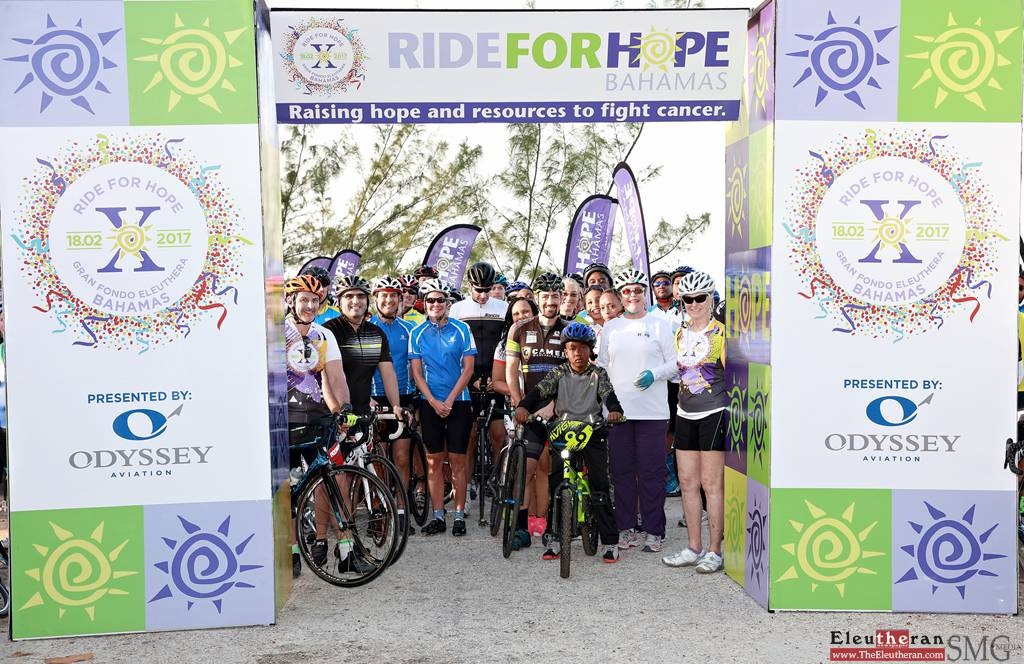 Susan Roberts, Founder of the Cancer Society of the Bahamas in 1976, was also on island in support of the Ride For Hope, which has contributed in major ways to the ongoing work of the Society.  Mrs. Roberts was also joined by current President of the Cancer Society of the Bahamas, Mrs. Lovern Wildgoose.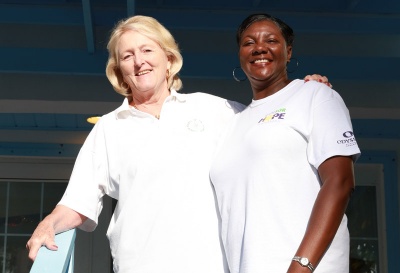 "Eleuthera is such a vibrant branch," said Mrs. Roberts, adding, "And such a huge part of our Society.  We've helped many Eleutherans, and it has a lot to do with the building here which was completed with funding provided by the Ride For Hope.  We are very proud of what we've been able to do on this island, but it is because of the volunteers who work here, and people who help generally within the community.  It's made them so much more aware of cancer.  We were here last week doing free pap smears and prostate screenings, and all of that makes everybody aware of their own bodies, their health and the importance of it, and how vital early detection is.  We have some wonderful stories and people from Eleuthera who we meet and who are doing so well.  It makes us continue."
The Cancer Society of the Bahamas also runs a Care Center in New Providence, where they house people from the Family Islands – free of charge – who travel into the capital for their treatments, also providing them with transportation to and from their appointments, as well as general care.  Mrs. Wildgoose highlighted that the majority of people going through the Center, come in from Grand Bahama and Eleuthera.
Mrs. Roberts expressed how grateful the Society was for the continued support from the Ride For Hope organizers, of this vital service.  Future plans for the Care Center in New Providence include a $3 million dollar extension, to provide hospice care as well as daycare services to Nassau patients.  With two hurricanes affecting the country during the past two years, causing priorities to shift, Mrs. Roberts shared that they were effectively treading water with regards to fundraising for the extension project during those two years, however, with the start of a new year, a new thrust has also been seen. Mrs. Roberts, with a bright smile and unwavering optimism added, "It's all good!  We are going to get there.  We have terrific, amazing faith between us all, and we know we are going to do it!"