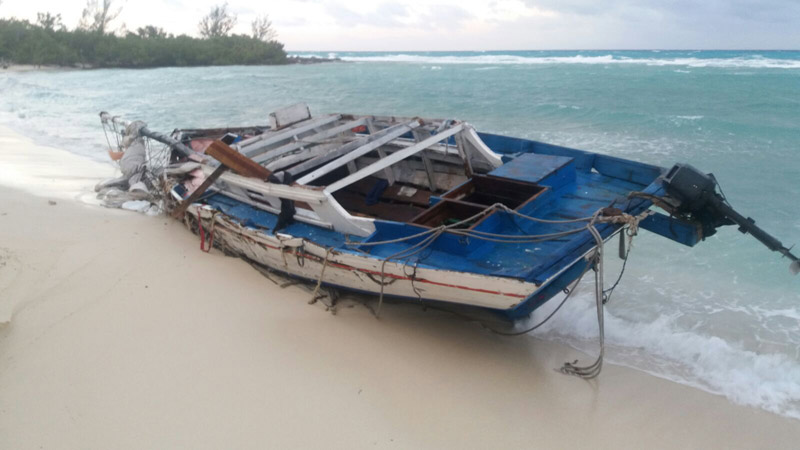 A capsized Haitian vessel, with an outboard engine attached, was discovered on Sunday evening, January 22nd, 2017, on the coast near Bannerman Town in South Eleuthera, at about 10pm.  Police and Immigration after searching the surrounding areas, as of 10am on Monday, January 23rd, had taken eight (8) Haitian nationals into custody – five (5) males and three (3) females.
Two additional people, also of Haitian nationality, with up- to-date documentation to be resident in the Bahamas, were reportedly found lurking in the area, and were arrested on suspicion of being connected to the landing.
The call, reporting suspicious activity in the area where the boat was found, came in to the Rock Sound Police station sometime before 10pm on Sunday evening.  Both Police and Immigration responded, resulting in the discovery of the capsized Haitian vessel and the subsequent search throughout the night and early morning.
Update: Monday evening, January 23, 2017
An intense search throughout the area surrounding Bannerman Town beach continued throughout the day on Monday, resulting in twelve (12) illegal immigrants of Haitian nationality being taken into custody from the area near the beach landing.
Further investigations on Monday led officers to Cupid's Cay, Governor's Harbour, and acting on information, they were able to take another large group of illegal immigrants into custody.  By end of day on Monday, a total of twenty six (26) illegal immigrants had been taken into custody – nineteen (19) males and seven (7) females.
According to authorities, arrangements have been made for the group to be transported to New Providence on Tuesday morning, January 24th, 2017.  The two residents taken into custody on suspicion of facilitating the landing will reportedly be placed before the courts, also on Tuesday morning.