(Eleuthera, Bahamas) – One of the highlights of the Eleuthera school calendar is a speech competition where the upper primary school students battle it out, annually, to be titled as the top primary orator on the island. On Friday, November 11th, 2016 a bright cadre of youth from the primary schools, once again demonstrated true talent and creativity, with well thought out speeches that tackled the topic of 'Love' changing the world from their perspectives.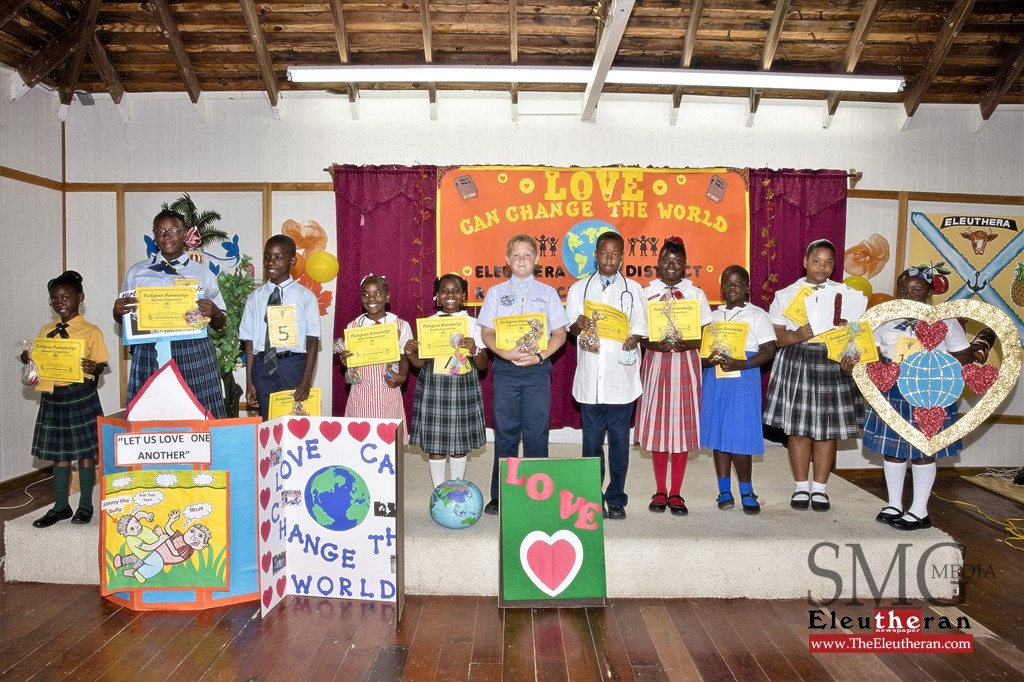 In their inspiring young voices, some of the students shared  personal experiences of bullying and how they overcame it.  Others spoke of real, tangible ways to show their love to others every day, with simple actions, like sharing, giving and caring for their fellow students, as well as small ways of having loving impacts in their communities, through actions such as supporting food drives and fundraisers for community outreach at their schools.
As required, the competitors drew from scripture passages in the Bible to support their points of view – in this annual  Eleuthera School District Religious Studies Speech Competition.
Tasked with judging this year's competition were, BPL Island Manager, Mr. Robert Hall; Methodist Leader, Mrs. Elmena Bethell; and Central Eleuthera High Headmistress, Mrs. Parry Sands-Culmer as head judge.  "We think they did an excellent job," commented Mrs. Sands-Culmer, adding, "They did a lot of research, and because they had the support of their teachers, and their parents, we noticed that they did a lot of practicing.  There were some who were able to go up there and say their whole speech without even looking at their papers, so they did an excellent job.  This is the best one I've been to so far!"
.
Michaella Lockhart of North Eleuthera primary was awarded with third place. Lynette Farrington of Rock Sound primary took second position, and Branae Panza of Emma E. Cooper primary was announced as the overall winner of the very competitive field. Mrs. Sonia Lewis, Branae's coach, commented after the announcement, saying, "She's a natural.  Most of what you've seen was all her…  I am very proud of her, and I know the school and Principal Mrs. Crean are proud as well.  Everybody was excellent… coming down to the end I was a little scared, because there were many other students that really came to win, and they showed it.  So all of them did really well."
Education District Superintendent for Eleuthera, Mrs. Helen Simmons-Johnson, in a brief interview after the competition, stated that the themes used during the past four years that participating students were exposed to were meant to build character, and could help students to develop to be the kind of citizens they ought to be.  "When you think about – Love Can Change The World – and one participant saying 'I'm not going to tell you why love can change the world, I'm going to tell you how it can happen.  Another said, 'Let me list what I am going to do to make a difference'.  I'm impressed, and I always am when our students have the opportunity to grow."  She also expressed that the school based speech competitions were even more important, allowing even more students to get this kind of interaction to help make a difference in their lives.
The overall winner would have gone on to represent the district in the national Religious Knowledge Speech Competition in New Providence, normally held late in November, however, due to the time lost by numerous schools in the capital, Grand Bahama and Andros, the 2016 national competition was canceled.