(Eleuthera, Bahamas) – While Eleuthera for the most part is safe, Category 4 Hurricane Matthew brought great destruction to the islands of New Providence, Grand Bahama and Andros, disrupting the tranquility and physical environment of many.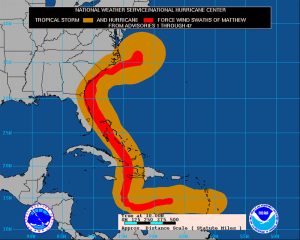 Located in the Northwest section of the archipelagic Commonwealth of The Bahamas, these islands endured the constancy of a major storm with winds gusting to over 140 mph. The challenge is that these islands represent more than 80% of our population. Hurricane Matthew was unrelenting, moving over these low lying islands at approximately 12 mph for two days, leaving destruction in its wake, displacing hundreds of persons!
We have learned that minimal lives were lost (no confirmation of numbers), however, there has been severe damage from flooding and storm surge on the islands of New Providence (Nassau, our capital), Grand Bahama and Andros. Many public and private buildings, schools, churches and vehicles have been destroyed.
The residents of these islands will need all the help that we can give them. There is an immediate need for non-perishable food items, water, ice, sanitation items, building supplies, volunteers and monetary donations.
Our brothers and sisters need us to help them rebuild their lives and communities. There will be ongoing need of physical labour to help rebuild homes and other buildings.
We encourage all those that are able to travel to please let us know what specific skills you might have. We are grateful for all those who work in every way to provide the necessary resources and offer helping hands to assist the people in these island settlements to rebuild their lives. This is a first response to our partners both internationally and locally to provide information to people and agencies that you may contact and groups that you may partner with, in the coming days, weeks and months to respond with the kind of help and resources that will assist the devastated areas.
As an initial first step we invite you to please contact the following persons by phone or email to see how you can help:
The Rotary Club of Eleuthera
Colin Moss, President
Colmos70@hotmail.com
242-454-4849
Susan Culmer, Treasurer
onesue28@gmail.com
242-359-7969
Juanita Pinder, Secretary
juanita.pinder@gmail.com
242-422-9261
Audrey Carey, Service Projects Chair
audreycarey@oneeleuthera.org
242-470-8228
Rotaract Club of Eleuthera
Shapreka Clarke, President
shapreka@gmail.com
242-553-5762
One Eleuthera Foundation
Shaun Ingraham
shaun@oneeleuthera.org
242-334-2948
Source: Press Release – Rotary Club of Eleuthera.