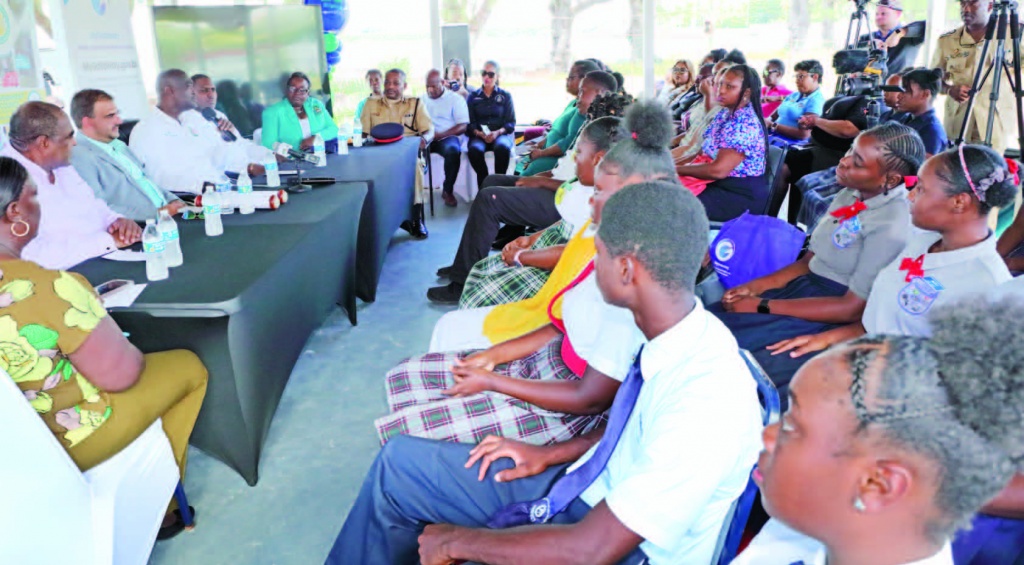 At 12 noon on Thursday, September 28th, the Department of Local Government hosted a special proclamation ceremony, for the announcement of the date set for upcoming elections of junior local government councils to be held in more than 30 schools across the country as part of the relaunch of the junior council program.
No effort was being spared in the relaunch, which aimed to immerse the students taking part in the full experience of the parliamentary electoral process and how it is conducted, beginning with the proclamation ceremony and forum, which saw officials from a number of relevant government agencies and departments come together on the grounds of the administrative complex in Governor's Harbour, Eleuthera to take part in a comprehensive information sharing session, and question and answer forum, for the benefit of a group of student leaders, selected from the five public high schools in The Eleutheras, taking part in the national relaunch push.
Assistant Commissioner of Police, Craig Stubbs, with responsibility for public safety and community policing, along with his colleague Chief Superintendent of Police, Anthony Rolle, responsible for Urban Renewal were on island to assist in reading the formal declaration of the date set for the junior local government council elections, to take place across the country on October 19th – in the same way that the Commissioner of Police takes on the role during the national general elections process.
Minister of Works and Family Island Affairs, the Hon. Clay Sweeting, during his remarks to the audience gathered, said that local government since its inception had been a catalyst causing many Family Island communities to thrive economically and socially. "When local government is enacted and properly functioning, we see that those communities experience an ease of doing business and a healthier population and thriving community. Today we recognize that as with every industry, and with every profession, we are only as good as those we educate and empower. So, in order for local government to survive for changing trends, we must ensure that the next generation of leaders, sitting with us today, and of our many communities and our country, can gain the experience and the understanding of the practice and necessity of the organization…
He continued, "We have to be strategic in what we teach them (our children), and train them in our customs so they can continue with our heritage and our legacy. This initiative is the Department of Local Government's feeder program. It is not new, but this revamped program is more robust, multi-functional, and it is intended to be deliberate with its outcomes.
"Firstly, there are more schools involved, with more than thirty in the Family Islands and one in New Providence. There will be meetings held with leadership at the Department of Education and with independent school executives. Secondly, it involved cross-section coordination of government ministries, agencies and departments. National Security provided the Parliamentary Registration Department training for all, coordination of a junior local government election process, and I am advised a first of its kind in the region and unheard of elsewhere. They will have voters cards, ink, registration – everything. Just how poll workers are paid for national elections and local government elections, these students will receive stipends as well."
He further informed, "Minister of National Security along with the Commissioner of Police, have allowed the air wing to assist in distributing the voting boxes and booths in various family islands. And to make this event similar to that of national elections, the Commissioner of Police has directed that a senior gazetted officer in to act as a Provost Marshall in reading the proclamation and announcing the election date. Even further, the Minister along with the Commodore of the Royal Bahamas Defence Force had agreed for the use of their assets – both air and sea, to assist in the distribution of election materials.
"For the first time, the students elected to form these junior district councils will receive an operational budget, hence the need for the Post Master General's involvement… The post office savings bank has a presence in each district, so, it was a no-brainer in having the local government junior council open accounts with the post office. We are grateful to Ms. Mabeline Miller and her team along with those school coordinators who will oversee the component, along with the principals, and those participating in the schools."
He added, "We know that this will take up some of the instructional time, and also know that it will call for more sacrifices to make this a success… There is to be a stipend for both coordinators per school which will be considered as minimal at best. The students will campaign, and the successful ones will form a five, seven, or nine member district council at the participating schools. They will hold monthly meetings and will discuss and debate matters as it pertains to the school environment. They may appoint boards, and will be mentored by principals, teachers, coordinators, local government district councils, and the Department of Local Government. But all the decisions within the parameters of the schools regulations and guidelines will be theirs."
Minister Sweeting called on the young students present to be transformative, respectful, to be agents of change, humble, good listeners, and to model the type of leadership they themselves wished to see.
Agency heads that came together on Thursday afternoon in the information forum held in Governor's Harbour included; Deputy Post Master for the General Post Office, Mabilene Miller; Acting Parliamentary Commissioner, Arthur Taylor; Parliamentary Secretary, Leonardo Lightbourne; Administrator Kristen Palacious, Unit Head for Local Government; Acting Permanent Secretary, Ministry of Family Island Affairs; and Assistant Commissioner of Police, Craig Stubbs.