Deputy Prime Minister (DPM), the Hon. I. Chester Cooper along with Member of Parliament for North Eleuthera, the Hon. Sylvanus Petty, accompanied by Director of Aviation, Dr. Kenneth Romer, and other officers from the Ministry of Tourism, Investments and Aviation (MOTIA), the Ministry of Works, and Airport Authority, hosted a town hall meeting at the Trinity of Praise Ministries location in Lower Bogue, during the evening of Wednesday, September 20th, 2023.
The stated purpose of the meeting was to update the North Eleuthera community on the status of the North Eleuthera airport, and inform them of the government's short term, and longer term plans for the facility.
Along with North Eleuthera mainland residents, sizeable contingents of Harbour Island and Spanish Wells residents were also in the audience, mainly associated with the local government district councils, and other stakeholders closely tied with operations at the North Eleuthera airport.
Deputy Prime Minister Cooper, when asked about why he thought it important to be there in person at the town hall meeting on Wednesday evening, replied, "I understand how significant the airport is for the people of this area of north Eleuthera – how significant this airport is for tourism and the economy, and I wanted to personally come to say to them, notwithstanding that it has been a while, we are committed to having it completed by 2026.
"I think hearing that from me would be important for any family islander and I wanted to be here this evening to let people know that we understand that there has been much discomfort in terms of the operations, in terms of guests standing in the elements, and for our residents traveling back and forth having to endure the poor conditions of this airport. So, we feel the pain of the community and we are doing something about it. I think that's the primary messaging today, and most importantly, a commitment to 2026 – to have it completed – is the message I wanted to leave."
Aviation Director Dr. Romer, addressed the capacity audience, saying, "We have come this evening as a commitment to not just expedite the required upgrades, but to engage the community, because we don't have all the answers. This is the beginning of a series of town meetings. We want to be able to have you as participants. So we are not just presenting options, with you outside looking in. You have a seat around the table, and will be able to make decisions to determine how you benefit from the airport infrastructure in North Eleuthera."
He then detailed his visit to the airport more than a month earlier, citing some of the poor conditions seen, and the problems acknowledged firsthand. Then he described some of the quick fixes executed to bring small relief, including new airconditioning, fans and new seating… "If we could have done it in two weeks, I am sure that we can come to some medium term solutions to remedy the inconveniences passengers are experiencing while they check-in, sitting/standing in the hot sun…" Referencing the government's Family Island Airports Renaissance program, he added, "We have a plan, with a structure, and objectives, and we are going to do right by North Eleuthera, as we will do right for all of the islands…"
DPM Cooper in his address to the crowd, lauded the determination of MP Petty in pushing for the airport upgrades, and commented on the expanded expectations for the location, saying, "In your member of parliament (referring to the Hon. Sylvanus Petty), you have a fighter. He is committed to getting the job done… My job is to make sure that we get it done quickly… The airport is the gateway to your community, and we recognize the significance that it brings – not only does it bring tourism guests, but it drives the economy around the airport…
"We hope that this airport will not just be a transit point and a gateway, but that we will see an economy built around this airport. So, as we speak further, I want you to consider what opportunities might exist, because we are not just building structures for the purpose of building structures, but we are building them for your benefit. The third reason why this airport is key, is because it will continue to have developers. And if we drive tourism, we drive the economy, and if we drive the economy, we get jobs and entrepreneurship for our people…"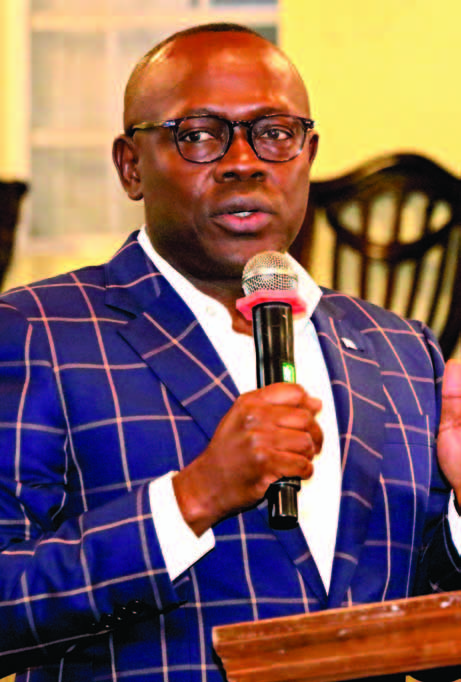 Talking further about tourism as well as investment performance figures for the country and the island during 2023, DPM Cooper informed, "When we compare our tourism numbers against 2019, overall we are 30% ahead of where we were in 2019 in The Bahamas. But when we look at Eleuthera, we are 44% ahead. So, you are doing what you are supposed to do, and taking advantage of the momentum that we've built… Investments are another part of my portfolio, and overall for all 16 of the major Islands of The Bahamas we have attracted $7 billion of new investments we have approved in the last two years. Of that $7 billion, even though there are 16 islands, Eleuthera got $1 billion of the $7 billion. So, you are holding your own with tourism, and you are holding your own in investments."
Returning to the topic of medium and long term solutions for the North Eleuthera airport in particular, DPM Cooper revealed, "In the medium term, we have acquired some temporary facilities to ensure that your guests, and you and your families are not standing in the sun when it is time to board a plane. If you have traveled to Grand Bahama on Western Air, you will know that their departure lounge is a temporary facility. We have acquired that facility, and we are bringing it here to North Eleuthera.
"It can seat more than 100 people. As soon as we can get it here, it will provide some relief. So, we hear your cry – your MP has been fighting, and we are doing something about it. This is not a permanent fix, but it's no small deal either – with a cost of a couple hundred thousand dollars. We want you to know that we are putting our money where our mouths are, in addressing the problem. And that should happen reasonably soon."
He continued, "We are doing this, because we do not build an airport overnight… We project that it is going to take two years to build the new North Eleuthera airport… So, I say two years, but we want it done faster. Our plan is to get the airport done in the shortest possible time frame. I am happy to tell you that as a result of the Family Island Airport Renaissance program, and the work that our team have been doing, we have prioritized the North Eleuthera airport…"
DPM Cooper went on to say that the North Eleuthera airport's design would be similar to the design of the new Exuma airport, which had already begun construction before the change in government, but had been stopped as there was no funding in place. He announced, "This week cabinet approved a loan facility to complete not only the Exuma airport, but also approved the money for the North Eleuthera airport… It is my commitment to you that it is going to be completed by 2026. That is my commitment."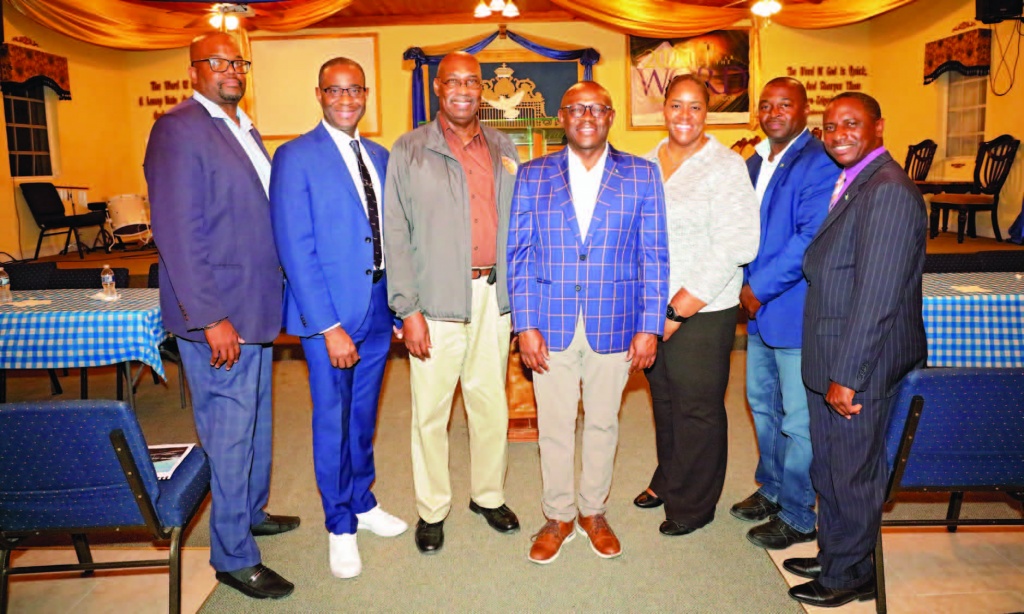 During the remainder of his presentation, DPM Cooper showcased the proposed preliminary design elements of the new North Eleuthera airport facility, including both the land side and air side. The designs, it was also pointed out, took into account both resilience and sustainability, especially in light of the category 5 hurricane experienced in Abaco and Grand Bahama.
DPM Cooper also highlighted the desire of the government to encourage Bahamian investment in the tourism industry, and spoke about the recently created Tourism Development Corporation to aid that goal.
A robust question and answer session followed the presentations, where community members expressed support for the plans presented for the new airport, and asked a number of questions, ranging from land concerns to  the possibility of pre-clearance facilities.
Notably, representatives of the Harbour Commonage were also in attendance. Along with expressing their wholehearted support for the airport expansion, commonage members emphasized their main concern as being good faith engagement and the receipt of compensation for the use of commonage land.
Former administrator, Mr. Harvey Roberts of Harbour Island, also introduced to the audience a community committee called the 'North Eleuthera Aero Association', put together by Mr. Sylvanus Petty, Member of Parliament for North Eleuthera, made up of a cross-section of North Eleuthera residents, to assist both him and the central government with getting the airport up and running by 2026.
Mr. Roberts explained, "We are going to help the member of parliament and the main group. There are some things that need to be done at the airport. So we will solicit some funds and donations, to get some things done ourselves to start the ball rolling. When the modulars come, we will try to beautify them, so they look presentable. We need to do some work on the current airport roof – so, we will try to get some donations to start working on that. We will aim to get the ball rolling."