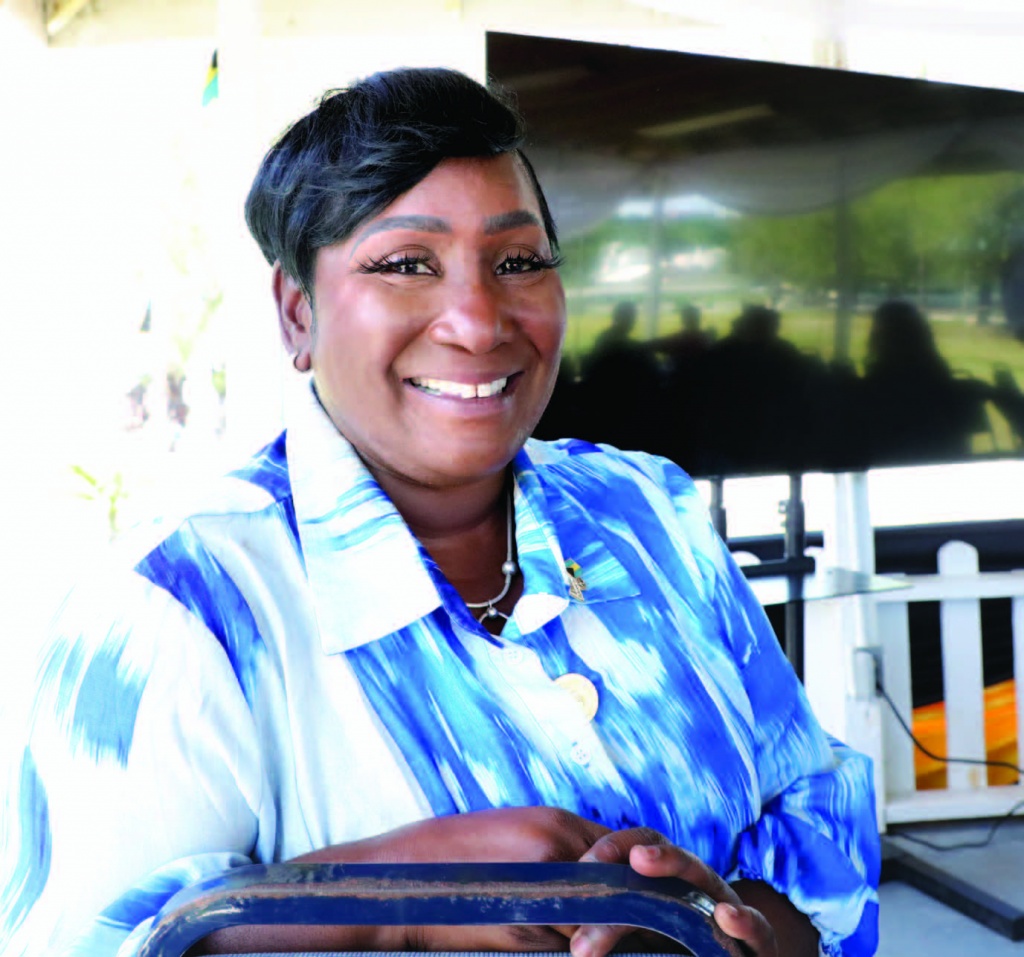 The Central Eleuthera administrative district saw a change in leadership recently, when administrator Earl Campbell was relocated to the Exuma district, and administrator Rochelle Anderson – who had been based in Exuma, was posted to Central Eleuthera. She arrived on island early in September 2023, and hit the ground running, displaying a zeal and eagerness to excel in her service – immersing herself in community events, getting to know her team, and pulling off the planning of several events, spearheaded by her office in just a few weeks in the new post.
During an interview on Thursday, September 28th, Ms. Anderson, shared a bit about her experiences before arriving in Eleuthera, her vision for her new posting on the island, as well as her take on the important role that local government plays within communities throughout the Family of Bahamian Islands.
Ms. Anderson, revealing that she was quite new to administration, said that she entered this new career path in September of 2022. "So, I recently celebrated my one year anniversary as an administrator. I was a teacher for 27 years – teaching both English Language and Literature. I've taught in Nassau, Grand Bahama, Exuma, and Long Island."
When asked about what had prompted the change in career, she explained, "It was just a change in path direction. I believe in giving back to my community, and I see the family island administrator's platform as a larger platform, where I can do more for my country. More for my communities and for people where I am appointed to serve."
Her first year, serving as an administrator, said Ms. Anderson, was a very good one, "I was in Exuma, and the entire year has been good, a great experience. Everything has been a learning experience, and with learning comes growth – and more empowerment, because you have that knowledge. So, Exuma was also great in that I would have been there before as an educator, and then returned as an administrator, twenty years later. So, the people I was serving would have been former students and parents and people that I knew.
"Coming here to Eleuthera now is another great experience, because my roots are planted in South Eleuthera. My Eleuthera connection is my grandfather Reginald Anderson, who was from Deep Creek, South Eleuthera. My mother, and all of her siblings were also from Deep Creek."
Comparing the two islands, Ms. Anderson described, "With Exuma, it's actually exploding. There are two townships in Exuma. You have three main areas – the Cays, Mainland Exuma, and Ragged Island. The mainland is made up of two townships, then you have the Cays – including Staniel Cay, Farmer's Cay, and Blackpoint. Then Ragged Island. The responsibilities in Exuma would differ a little from Eleuthera, in terms of economic growth. There, you have more influence from foreign investors and investments – so, you interact more with that foreign element. You still have the local community you are working for there, but here in Eleuthera the main focus are the local residents. So, the responsibility load is more in terms of our locals compared to Exuma.
"It's also a balance. I think this will help make me more well rounded. Exuma was a cash and banking district. Here in Eleuthera, I only have a banking district. So, I think that where ever I go, that experience that I got in Exuma is helping me with transitioning here to Eleuthera – even though it is a bigger district."
Talking about her time so far in Eleuthera, and her hopes in going forward, she offered, "I would have hit the groung running. Today makes my 4th week here in the island of Eleuthera, and in this district. Some of the things I think I may want to focus on – and perhaps it is because of my background as an educator. I believe in empowering our young people. I believe when they see us doing what's right, it helps them. Because, it's about modeling and mentoring. They need to be able to see someone else. So, I have spoken to the members of my local councils and townships in the communities, to let them know that we want to pursue being more at the forefront. When young people see you and they realize that you are doing it – it gives them the hope, and that understanding the 'hey, this is something that I can do'. 'I can run for local government – for the township or even end up on the district council'. I want them to be more empowered."
With the government's focus recently on pending upgrades and changes within the system of local government, Ms. Anderson shared her views on some of the changes needed, saying, "If we go to the 'old landmark' it's there. Some of the things we need are already there, in the Act – as well as in terms of our procedure. Often times people are not informed, because we do not read. Some of the changes asked for are already there. I personally think that before you offer yourself for a position or for service, you need to make sure exactly what it is that you are going to be doing, and what you are getting into. Because, sometimes people sit in the seat and only when they get there, reality sets in. So, proper preparation is key.
"One of the criteria I think that local government is looking at in terms of people who are going to be running is that they are capable and competent to serve in the seat that they will be undertaking, because the people within communities are depending on us. They are depending on us to do the right thing, to represent them well – and to be the champions of the cause… So, one of the things that should happen with local government is making sure that we do some level of vetting of persons, prior to them being able to run."
In response to being asked about what local government was all about at this time and its impact on Family Island communities, Ms. Anderson opined, "The purpose of local government is to bring governance closer to the people…. You can't have the prime minister on every island, and you can't have all of our cabinet ministers and department heads on each island. But local government is that avenue, department or agency, where you have governance that is closer and right there in the community, helping local people to be able to make more decisions for their communities – without having to wait for central government in Nassau…
"For example, councils would sit down and they caucus, and would decide on what the needs are for their townships. What are some of the community projects, or what do they see that would help advance their local communities.  Each chair and members would sit down and strategize as to how funds that have been remitted from the central government, can best be used to build and empower people in their communities.  So, its very important. If you have to go through the red-tape, waiting for Nassau to get back to us – it's a long process sometimes. So, local government is about bringing that governance closer to the people throughout the Family of Islands it is serving."