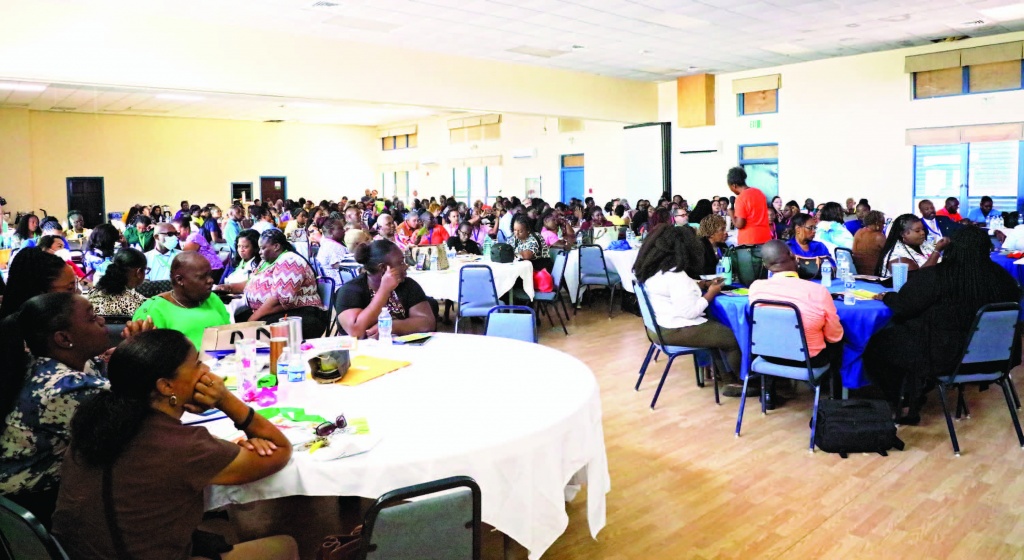 The Department of Education hosted the Eleuthera District's Teachers Conclave, focused on professional development, at the Worker's House ballroom facility in Governor's Harbour, Central Eleuthera on Thursday, August 24th, 2023. Education Administrators and teachers from every primary, all age and high school from Harbour Island and Spanish Wells in the north to Wemyss Bight and Deep Creek in South Eleuthera were in attendance.
Guest speakers at the conclave covered a range of topics and issues, as teachers and administrators prepared for the reopening of schools on Monday, August 29th, and a return of students to the classrooms for a new year of instruction.
Anthonise Findlay, the Bahamas Union of Teacher's (BUT) district shop steward, who is posted at the Preston H. Albury High School, currently teaching family and consumer science, came away from the conclave, enlightened and impressed, "Today was awesome. In my ten years of teaching, this year in the best conclave I have attended – even in comparison with the Ministry of Education's conclaves in New Providence… It was well organized, and the speakers were on point. The messages and the charges that they presented today were timely. Clearly, they did their research – even speaking to some of the issues that they have in trying to get teachers encouraged for the new school year. The decor today as well – the planning committee clearly put some time and effort into planning this conclave. So, we appreciate that."
Commenting on the message of the day's first speaker, Dr. Cleopatra Williams, Ms. Findlay shared, "She was vibrant, and her charge was, to put it simply, 'to keep moving'. No matter the obstacles and no matter the challenges – to keep moving forward. Her presentation was very focused on staying motivated." She touched aspects of many different challenges and honed in on staying the course, said Ms. Findlay.
Guest speaker, Leonardo Burrows – an officer with the Bahamas Police Force, as well as a member of Toastmasters International – was described as being very interactive with his presentation. One part of his talk, where he used a physical demonstration of different liquids to represent negativity and positivity within a school stood out as an 'awesome' focal point moment, said one teacher in the audience – emphasizing that positivity should outweigh negativity in a healthy, thriving and productive school environment.
The afternoon's final presenter, Counselor Laverne Sturrup, who led a discussion on mental health, recognizing the signs and symptoms of certain student issues, as well as stress in teachers and how to manage it and take care of one's self, was described as informative. "She spoke to a lot of the issues that we see with students – drug abuse and others – and the signs and symptoms we should look for. I can relate, because I had a student last year, on drugs, and I noticed it. Their attitude and everything changed – also being aggressive – so all of that she spoke to. She was very informative," said the teacher.
The day's format also included breakout sessions where educators separated into groups of discipline areas, to network. They got to learn a bit about each other as colleagues, teaching the same or similar content – as well as establishing contacts to be able to swap resources, exchange ideas, share best practices and more, as the school year got underway. These groups were meant to form partnerships and to encourage communication throughout the coming year.
Following the lunch break, during a special closing ceremony, 23 long-serving educators within the Eleuthera District were singled out and honoured for their dedicated years of service, and were presented with awards.
Honourees included, Sherrol Thompson (31 years), Shanna L. Johnson (36 years), Hope Cooper (30 years), Carole Davis (37 years), Marsha McCardy (32 years), Caroline Rolle (36 years), Parry Sands Culmer (30 years), Natasha Bethell-Sands (30 years), Cindy Thompson (35 years), Vernitta Thompson (34 years), Sharmaine Alday (32 years), Donnaly Walker (30 years), Keva Roberts (30 years), Margaret Albury (30 years), Margaret Minnis (35 years), Sandra L. Marshall (36 years), Navidia Mills (31 years), Antoinette Wilson (36 years), Tena Roberts (36 years), Cheryl Minnis (36 years), Darlene Lewis-Chase (31 years), and Deborah Cartwright (30 years).
Both an honouree and a planning committee member, Mrs. Natasha Sands, said about the preparations, "This year was a lot of planning and a lot of work on behalf of the committee, of which I was a member. We tried to make it meaningful and well received. People sometimes say that they come to these things and don't gain anything from them, so we did our endeavour best that they would walk away with something." The focus, added Mrs. Sands, "Was to refresh teachers in both their spirits and their minds, so we geared it towards that. To just realize that we are all in it together, but that everybody has to work together as well."
District Superintendent of Education, Mr. Michael Culmer wrapped up the day's event with a closing charge where he highlighted new teachers who had joined the Eleuthera team. District Education Officer, Mrs. Fontella Knowles, explaining that Mr. Culmer had just a few weeks remaining in his post in Eleuthera – having been promoted within the ministry to education headquarters in New Providence, shared that his charge was also about saying goodbye to the educators he had served and worked with across the island.
At the end of the day, as he assisted remaining teachers and committee members to clear the event hall, Mr. Culmer opined about the event, "This is by far the best professional development that has been organized in our district in a very long time… I would like to congratulate Mrs. Tanya McPhee-Pinder and her team, who had a vision and were bold enough to go above and beyond what we traditionally do – bringing the brightest and best… We want to empower our district. We want to understand that whether we are administrators, teachers or district managers, that our responsibility is to our children – and that we are all doing our parts so that our children benefit from going to school…
"It would have been repeated over and over again today that as a teacher in the classroom 'you impact the future', and there are two kinds of teachers. There is that teacher who kills faith, destroys hope, and turns off students from learning – and then there is that teachers who makes students who don't realize they have wings, believe that they can fly – who helps students to see beyond the here and now." Mr. Culmer expressed his personal connection to this idea, having been one of those children, he said, who came from humble beginnings, and was now in a position where he could lead his island and district, surrounded by a dynamic team.
Seventeen public schools and facilities operate under the auspices of the Ministry of Education within Eleuthera, including three high schools (North Eleuthera High School, Central Eleuthera High School, and Preston H. Albury High School), two all age schools (Samuel Guy Pinder All Age, and Harbour Island All Age), and twelve primary schools (Laura L. Anderson, P.A. Gibson, James' Cistern, Gregory Town, Center for Exceptional Learners, Emma E. Cooper, Emily G. Petty, Tarpum Bay, Rock Sound, Green Castle, Wemyss' Bight, and Deep Creek).