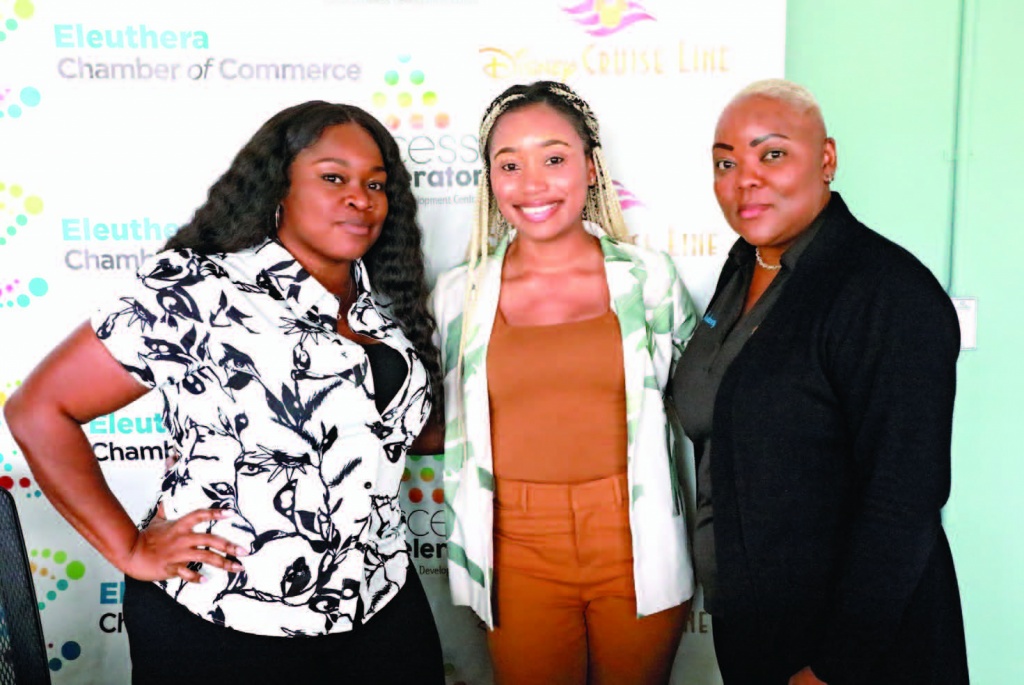 The Eleuthera Chamber of Business hosted its 2023 Eleuthera Business Expo on Saturday, August 12th, 2023. The event, which was free to the public to attend, took place at the Chamber's Business Hub in Rock Sound, South Eleuthera, located next to The Market Place, and businesses with membership in The Eleuthera Chamber had the opportunity to showcase their offerings.
A variety of businesses and government agencies came together to highlight their services and products – available to other businesses as well as the general public on the island. The expo began at 10am and ran until 4pm on the Saturday, and in addition to vendor booths and displays, part of the day's activities, included presentations from a number of the exhibitors.
Executive Director at the Eleuthera Chamber, Audrey Tynes, commenting on the event and what The Chamber offers businesses in Eleuthera, said, "The event today has gone well. I do wish that more Eleutherans would take advantage of these opportunities afforded them. Each month The Chamber does something like this, with a business aspect and focus behind it. What we do here when we have events like this is setting the stage and providing opportunities for companies to meet with other companies and like-minded business persons, just networking. We also always have some government ministry or agency here that may be hard to access otherwise. We have at least one of these types of events or opportunities each month."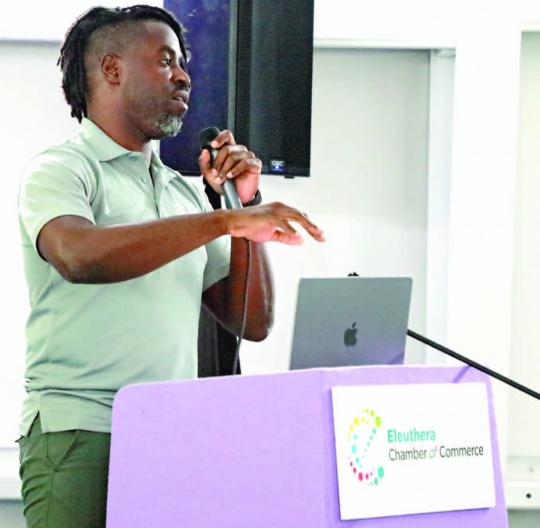 Ryan Austin, from the 'Payroll App' was one of the businesses making special presentations on stage during the afternoon. He highlighted the new app created by his company to assist other businesses in the smooth and easy management of staying compliant with national insurance – which had the ability, he said, to service companies with hundreds of employees. "Being a Chamber member, I thought it was important to come out and support the Chamber in this expo, but, in addition to that, having the Payroll App showcased and having the exposure through this business community – because it is a business-to-business application – I thought it was extremely important. We had so many different businesses stop over at our booth, as well as different government ministries – because everyone needs to payroll and everyone has their challenges. So, the Payroll App has certainly found a market fit in Eleuthera, and across The Bahamas. I am so happy to start this initial push into the mainland Eleuthera market, as the early focus has been in Harbour Island. I want to use this expo to give us an impetus, a push on the mainland."
The Bahamas Development Bank, along with the Ministry of Finance and others, also brought presentations on services and products relevant to the Eleuthera market.
Andrea Johnson-Carey, of Tarpum Bay, a former education administrator, now retired, had a booth at the expo – where her straw craft creations were on showcase, along with a number of other local artisans. She explained, "Creativity is something that drives me – both in straw work as well as in cooking. At this stage where I am, straw work is more feasible for me to handle at my pace. So, I am looking forward to continuing to create even more, and to take my creative works to the world… The Chamber of Commerce, I think what they are doing here in Eleuthera is commendable, because we need this to stimulate the small businesses. So, I am grateful for them offering this. Also, the information that they are bringing is a blessing. Now we will be able to try and tap into to some of the resources that are being brought forth and implemented, and we can take our businesses to new heights. Our island can use this."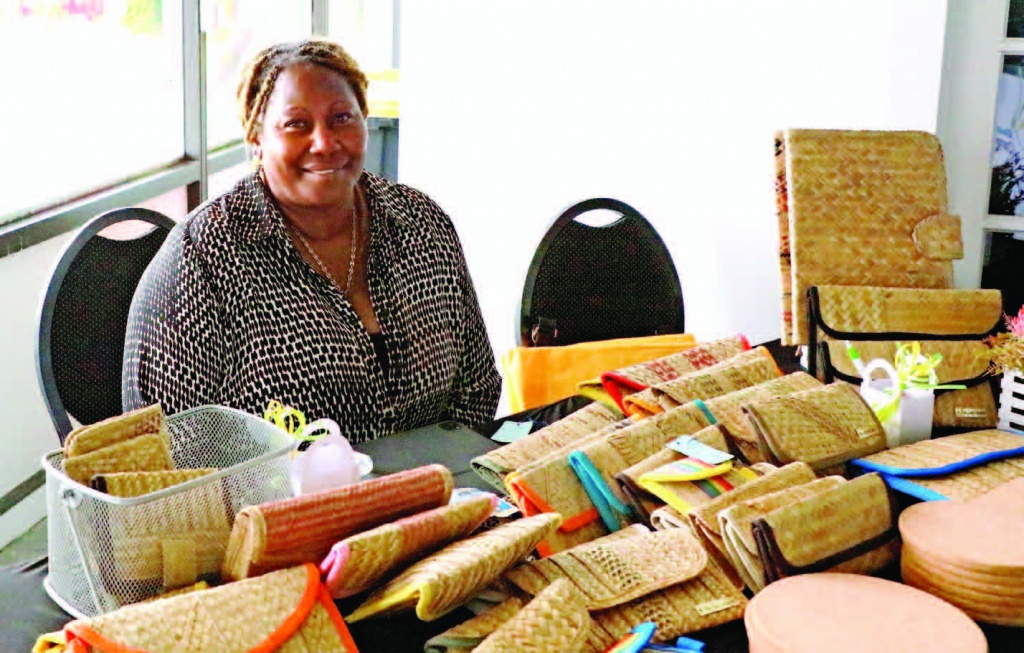 Other local businesses, as well as some based in Nassau that serve the Eleuthera market, also took the opportunity to display their products and services to those visiting the expo throughout the day. Dwight Butler with ALCO Construction, shared, "We specialize in new builds and renovations, and are 100 percent Bahamian owned. We want to expand our reach in the Eleuthera area. We currently do a lot of business in the northern part of Eleuthera, from Governor's Harbour to Current, and we would like to immerse ourselves into the entire community of Eleuthera. So, getting down to this event here in the south today was important to us." Service companies, including law offices, looking to increase their clientele base in Eleuthera, were also there on Saturday.
Director Tynes, encouraging Eleuthera businesses to participate in the Chamber and its events, urged, "We would like more entrepreneurs and businesses to see the benefit of joining the Eleuthera Chamber of Commerce… The benefits are many – like being able to sit and speak with the sitting member of parliament face-to-face, accessing agencies not represented on the island, such as the Ministry of Finance and the Bahamas Development Bank – both here today… Additionally, we had a wide range of businesses represented here today – as well free health checks from private medical centers. Many businesses taking part today were new, and I am happy they were able to get the exposure, and see what these expo's are all about, and they've said they are already looking forward to the next one."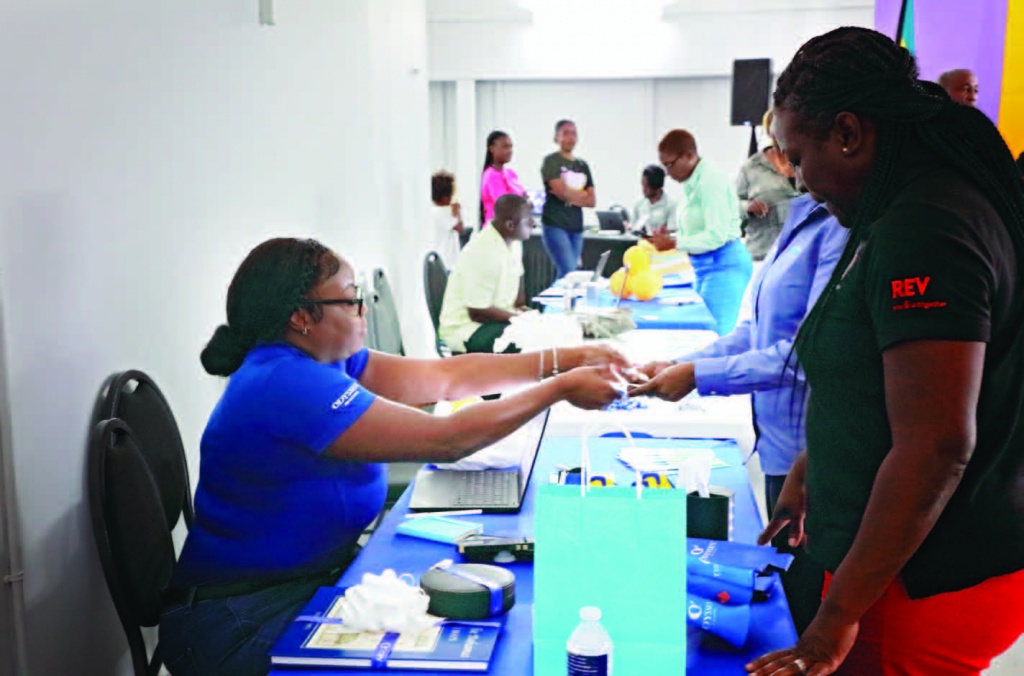 Describing another recent event hosted by the Chamber during summer 2023, Ms. Tynes shared, "Last month we had the Eleuthera Digital Currency Expo, and we still have a number of digital wallet, companies here with us again today. We have Kanoo, and we have Mobile Assist. That is something that we are trying to educate people on as well. Some people tend to believe that digital currency is cryptocurrency, and it is totally not that – it is 'legal tender' dollar for dollar with the Bahamian dollar… Since the digital currency expo, I am so happy to say, if you look around, you will now see so many more digital wallet stickers on the doors of businesses. The message is finally being received… It's like using a Bahamian version of 'paypal' and it costs less. So that is an important thing I will keep preaching the benefit of. Every time the digital wallet companies visit at events here with the Chamber of Commerce, they leave with more businesses accepting digital currency. I am happy to say that."
She added, "I wish more Bahamians and Eleutherans in particular would take advantage of events like this one. We are going to continue to put them on, because when we do, we see more and more people signing up and more and more people coming out. We will offer the events free to the public for as long as we can, but to participate as vendors/presenters you must be a member. I cannot stress enough the benefits of being a member of the Eleuthera Chamber of Commerce. I encourage those interested to pickup the phone and give us a call, or go to our website to see more details on the benefits of being a member."