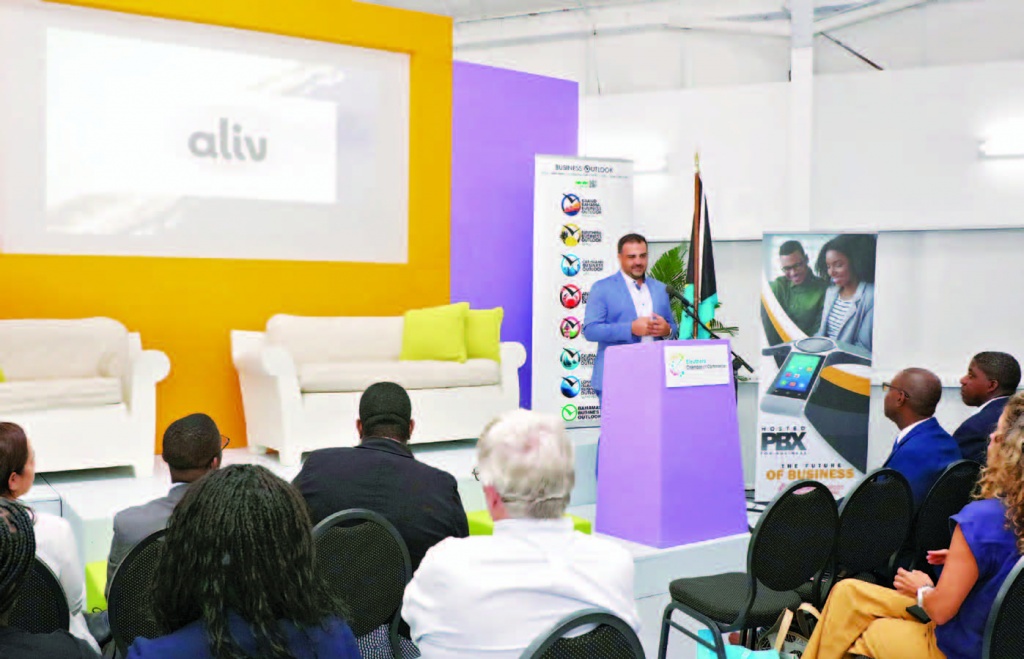 The business community congregated at the Eleuthera Chamber of Commerce's I-Hub location in Rock Sound on Thursday, April 20th, 2023 for the 11th Edition of the Eleuthera Business Outlook, organized by TCL Group.  The hybrid event which hosted both in-person as well as virtual participants, once again, brought together a variety of presenters from various industries, including agriculture, telecommunications, tourism, healthcare, digital finance, hospitality, education, and banking – who spoke on issues and topics relevant to the current and future growth and development of the island, in keeping with the day's theme, "Forward, Upward, Onward, Together," – which honoured the country's upcoming 50th anniversary of Independence.
Minister of Agriculture, Marine Resources and Family Island Affairs and Member of Parliament for Central and South Eleuthera, Clay Sweeting delivered the keynote address on Thursday morning. Commenting on the resilience and strength shown by family islanders through their survival, despite the many challenges they face, he emphasized that Eleuthera and his constituency of Central and South, deserve and require more than talk and the usual political pandering. "What Eleuthera requires, and what Eleuthera is poised for is a bold vision… that meets the current needs of the island… that provides the tools and resources to take advantage of this season of opportunity… a bold vision of unmatched investment, to reposition Eleuthera as a second city, as it once boasted."
Effort and focus in the vision for Eleuthera, said Minister Sweeting, were on several areas. One was education. He revealed the government's commitment and partnership with BTVI to open two new facilities in Eleuthera, to "broaden opportunities for Eleutherans." The first physical family island facility would be opened in Green Castle in the near future, he announced. The second area of focus said Sweeting, was economic empowerment. This, he said, includes plans for the upgrades to the three international airports on the island, in North Eleuthera, Governor's Harbour and Rock Sound, in a government led private public partnership initiative, as they serve as the gateways for investments.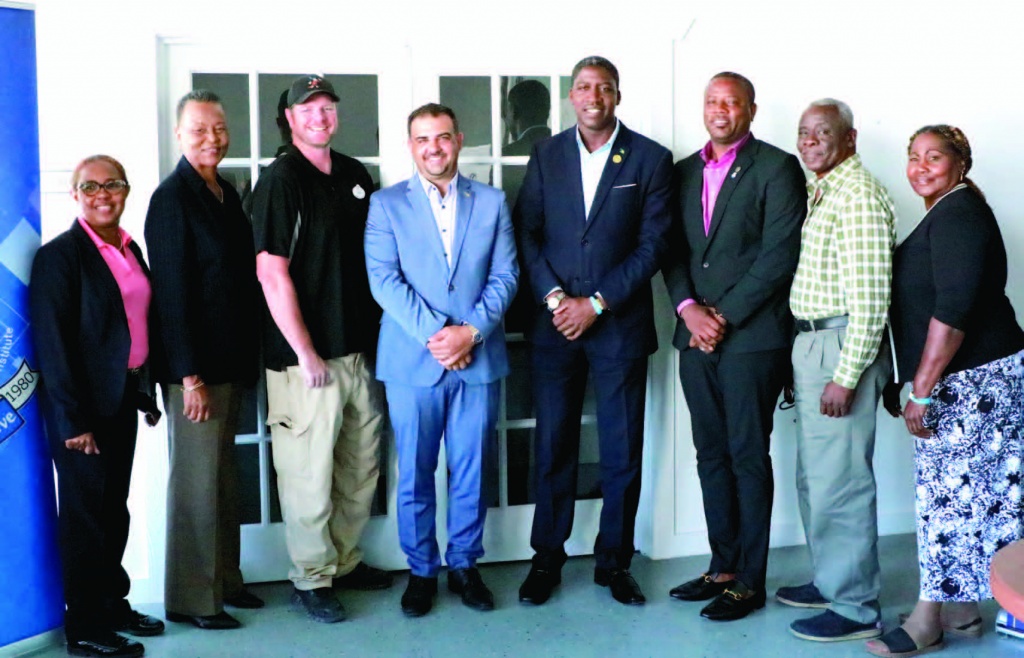 Sweeting highlighted the current challenges with accommodations on the island, and the difficulty now being experienced by people moving to the island for work and business opportunities – to find a place to live. He pointed out that initiatives like the Ocean Hole Subdivision in Rock Sound and other housing communities to be built on the island were not limited to first-time homeowners, but were also open to other investors. Business opportunities through the Access Accelerator program, as well as BAIC, also represented arms of economic empowerment available in Eleuthera, he added. Support for various agricultural developments, and land being made available through BAIC, was also touted.
The third area of focus, informed Minister Sweeting was healthcare. Plans, he said, to build two state-of-the-art facilities in Eleuthera were active, with land for both facilities identified and surveyed. Plans for the health facility in Rock Sound, he revealed, were completed and were expected to be submitted to the local council for approval during the final week in April. The plans for the facility in Palmetto Point, he said, had already been approved by the Central Eleuthera district council, and had been forwarded to town planning in New Providence for final approvals – after which, the tender process would begin. "So, we are making headway on the much needed healthcare facilities for Central and South Eleuthera," he stated.
Food security was the fourth focus area, according to the minister. Frequent meetings with farmers, regularizing land leases for farming and other investments in Hatchet Bay, reopening the Packing House, beginning construction on a vertical farm and cultivation center, and plans to provide training – were all facets in the plan to move towards a more secure food supply. He also highlighted the coming egg facilities on family islands, which Eleuthera was also part. A green house park was set to be launched by BAMSI on Eleuthera, in Hatchet Bay, with construction already started, said Sweeting. The facility he said would be used as a training facility to introduce farmers to new technologies in this field. "We are serious about providing economic investment in agriculture for farmers. Access to funding, training, land and technical assistance, will ensure that we promote a thriving agricultural sector, that can provide an abundance of food to supply our needs daily, with fresh and nutritious foods, and provide economic opportunity for farmers, with all future investments encouraged to buy local."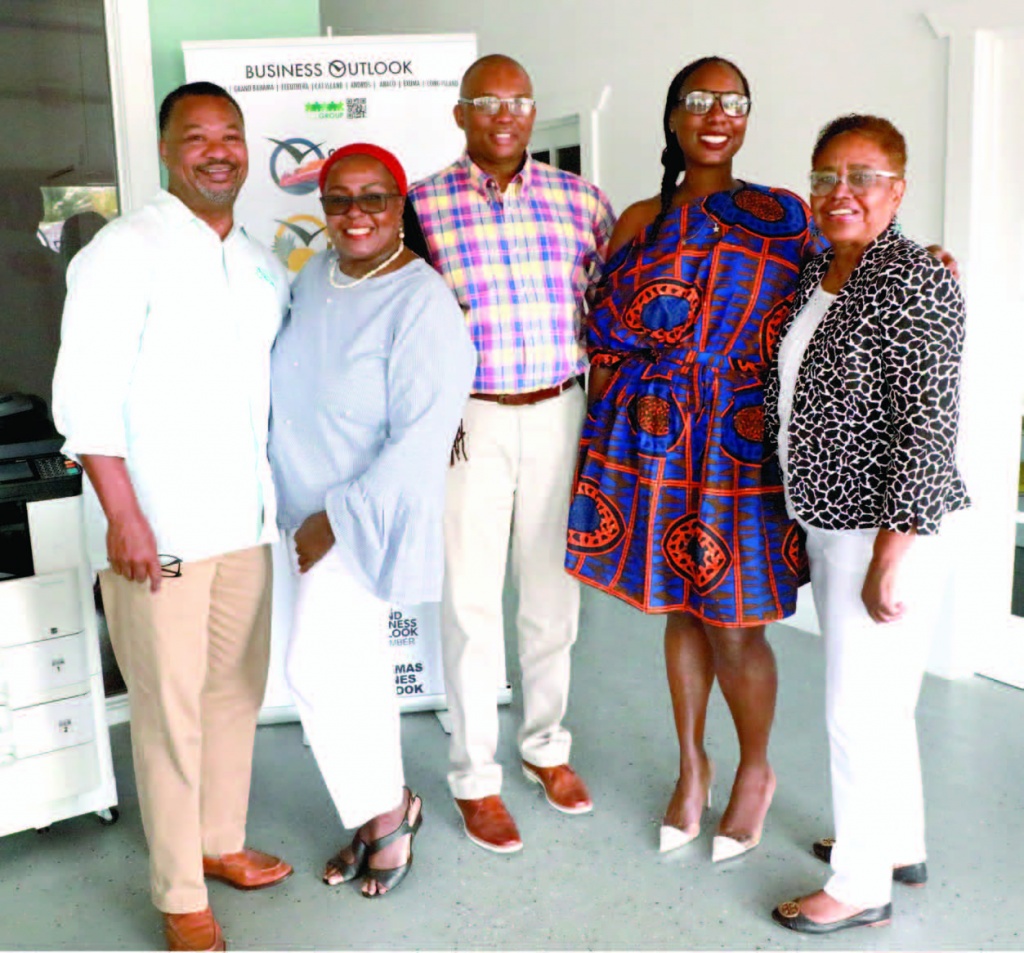 A wide range of presenters followed Minister Sweeting's keynote, including Chantelle Sands, Head of SME & Family Island Innovations at Cable Bahamas, who spoke about the emerging products and services available to service the daily function and communications needs of businesses on Eleuthera. Kenneth Romer, Deputy Director of Tourism and Acting Director of Aviation in the Ministry of Tourism, Investments & Aviation, highlighted information about the state of the tourism industry in the country, in terms of visitor arrivals, informing that for the country on the whole in 2022 had made nearly a full recovery, with approx. 7,000,100 air and sea arrivals, compared to 2019 overall arrivals of approx. 7,300,000 arrivals. Honing in on Eleuthera's air-only arrivals performance in 2022, in comparison to 2019, the island was shown to have not just recovered to its pre-pandemic performance, but had experienced significant growth of 20.5%, with approx. 67,000 air arrivals in 2019, and just about 81,000 air arrivals in 2022. [These numbers do not take into account, foreign passengers arriving in Eleuthera on domestic carriers, having transited through New Providence.]
Romer stated that sea arrivals were a significant contributor to the tourism economy – however, air arrivals, he said, contributed 28 times more to the economy than cruise passengers – highlighting the impact of what Eleuthera was seeing in this area. These figures placed Eleuthera in 2022, as the second highest performing island in terms of foreign air arrivals, surpassing Grand Bahama (39,520), Abaco (78,035), and Exuma (78,850). According to Mr. Romer, "Eleuthera is among the leaders when it comes to global airlift recovery as a destination."
Mr. Romer also presented on plans for upgrades to airport facilities throughout the country, in preparation for further airlift growth – highlighting the public private partnership initiative, which would see North Eleuthera and Governor's Harbour airports developed as tier one ports, and Rock Sound developed as a tier two port. Projected size of the airport works in Eleuthera stood at just under $100 million, he informed.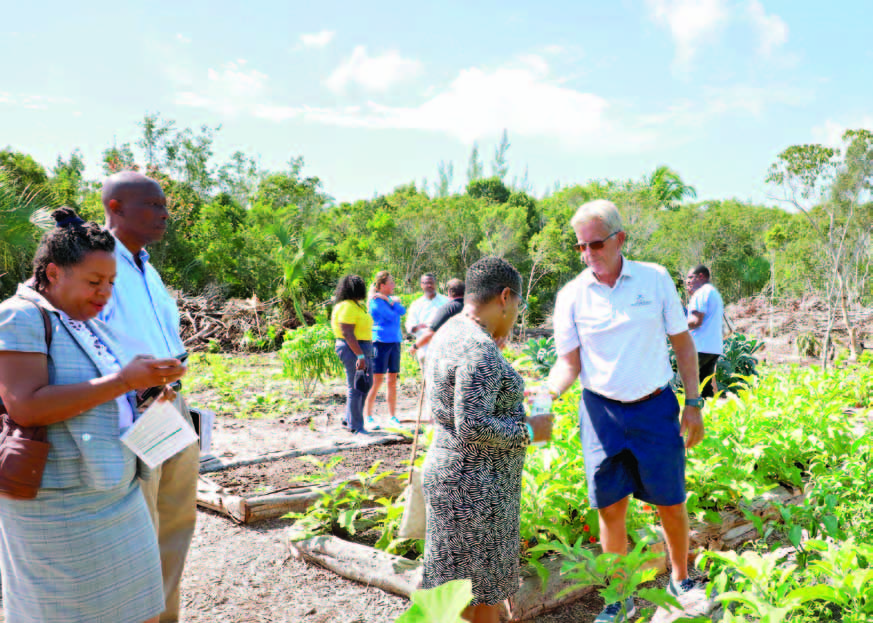 Several developers of ongoing projects, including Daniel Zuleta, Project Director of Cotton Bay Holdings; Juan Fernandez, Carnival Corporation's VP of Operations Strategy; as well as a full team from Disney Cruise Line, led by Regional Public Affairs Director for The Bahamas and Caribbean, Joseph Gaskins – updated attendees at The Outlook on the status, timelines, and expectations of their various properties and operations.
Digital payments were a hot topic once again, with both The Central Bank of The Bahamas presenting on the 'Sanddollar' digital currency implementation across the country, including impediments and opportunities; as well as The Island Pay Group, represented by Managing Director, Jeffrey Beckles, who spoke about the benefits available to small and medium businesses in transitioning to digital payments. Liacarla Adderley, Area VP with RBC Royal Bank also presented on her institution's view of the future of banking in the Family Islands. With RBC's pullout from both Spanish Wells and Governor's Harbour in recent years, she faced direct questions about the bank's solutions for business clients left to contend with one location across 100 miles.
Dr. James Iferenta, Senior VP at Doctors Hospital, spoke about the hospital's technology available making it possible to bring advanced and specialist healthcare through both in-person and tele-medicine follow-up to Eleuthera. A robust panel was also hosted with experienced hospitality executives – Dr. Kenneth Romer, of Tourism and Aviation; Dr. Carlton Russell, Managing Director with The Cove Eleuthera; and Joseph Dargavage, Partner at Romora Bay Resort and Marina. Kerry Fountain, Executive Director of The Bahamas Out Islands Promotion Board moderated the discussion, where topics explored looked at current challenges in offering world-class service in Eleuthera, as well as some of the obstacles to growth and strategies to overcome them.
Dr. Linda Davis, Interim President of the Bahamas Technical and Vocational Institute (BTVI), spoke about the plethora of programs being offered to students throughout The Bahamas in a wide variety of fields, inclusive of a number of international certifications and qualifications in specialized areas – as the institute looked to provide new solutions for the shortage in skilled labour in the country. She was also excited to share plans for BTVI's physical expansion to the island of Eleuthera, with the first facility in Green Castle set to be "soon unveiled", and emphasized the continuing availability of tuition free study to qualifying students.