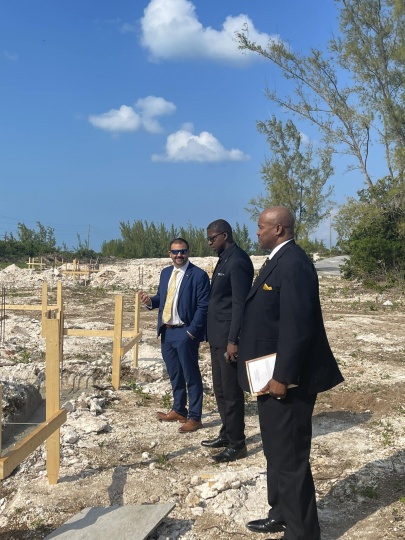 In an interview, following the ringing in of the new year during the first week in January 2023, the Hon. Clay Sweeting, member of parliament (MP) for Central and South Eleuthera (CSE), and minister of Agriculture, Marine Resources and Family Island Affairs, shared some of his goals and priorities during the next twelve months and several updates on initiatives and challenges in 2022. "My message to Eleuthera is that 2023 is a big year for us. The work that has been done as a government and as a member of parliament over the past year and a half – the ground work – the fruits of the labour, we hope to be shown during this next year," he began.
Shedding light on where his priorities will focus, Mr. Sweeting stated, "On Eleuthera, for me it is to ensure that all the necessary services for the people in Eleuthera are streamlined and are sustainable and something that is reliable, especially for utilities – which includes roads, electricity, and potable water. Also, to continue to expand on the work that we have done to complete the housing projects and to continue to build homes in Eleuthera."
He added, "To expand on the agricultural side of it – the cultivation center [slated for Hatchet Bay], is where we hope to also do greenhouse parks through BAMSI, which includes training and facilitation – to get young farmers involved.  The containerized farm [which the Ministry of Agriculture is purchasing] should be placed in Eleuthera as well, which should help to also spark interest with young farmers – with regards to vertical farming. It will help to show farmers what you can do. They will have access to the location – to do some training and facilitation. This is how we tie in the cultivation center to an agricultural park where you have access to this different technology and innovation, and you have the food kitchen there, along with large greenhouses. So, farmers will have access to these large facilities."
Commenting briefly on future projects, which he was cautious about preempting, Mr. Sweeting revealed, "We have some projects that are in the pipeline for this year, that have not been announced as yet.  I think I may have preempted it a little bit in a video that we did with the Ministry of Agriculture in regards to chicken and poultry… That is going to be an exciting project… My opinion is that every chicken that we eat in this country should come from a Bahamian farmer – and especially eggs, with the price of eggs. So, we've got some revolutionary plans in regards to that."
In summary of the status of several ongoing projects, CSE MP Sweeting shared, "Windermere Island has started their construction, and has put some people to work – Disney as well. Disney should be completed by 2025. They are moving at a rapid pace. They are doing pretty well there. At Cotton Bay they are supposed to be finalizing architectural renderings… We also have a number of individuals applying for projects approvals in Eleuthera, which would definitely help to boost the economy… Most would be in the south area."
When asked about recent concerns expressed by some of the residents in Savannah Sound about environmental impacts of the new Windermere project, Mr. Sweeting replied, "The project there, it was brought to my attention, and the necessary agencies did visit the site to ensure that they were doing what was in line with their approvals… and the environmental clearance and all that. As far as I am aware, they are in line with that and with what was stipulated with their environmental clearance.
"I think it was some silt and [other] stuff moving through the bay. I think that was the challenge. I think most of the concerns were from fishermen – and a lot of times fishermen, sometimes their voices are not heard as loud as what they would like, but we share in their concerns – especially in regards to bonefishing grounds – which is a lucrative source. The bay has been untouched for some years, so, the major thing for me is to ensure that it [the project] is done in a proper manner, that is in line with the environment. And by the same token, that the fishermen are still able to access the flats, and that the marine life are protected.
"And with all projects, especially that comes to the government – we look at all of these different things. That is why we ensure that they get the proper approvals through DEPP (Bahamas Department of Environmental Planning and Protection).  Even through my ministry – for example, if someone wants to export a new product, such as sea fan – we don't approve that until they have the proper approval through DEPP that it is sustainable and they've done the proper paperwork.
"So, for me, I think we have to look at it as two-fold – as providing employment opportunities for Bahamians, and at the same time, protecting our natural resources and protecting the people that have enjoyed these natural areas for so long."
Focusing again on agriculture, Mr. Sweeting gave an update on the status of the packing house repairs in Hatchet Bay, as well as the cultivation center initiative, saying, "The packing house contract was signed in December 2022 and work should start in January – this month, so, that is up and going. That would be the renovation of the roof, electrical upgrade to 3-Phase, as well as other necessary improvements that is needed for it to function properly. So, with that, the money is already allocated, the contract is already signed, and the work should start shortly – once they get the 10% mobilization."
He continued, "The cultivation center building is actually in Hatchet Bay. It was delivered a week prior to Christmas. So, it is there on the rack, which is exciting for me. It is right on the bay there. We've now got to finalize the building plans, approvals, issuance of the contract to construct the building, and then construction can start. We have to finalize the plans on where the processing kitchen is going in this facility, but the equipment is there.
"We have one or two pieces of equipment to complete those food kitchens. For the most part, we are a little behind where I would like to be – being in the private sector I move a little quick, but in saying that – we are getting there and it is exciting." He expressed that he hoped to see the structure of the cultivation center start to take form in Hatchet Bay within the next three months.
With the targeted focus on revitalizing and stimulating the agricultural industry during the past year, Mr. Sweeting also commented on the change in the industry on the island that he had seen to date, saying, "For the most part, we have seen a lot of interest, especially in Eleuthera. We've had a lot of requests. I couldn't put a number or tally on those in farming, but I can say that I get a lot of phone calls on how they can receive assistance, or how they can get their farming license, and receive the proper necessary duty-free concessions that come along with that.
"I have also seen places like One Eleuthera's CTI (Center for Training and Innovation) that has really expanded in the agricultural sector with their cooling house, doing some production there. It seems to me that for a while agriculture has taken a back seat because it has been viewed as a poor man's occupation, and that is something that we are trying to change.
"I wouldn't want to kid myself and think that overnight the whole country is going to be changed with agriculture. I think it's a process. As long as we come with the same energy and this continues, I think that people will continue to get involved. I've been very active with that and this next year will be a very exciting year for agriculture. We will be touring the country and providing updates and incentives on how people can get involved, and create agri-businesses and not just farmers."
Commenting on the status of current housing initiatives in Eleuthera, Mr. Sweeting informed, "In Hatchet Bay we have to complete the survey, and once the survey is done then the transfer [of land lots from BAIC to the Ministry of Housing] will be complete. There has been some preliminary work done there. We had a surveyor come and view the area that we were looking at – so, they did that. They viewed which area would be best suited for a housing development – with regards to lowering the cost of doing a foundation, and infrastructure implementation… We are going to finalize the surveying of the lots and then the area will be transferred to the Ministry of Housing – for them to develop it. The timeline – I would hope in a few months that we would be able to do it."
Mr. Sweeting qualified that he would have to confirm with the minister of Transport and Housing on exactly where they were in regards to the lots survey, but added, "I would hope that in a few months or at least by the next budget we will be able to say – this is a plot plan, and we are starting to develop the roads and infrastructure so people can have access to their property."
The housing initiative in the Rock Sound township, where prime minister Philip Davis came with Minister of Housing and Transport, Jobeth Coleby to break ground during the month of June 2022, is now taking shape, said Mr. Sweeting. "They have up to five houses coming out of the ground there. The foundations on four homes are now done. The lots are cleared, so, we hope to have seven homes completed in a few months and to give people their keys."
The main highway running the length of Eleuthera, since the partial road works done in early 2021 – had seen serious degradation, with areas not paved with asphalt, pock-marked with potholes. Significant patching was finally done during the last quarter of 2022, after the arrival of ten tons of cold patch. Significant pot holes, however, are once again opening and forming, following significant rains in recent months.
Commenting on plans for the island's roads in 2023, and his take on a promised allocation of another 100 tons of cold patch for Eleuthera by the Minister of Works recently, MP Sweeting said, "The 100 tons that is supposed to be dispatched from the Ministry of Works to repair some more of the roads… I assume that it would come in cycles – so many tons at a time, but for me, I would rather the roads be paved… It depends on what budget they were allocating for the 100 tons.
"An assessment was done of the roads [in Eleuthera] to see what needs to be done… As the member of parliament I am pushing heavily to start proper paving, and not just patch work – which eventually just washes away, especially with the weather that we have been having… I am agitating that the roads in Eleuthera are properly paved in this upcoming budgetary cycle."
Briefly touching on the state of the water supply in Central Eleuthera, following major outages experienced in November and early December 2022, MP Sweeting said, "I can say that they have demolished an old structure there [at the Naval Base reverse osmosis plant] where they are going to put the new one million imperial gallon tank. They were doing that over the holidays. This new tank will help to facilitate storage… Ideally, if something breaks down, you want to have at least four days of water stored, and we don't have that currently – until the new tank is built. So, the tank is ordered and they have started to do some work [in preparation] there."
For residents curious about the status of the renewed promise of public medical facilities on Eleuthera, Mr. Sweeting shared, "I do have an update from the Ministry of Health, however, I wouldn't want to be the one to preempt it. But, I would say that they are still on target to start in the first part of this year. They are having to still finalize some renderings and drawings, especially for the multi-purpose health facility in Palmetto Point. But, both are still on target to start this year.
"We are hoping to start one [Rock Sound] in the first quarter, and the other one is taking a little bit longer because they are having to do more changes to the renderings, because the facility in Palmetto Point is more intricate. But, we are still on train to make good on our promise to build the facilities in the first part of this year."