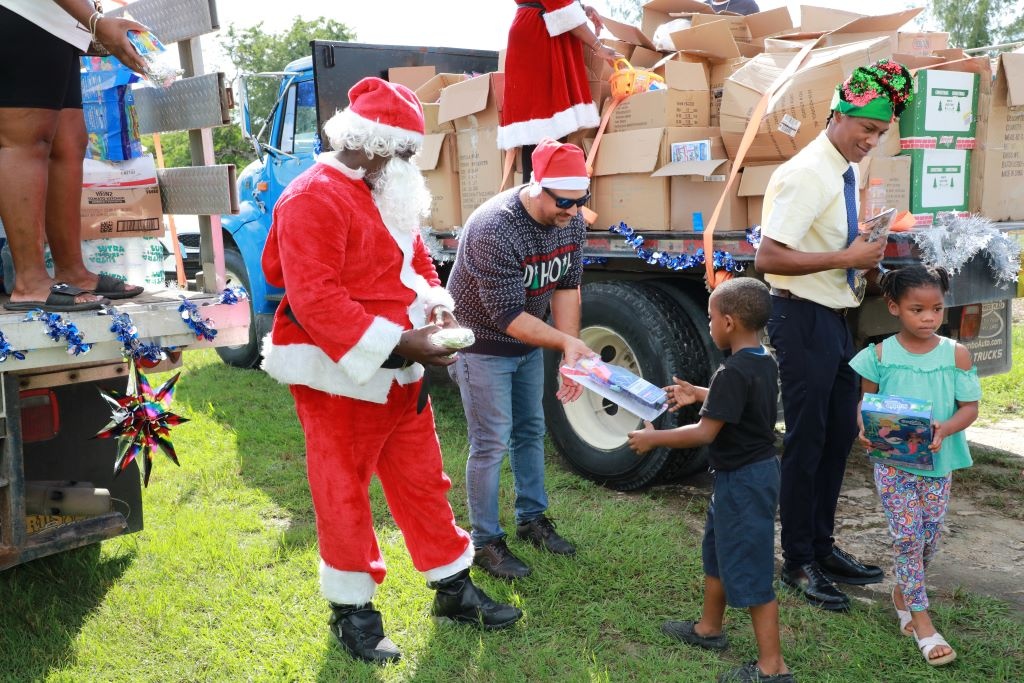 During the week ahead of the Christmas holiday, on Wednesday, December 21st, and Thursday, December 22nd, 2022, children in townships throughout Central and South Eleuthera, came out with parents and family members to the parks within their communities to meet up with the 1st Annual Christmas Train, jointly hosted by the Kiwanis Club of South Eleuthera in partnership with Central and South Eleuthera member of parliament, the Hon. Mr. Clay Sweeting.
The partners had two large trucks – the first filled with food and drinks, and the other piled high with children's Christmas gifts, that pulled into each community park, beginning on the Wednesday at 9:00 a.m. in Savannah Sound. As parents and caregivers looked on, the children who came out formed a line, where they received a gift, along with refreshments.
Themed, "No Child Without Christmas", the idea behind the initiative, explained Mr. Sweeting, was to offer the opportunity for every child in the constituency to receive a gift, and other treats for Christmas. "It started during the pandemic with Kiwanis. We partnered back then to provide toys to the people in the south, prior to me becoming the member of parliament. After that we continued the partnership. And this year we had a provision to expand on that… – where this would be the first annual 'Christmas Train', which would visit every settlement in the constituency and provide a gift for every child in each settlement who came out to the 'train'."
The idea of visiting each township, said Mr. Sweeting, was to ensure that every child would have access to the gifts, rather than having an event in one location, where many people may not have been able to get to.
The concept of the gift 'Train', he added, was the vision of having more contributing community partners in the future. "The idea for me was the hope that in future years – other private sector individuals, businesses, and non-profits can join this 'Christmas Train' initiative – have their own decorated vehicles and be a part of contributing and giving back to the communities, along with us. That's the idea behind it. So, I'm hoping that next year other persons can partner and make it an even more fun event."