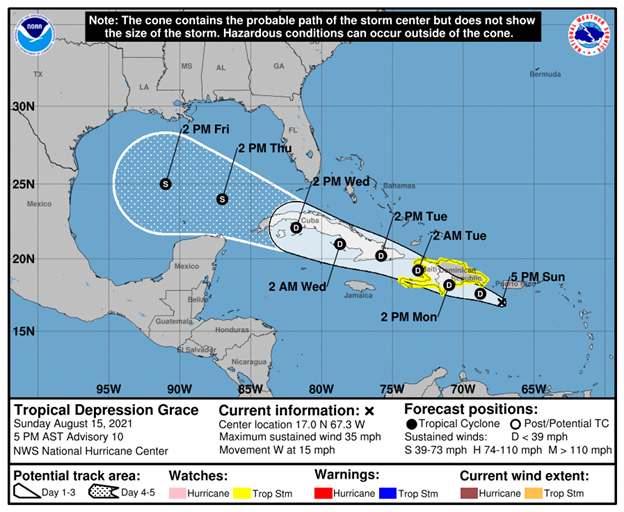 ALERT #11 ON TROPICAL DEPRESSION GRACE ISSUED BY THE BAHAMAS DEPARTMENT OF METEOROLOGY, SUNDAY 15TH AUGUST 2021, AT 6PM EDT.
…GRACE DOWNGRADED TO A DEPRESSION…BUT STILL EXPECTED TO BRING HEAVY RAINS TO THE DOMINICAN REPUBLIC AND HAITI…
THE TROPICAL STORM ALERT FOR THE ISLANDS OF THE SOUTHEAST BAHAMAS IS DISCONTINUED AND THE ALL CLEAR IS GIVEN FOR THESE ISLANDS.  HOWEVER, RESIDENTS IN THESE ISLANDS SHOULD CONTINUE TO MONITOR THE PROGRESSION OF GRACE.
AT 5 PM EDT, THE CENTER OF TROPICAL DEPRESSION GRACE WAS LOCATED NEAR LATITUDE 17.0 DEGREES NORTH AND LONGITUDE 67.3 DEGREES WEST, OR ABOUT 200 MILES EAST-SOUTHEAST OF SANTO DOMINGO, DOMINICAN REPUBLIC, OR ABOUT 345 MILES EAST-SOUTHEAST OF PORT AU PRINCE, HAITI, OR ABOUT 395 MILES SOUTHEAST OF GRAND TURK, OR ABOUT 496 MILES EAST-SOUTHEAST OF MATTHEW TOWN, INAGUA, OR ABOUT 849 MILES SOUTHEAST OF NEW PROVIDENCE.
GRACE IS MOVING TOWARD THE WEST NEAR 15 MPH. A GENERALLY WEST-NORTHWEST MOTION IS EXPECTED OVER THE NEXT FEW DAYS. ON THE FORECAST TRACK, GRACE WILL MOVE OVER HISPANIOLA ON MONDAY, NEAR OR OVER EASTERN CUBA ON TUESDAY, AND NEAR OR OVER WEST-CENTRAL CUBA ON WEDNESDAY.
MAXIMUM SUSTAINED WINDS HAVE DECREASED TO NEAR 35 MPH WITH HIGHER GUSTS.  LITTLE CHANGE IN STRENGTH IS FORECAST DURING THE NEXT 48 HOURS.
ALERTS ON GRACE WILL BE DISCONTINUED BY THE BAHAMAS DEPARTMENT OF METEOROLOGY AT THIS TIME.  NEWS ITEMS WILL BE ISSUED ON GRACE BEGINNING AT 6 AM EDT MONDAY 16TH, AUGUST.
ISSUED BY:  SONOVIA SEARS/GEOFFREY GREENE/JEFFREY SIMMONS