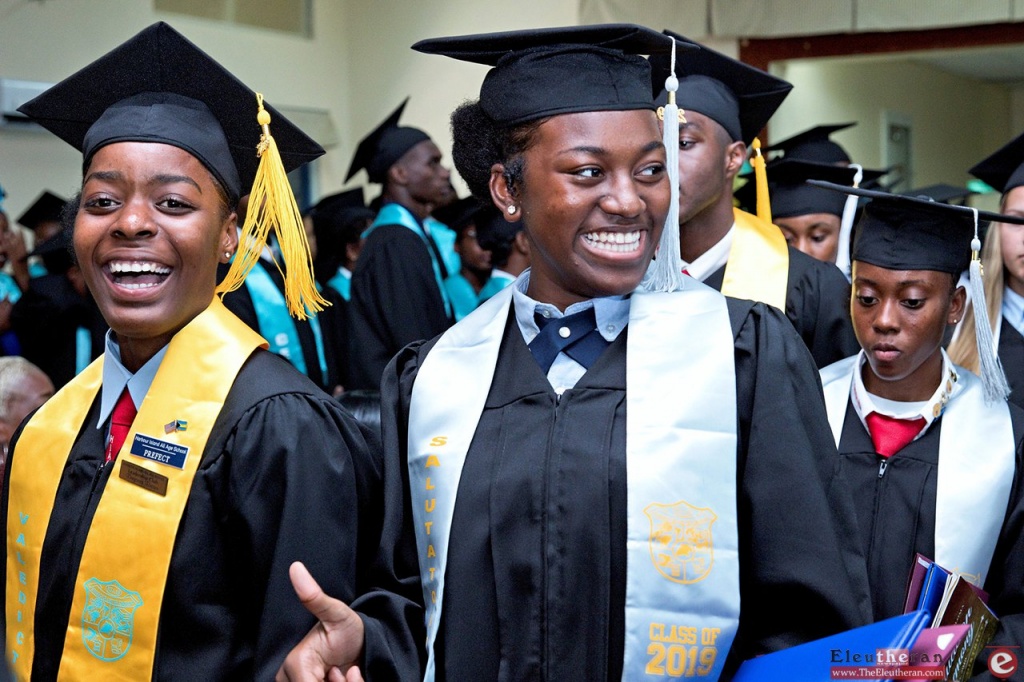 Ninety five (95) very proud 12th graders, along with family members and friends celebrated on the morning of Friday, June 14th, 2019 at the Ministry of Education's 2019 Bahamas National High School Diploma Graduation Ceremony for Eleuthera, at the Worker's House Ballroom in Governor's Harbour.
The successful graduates comprised students from all of the six high schools on the island, both public and private, including; Samuel Guy Pinder All Age (SGPAAS – 9 graduates), Harbour Island All Age School (HIAAS –  9 graduates), North Eleuthera High School (NEHS – 20 graduates), Windermere High School (WHS – 8 graduates), Central Eleuthera High School (CEHS – 27 graduates), and Preston H. Albury High School (PHAHS – 22 graduates).  [See Photo Gallery of graduation photos at end of article]
Each high school celebrated their top students, with six Valedictorians, one from each school, and seven Salutatorians.  2019 Valedictorians were; Lamar Sineus of CEHS, Dayonna Brown of HIAAS, Ernie Kelly of NEHS, Geordante Neely of PHAHS, Allie Pinder of SGPAAS, and Tamesha Sweeting of WHS.  2019 Salutatorians included; Joshua Jolly of CEHS, Gabriella Cleare of HIAAS, Mona Toussaint of NEHS, Oriana Carey of PHAHS, Anna Pinder & Merrick Underwood (Co- Salutatorians) of SGPAAS, and Cierrah Ferguson of WHS.
The ceremony was attended by officials from the Ministry of Education, including Assistant Director of Education, Sharmaine Sinclair, who gave an overview of the Bahamas High School Diploma program as well as a special message of inspiration to the class of 2018, telling them, "Today is all about you…  You have been prepared to exceed all expectations.  While the frontier you now face may be new to you, you have been equipped… as critical thinkers and problem solvers."  She exhorted them to, "Exceed the status quo, set new benchmarks and establish positive trends", adding a quote that, "Excellence is the result of always striving to do better…  Your graduation theme of , 'Awarding excellence in education, the journey continues', suggests moving from one starting point to another point, and as a result of the decisions you made earlier – you are now reaping your rewards.  It also suggests that the movement and the reaping are not yet done… Continue to cultivate the habit of excellence in your lives."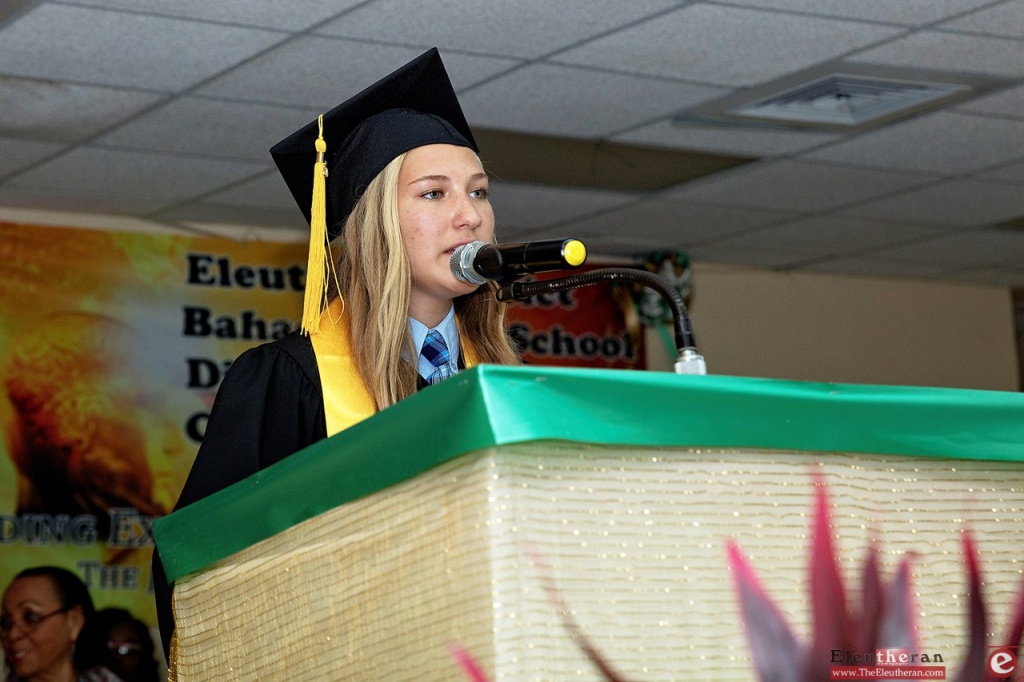 Giving the Valedictorian's address, and representing the select group of graduates inducted into the Bahamas Senior High School Honours Society, was Valedictorian for SGPAAS, Allie Pinder.  She challenged her fellow graduates to take all the lessons they had learned throughout their twelve year – primary and high school experiences – and to apply them to their future lives.  Using a softball analogy, she described them as students who had started out on the bench in primary school, who received training, molding, encouragement – and in preparation to do well, they had to train and practice and learn the skills being taught throughout the years. Now on the cusp of entering adulthood, and well equipped, she stated, "I believe that we are now qualified to enter the championship – the real world.  It's our responsibility to make a difference, and to become the best version of ourselves as the journey continues."
Local Minister, Diallo Ingraham, of Rock Sound, delivered the commencement message, and encouraged the new graduates to, "Take their talents to the world, work to achieve their goals, and to never stop learning…  The baton is now being passed… The opportunity is with you, no one else," were his concluding words.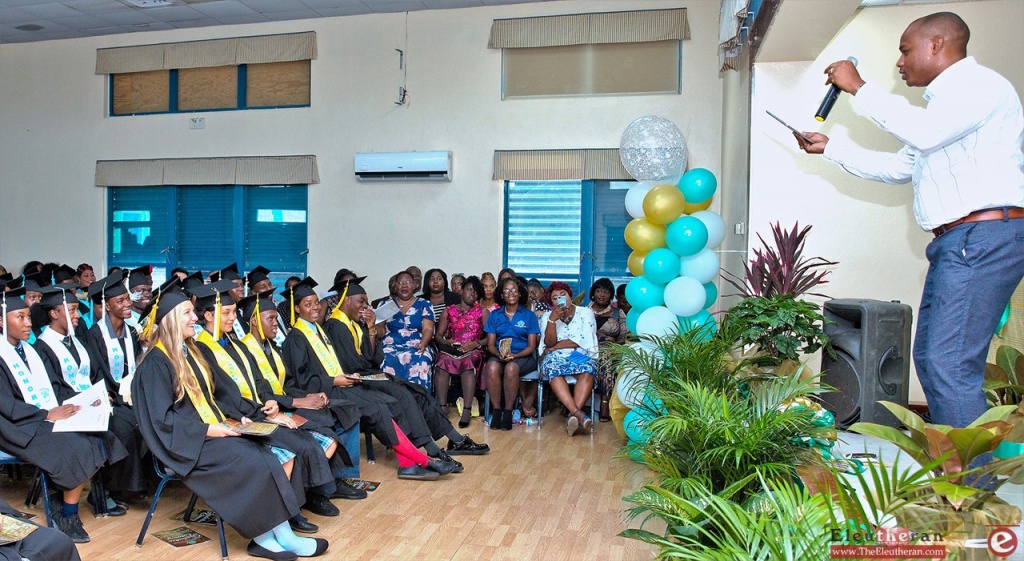 This island wide class of 2019 were the third group of Eleuthera high school graduates to attain the Bahamas High School Diploma, which standardized a minimum set of requirements attained by high school graduates nationally.
The essential minimum graduation requirements instituted, which each student aiming to graduate had to meet included the acquisition of; 4 Bahamas Junior Certificate subjects (BJC's) in Mathematics, English Language, a Social or Technical Science (Religious Knowledge, Social Studies, Technical Drawing, or Family and Consumer Science), and a Natural Science (General Science, or Health Science); a 90% record of attendance and punctuality; 30 hours of community service; 20 hours of job readiness training; parental participation in at least 3 PTA meetings per annum; a minimum grade point average of 2.0; as well as a minimum of 27 earned high school course credits – by the end of 12th grade.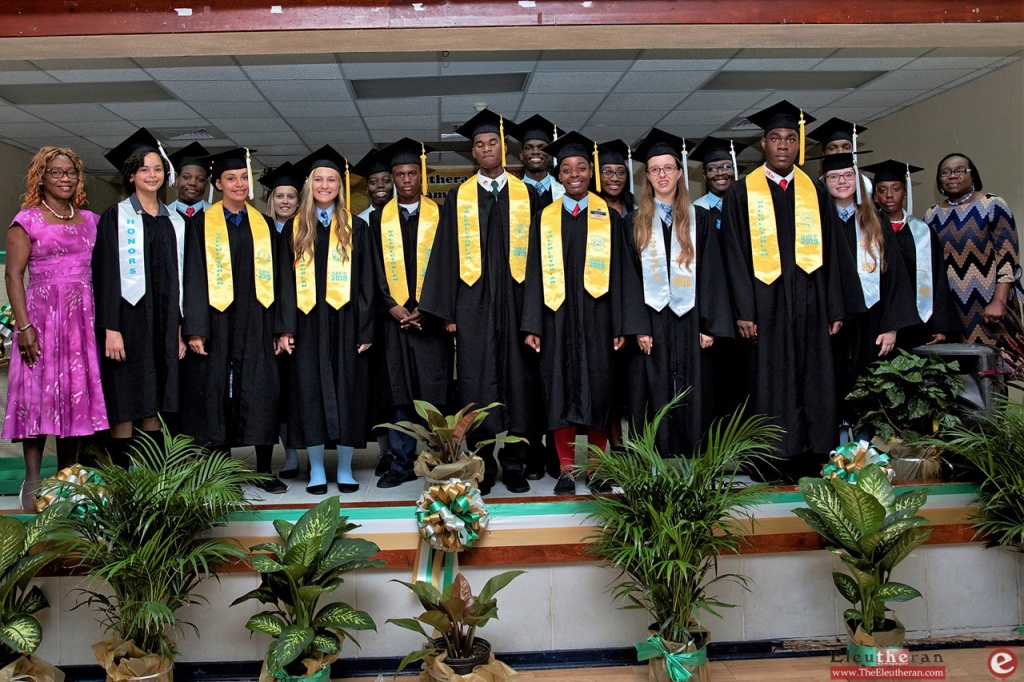 The Bahamas National Diploma Class of 2019 included; Honour Society Inductee Graduates (Denotes a Certificate of Excellence. A Cumulative GPA of 3.0 and above, Minimum of 3 BGCSE's with C (or above) grade or SAT/ACT score permitting immediate college entry): Lamar Sineus, Kiara Roberts, Dayonna Brown, Larelya Vinegre, Ernie Kelly, Mona Toussaint, Jerold Kelly, Geordante Neely, Oriana Carey, Traliyah Carey, Allie Pinder, Anna Pinder, Merrick Underwood, Daunte Bethel, Madison McGee, William Saintulus, and Tamesha Sweeting.
Honour Roll Graduates (Denotes Honour Roll Status – Cumulative GPA of 3.0 and above): Donovan Seymour, Jason Thompson, Malika Williams, Kenron Collins, Joshua Jolly, Nychada Joseph, Gabriella Cleare, Seraiah Littlejohn, Glenderia Francis, Giltavia Goodman, Charma Morley, Johnnecia Pinder, Cierrah Ferguson, Deandrea Johnson, and Jose Roberts.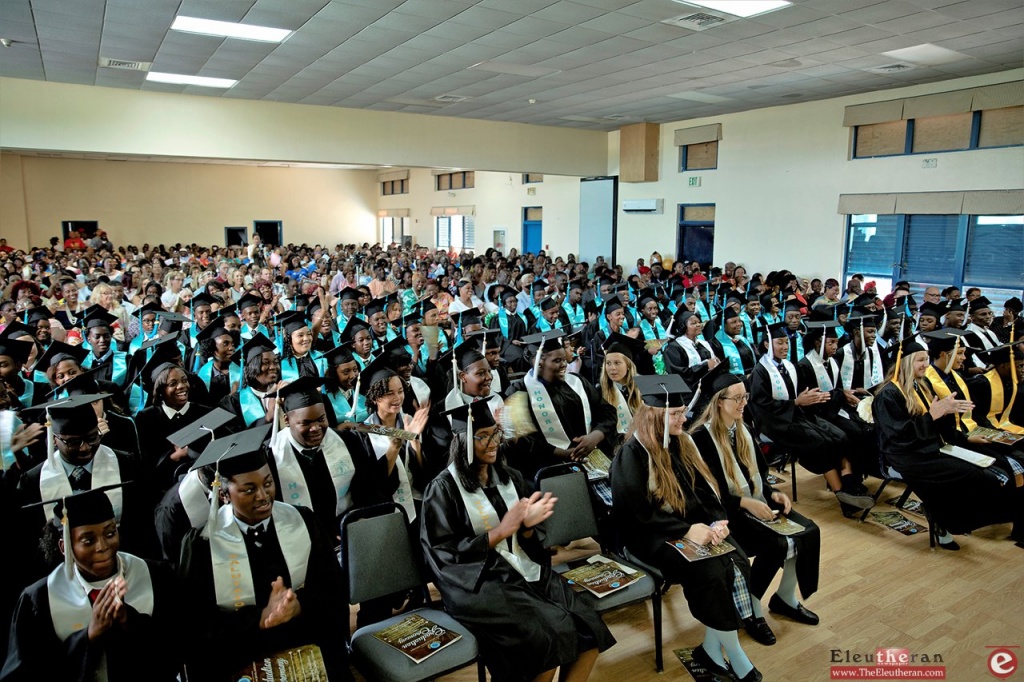 Graduates:  Mattheo Albury, Shamaria Belle, Cassandra Cadet, Marcia Calixte, Girred Clarke, Kayneisha Cooper, Herodiane Ficien, Jonas Fleranasaint, Shekinah Gaitor, Ashanti Heastie, Natisha Johnson, Shawayne Knowles, Danaj Lundy, Daniella Pierre, Kimberly Pierre, Hadassah Rankine, Tenarkis Sands, Aaliyah Thompson, Alexia Davis, Jania Davis, Tyreik Higgs, Daunte Knowles, Carla Saunders, Jeffrey Aristide, Wendez Bullard, Andy Dany, Asmine Dervilien, Warrae Hudson, Brivian Johnson, Rolanda Joseph, Lenka Julmiste, Geneva Laguerre, Kelly-Ann McKenzie, Fedlyne Metze, Lamont Morley, Yasmeen Munroe, Natalie Newbold, Jerica Pierre, Celeste Pinder, Darrel Smith, Valencia Bain, Mia Brown, Shaniah Butler, Ashantae Curry, Dillon Ingraham, Jase Isaacs, Takeem Knowles, Donovan McKinney, Demica Rolle, Precious Rolle, Kristin Saunders. Kamia Thompson, Brenae Williams, Timmesha Wilson, Randino Yee, Jada Albury, Mary Boute, Hannah Elden, Brendan Hepburn, Christian Patram, Miguel Turner, and Thyrone Turnquest.