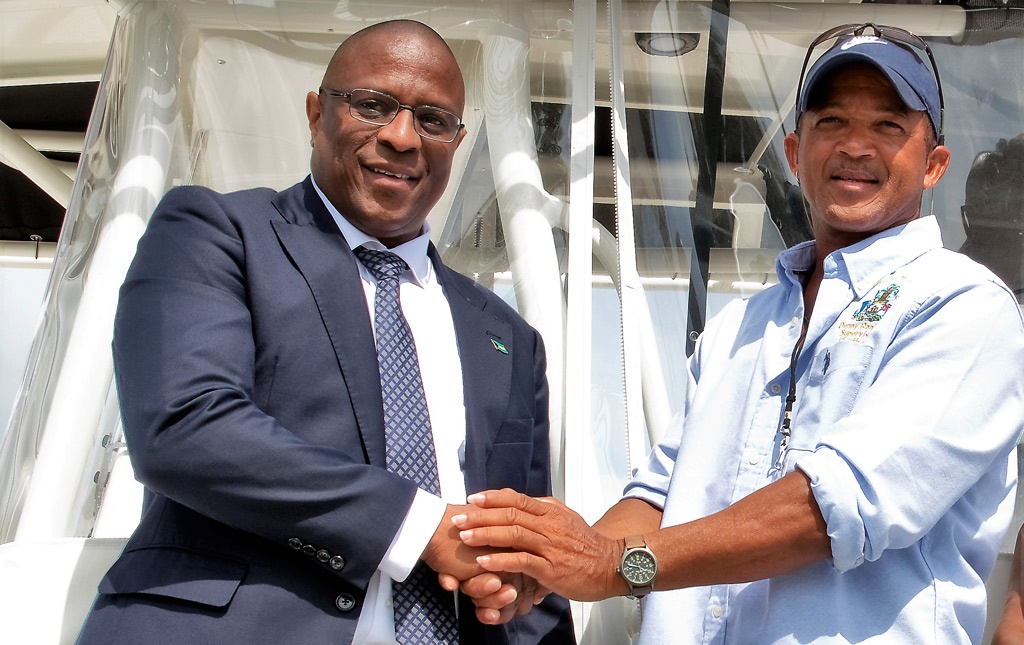 (Eleuthera, The Bahamas) Bahamas Minister of Agriculture and Marine Resources, the Hon. Michael Pintard, was in Eleuthera on Friday morning, April 5th, 2019, to commission a new 24 foot 'Justice Marine Patrol Craft' vessel for use by the Department of Marine Resources on the island, led by Eleuthera Supervisor, Mr. Denward Rankine.
Mr. Rankine, commenting following the commissioning ceremony, said that the new boat, demonstrated a commitment by the government to support their enforcement efforts here in Eleuthera. "The fact that government was able and willing to provide this vessel to the department in Eleuthera, shows a level of commitment that at this point has never been shown.  It gives us the resources and opportunity to now go out and do a lot more in the area of protecting our marine resources, and we look forward to doing so.  I have a team currently of four people; including officers – Sherry Knowles; Kevano Bullard; Samuel Cartwright; and Laura Culmer.  They are very competent and excited about the fact that we have been provided with this vessel – and are raring to get out there and put it to work."
Explaining briefly, some of his department's tasks on island, Mr. Rankine added, "We are responsible for protecting the marine environment – period – that is mangroves, all the different marine species (fish, lobster, turtle, shark all included).  We are also responsible for making sure that no one, which include foreigners and local fishermen, fish for different species out of season – or fish for juveniles of these species.  We also want to make sure that vessels that operate in our area are inspected and have the relevant documentation to be out there.  Also, the flats fishing sector, is very important.  Two years ago, legislation was passed, which made it illegal to fish on the flats without a license. Flats fishing has been a large industry for some time – it's one that I grew up in.  So, we are trying to protect the flats environment, and everything included in that as well."
Minister Pintard, during his commissioning speech, announced the government's intention to increase enforcement resources, as well as hiring in fisheries.  "The government is committed to increasing the fleet of vessels available to police a number of the islands, and over time we expect to have a direct impact through marine resources on all of them.  Secondly, we are in the process of dramatically increasing the number of fisheries officers.  We expect over the course of the next few months to hire roughly 32 new fisheries officers, who would be distributed throughout the Family Islands.  Thirdly, the amendment to the Fisheries Act will be a significant move forward, in terms of protecting our marine environment, strengthening the regime of penalties against poachers, as well as those locally who are engaged in illegal, unregulated and unreported harvesting of marine resources.
"Today, this is a fulfillment of a commitment to strengthen our law enforcement capacity, and we wish for members of the public and other stakeholders to see fisheries officers in much the same way they see other law enforcement agencies – like the Police, Royal Bahamas Defence Force, Customs, and Immigration – and that is precisely why we are looking for a dramatic increase in their numbers."
With the main Fisheries/Marine Resources office is based in Palmetto Point, Eleuthera Supervisor, Denny Rankine, shared briefly on the local manpower expectations, saying, "Two of our officers now cover North Eleuthera, and in the new batch of officers to be hired, we are looking for several of them to be stationed in the north, so, they are in a better position to do what is necessary in those areas.  There are currently five of us in the Eleuthera office, and I can't say with certainty now, how many new officers we will get out of the new hires.  However, I'm expecting to get at least two or three.  We have a very large area to cover with 110 miles plus, so, additional officers will put us in a better position to provide better coverage, and do a better job."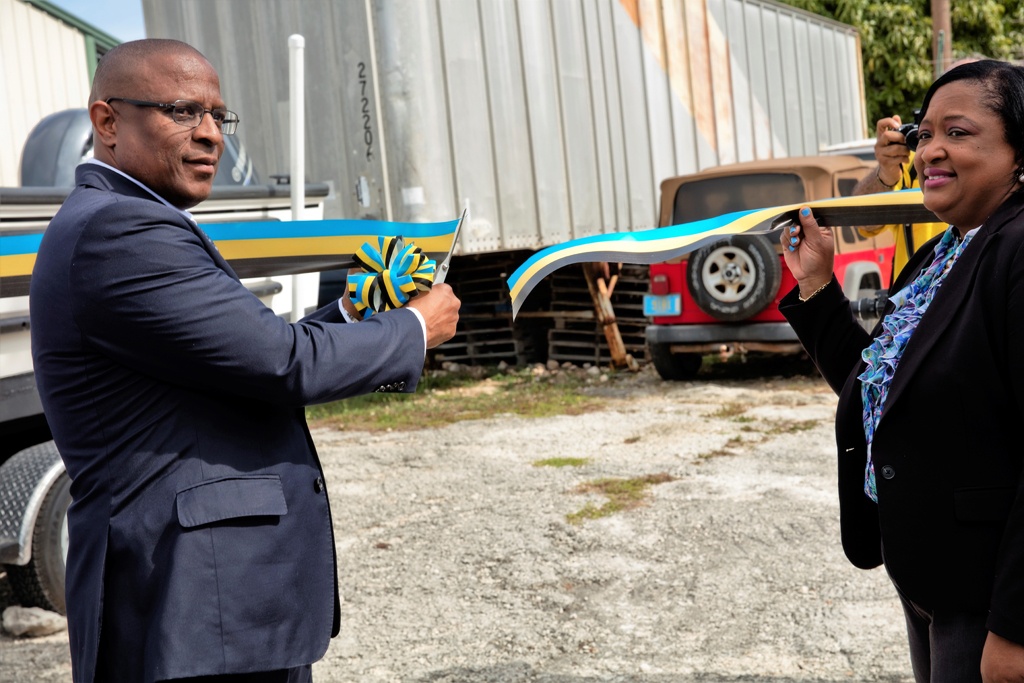 Marine protected areas (MPA's) would be another area of focus over the next year, Minister Pintard announced during his speech. "We are going to have expanded responsibilities in a short while in terms of marine protected areas.  We will increase the percentage of our marine protected areas.  Presently it's 10%, and we are heading towards 2020, where we are hoping to have 20%, and after careful consultations, we intend to make some adjustments.  Therefore, there will be a need for additional fisheries officers to assist in this regard.
"We are going to come to Eleuthera and have consultations with all stakeholders.  We will layout the marine environment as it is, and will share what is being proposed, and will gain feedback from all stakeholders.  This is a very tough balancing act, because we have to balance the growth in the livelihood of those who depend on the marine environment, whether that's commercial fishing for consumption or commercial fishing for recreational purposes.  We have to balance that very carefully.  So, for us, we need the science to inform the discussion, and out of the discussion will come policy decisions.  That is the process we are going to hold fast to.  We will keep the public posted as to when we intend to come [to Eleuthera] and have those discussions."
When asked about Lighthouse Point and where this area stood in the government's plan for marine protected areas, Minister Pintard answered, "Let me just say broadly, our commitment to protecting the marine environment will not change, no matter who the players are.  Our position stands.  Bahamian patrimony is infinitely more important than any investment dollar.  So, you can expect the same rigor with which we have dealt with all our marine areas to apply here in Eleuthera, as well.  This government is committed to ensuring Bahamian participation in any development that comes in.  Participation as more than just tenants, but as owners.  Secondly, we are determined to ensure consistent access and to hold persons accountable to the letter of any agreement.  That's what we signed up for…"
At the close of the ceremony, which was attended by a number of community leaders, and local government agency heads; including the Police, Customs, and Immigration, Mr. Rankine expressed the desire of his department to work closely with other enforcement agencies within Eleuthera, with the intention of strengthening cooperation and taking advantage of shared resources.