Mr. Stephen G. E. Burrows, distinguished nationally as the first Bahamian steel/metal artist to have his creations displayed in public spaces throughout the Bahama Islands and other parts of the world, passed away on Tuesday, September 18th, 2018.
He was a giant of a man who made exotic works of art and his pursuit of excellence was as large as the magnitude of the objects he created. Mr. Burrows was a Mechanical Engineer and former Station Manager of The Bahamas Electricity Corporation (Baillou Hills, the former Soldier Road station and Clifton Pier Station), having joined the company in the year 1956 and finally retiring in the year 2008.
This distinguished, godly, Eleuthera-born, patriotic Bahamian, was married to Mrs. E. Shirley Burrows since 1959.  They were blessed with seven children: La Verne Burrows-Deleveaux (Endric Deleveaux) Linda Treco, Stephen Burrows (Randa Burrows),  Lisa Bastian (Antoine Bastian) Laurell Burrows, Faye Burrows and Felice Burrows, as well as many grandchildren, including: Stefen Deleveaux, Leah Treco-Voisin (Garth), Jordan (Jennifer), Adam (Stevette) and Jonathan Treco, Stephanie and Stephen Burrows,  Seth, Sara and Aaron Bastian, Jude Adderley, Ashley Joseph, Ainsley and Aaron Theus.
The S.G.E. Burrows Foundation was established in October 2013, and officially launched in May of 2014, by Mr. and Mrs. Burrows' seven children, 'To reclaim, rebuild and otherwise preserve the Artistic works of Mr. Stephen G. E. Burrows and to provide an Endowment Fund for scholarships to students of the Arts, especially sculpture art in public spaces.'
Sculptures made by Mr. Burrows:
Bahamian Coat of Arms
The Lobster
The Conch shell
The Rooster
The White Crowned Pigeon
The Iguana Lizard (Connecticut & San Salvador)
Bacardi Rat Bat
The Flamingo
The Bahama Parrot (Abaco)
Statue of Pompey (Exuma)
Mini Conch shell on Mt. Royal Avenue
The Woman
Bust of Sir Lynden Pindling
The Triton trumpet Shell
The Dragon (unfinished)
On behalf of The Eleutheran Newspaper, our deepest condolences go out to members of Mr. Burrows' family during this time.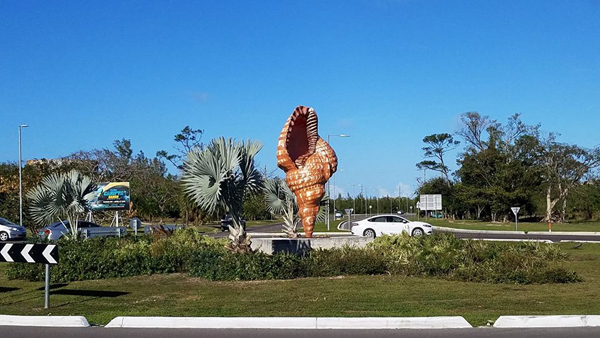 Information provided by: Mrs. Lisa Bastian