(North Eleuthera, Bahamas)  At about 10:30pm on Sunday, July 8th, 2018, while escorting 2 suspects to the Harbour Island Police Station, officers reportedly noticed a man acting suspiciously on a water ferry arriving in Harbour Island. Just as the water ferry got close to the Harbour Island Dock, the man attempted to jump off the stern of the boat with the engine still running, said reports.
The officers then grabbed the man, preventing him from jumping into the water. The man was said to have become violent and a brief struggled ensued. The suspect, said officers, was quickly subdued and handcuffed. Officers then retrieved a clear plastic bag with a large quantity of suspected marijuana from within the front section of the man's pants.
He was then cautioned by the officers for 'Possession of Dangerous Drugs with intent to Supply' and transported to the Harbour Island Police Station. A further search of the man, while in custody, according to reports, revealed $545.00 dollars in small notes which were seized, as they were believed to have been derived as proceeds from illegal means.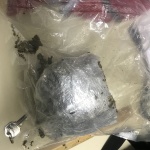 Also, on Sunday, July 8th, 2018, sometime around 8:15pm, officers while on mobile patrol, observed a white Toyota Paso traveling along the Current Road at a high rate of speed. As a result, reports said, the officers pursued the vehicle and beckoned the driver to stop by using the Police vehicle's beacon lights and horn.
The officers approached the stopped Toyota and noticed that the occupants were acting in a suspicious manner. They ordered all occupants to exit the vehicle, which were (2) men and (1) woman and conducted a search of the men, and vehicle, for suspected dangerous drugs and firearms.
While searching the front left passenger side, the officers found a black "Oakley" back pack, containing (1) black .9mm Taurus pistol, loaded with (1) .9mm magazine, containing (10) rounds of .9mm ammunition. As a result the officers arrested and cautioned all suspects, with reference to possession of an unlicensed firearm and ammunition.
The officers also found a green bag in the trunk of the vehicle, containing (1) .223 magazine, (50) .9mm ammunition, and (3) .45 Hallow tip ammunition.  The suspects were further cautioned and taken to the North Eleuthera Police Station. Investigations are said to be continuing into these incidents.