As the entire Bahamas readies to celebrate its 45th Anniversary of Independence on July 10th, 2018, Eleuthera is no exception, with activities planned throughout the entire group of islands.
Information posters for Independence events planned in North, Central and South Eleuthera are included below, and others will be added as they are made available.  National events hosted in New Providence are also included for those traveling to the capital to celebrate.
Happy 45th Birthday Bahamas!
CENTRAL ELEUTHERA DISTRICT 45th INDEPENDENCE CELEBRATION   
CALENDAR OF EVENTS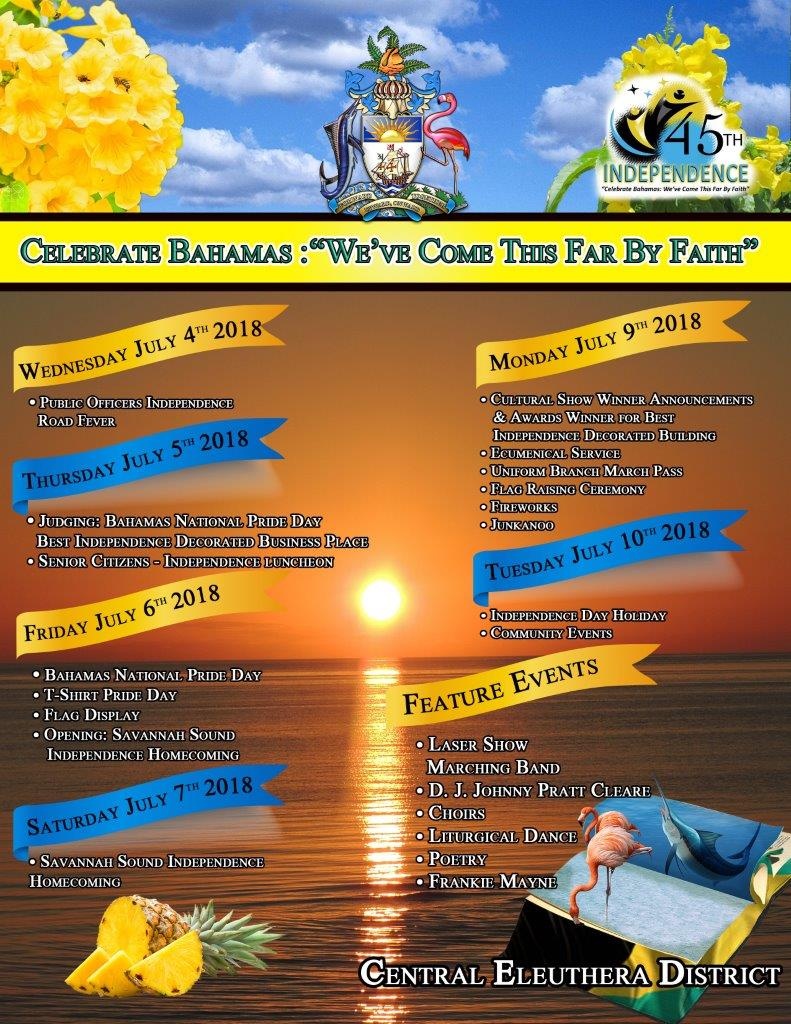 NORTH ELEUTHERA DISTRICT 45th INDEPENDENCE CELEBRATION
CALENDAR OF EVENTS
North Eleuthera Mainland
9:00p.m.         Monday, 9th July 2018
Independence Church Service
Flag Raising Ceremony
Fireworks Display
10:00a.m.        Tuesday, 10th July 2018       Crazy Sports & Fun Day,
4:00 p.m.        Tuesday, 10th July 2018        Cultural Show
Harbour Island
7:00p.m.         Sunday, 8th July 2018        Independence Church Service
12noon         Monday, 9th July 2018        All Day Cultural Show
12noon         Tuesday, 10th July 2018        All Day Fun and Family Day
Spanish Wells
7:30p.m.         Monday, 9th July 2018        Independence Bash

SOUTH ELEUTHERA DISTRICT 45th INDEPENDENCE CELEBRATION   
CALENDAR OF EVENTS
NEW PROVIDENCE, 45th INDEPENDENCE CELEBRATION
CALENDAR OF EVENTS