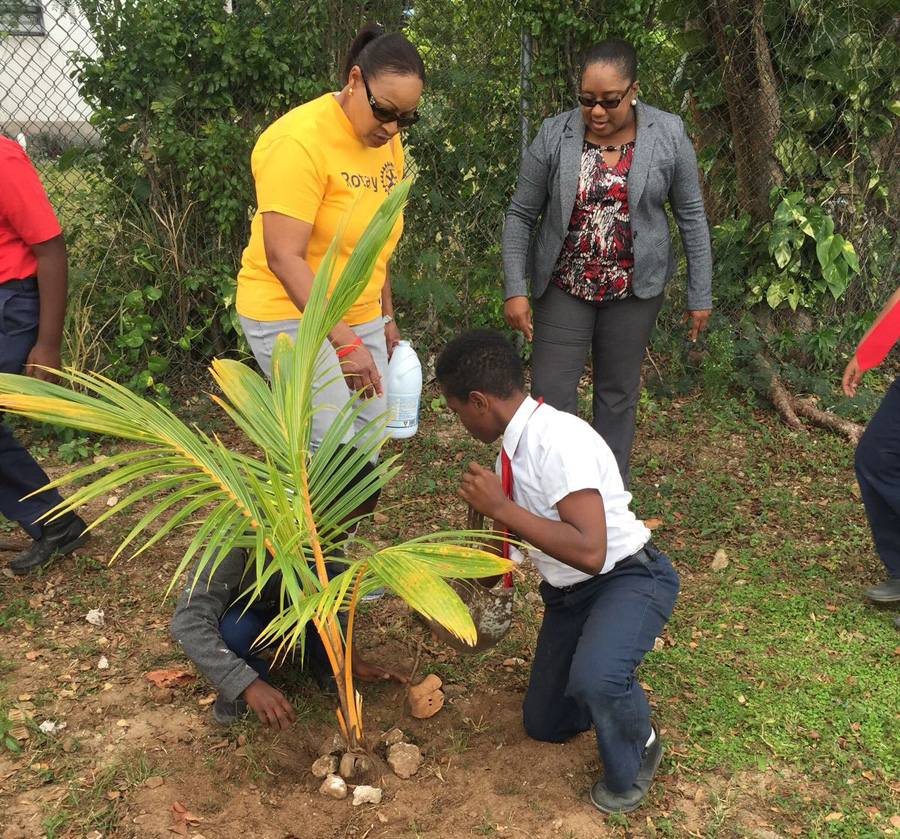 Rotary Club of Eleuthera (RCE) President, Mrs. Sherrin Cooper, recently lead a tree planting exercise with the Early Act Club at Emma Cooper Primary, continuing with an ongoing initiative by the RCE to promote a sustainable environment through planting of trees and keeping communities clean.
Members of the Rotary Club of Eleuthera have been planting trees in strategic places and as well as planting trees in their own yards, said President Cooper.  To date, trees were planted at the Cancer Society Wellness Centre, Central Eleuthera High School, Emma E. Cooper Primary School, Governor's Harbour Primary School and the Centre For Training and Innovation in Rock Sound.
"Trees that bear edible fruits were the first choice for planting. These included coconut, guava, cherry, mango, avocado, lime and mulberry," explained President Cooper.  Rotarians who worked with the Interact and Early Act Clubs on the tree planting project also used the opportunities to discuss with the students, the importance of and the benefits to the environment of having trees in our communities, she added.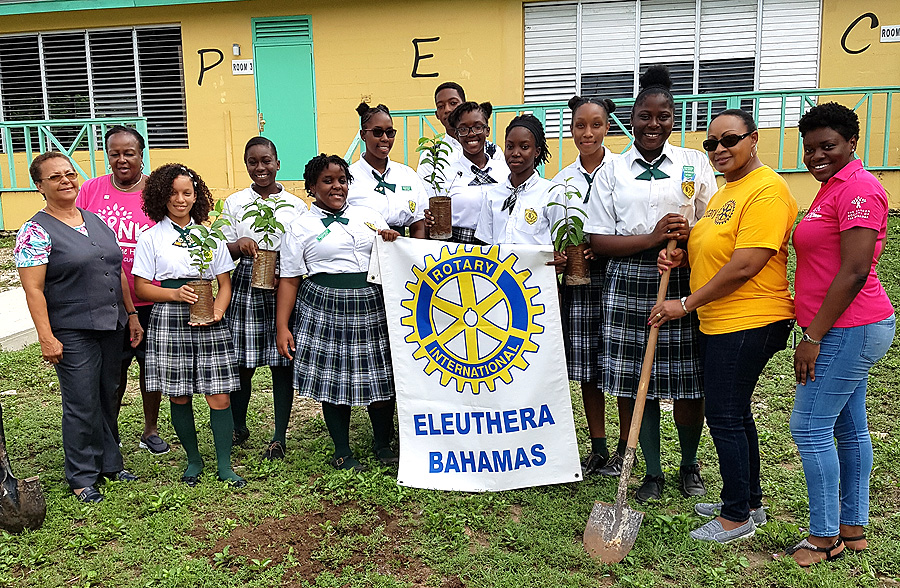 A few of the benefits of trees pointed out to the students were: being able to feed ourselves and create economic opportunities by having fruit bearing trees; trees providing food for wild life; trees providing oxygen in the environment, keeping the soil together and preventing erosion; trees keeping communities cooler – by providing shade and protection from sun; trees providing shade for the earth – slowing down water evaporation, and many more.  The students, who she said were very excited about the tree planting, were divided into teams, and each team was given responsibility for a tree which was planted in their school yard.  "We lose so much of our forest for various reasons so, if people reflect more on the benefits of having trees, they may plant more and uproot less," shared President Cooper.
The Early Act Clubs at Emma E. Cooper Primary and Governor's Harbour Primary schools, she said, also have plans to carry out a community clean-up project, and the Rotary Club of Eleuthera was committed to working with them and contributing to their clean-up initiatives as well.