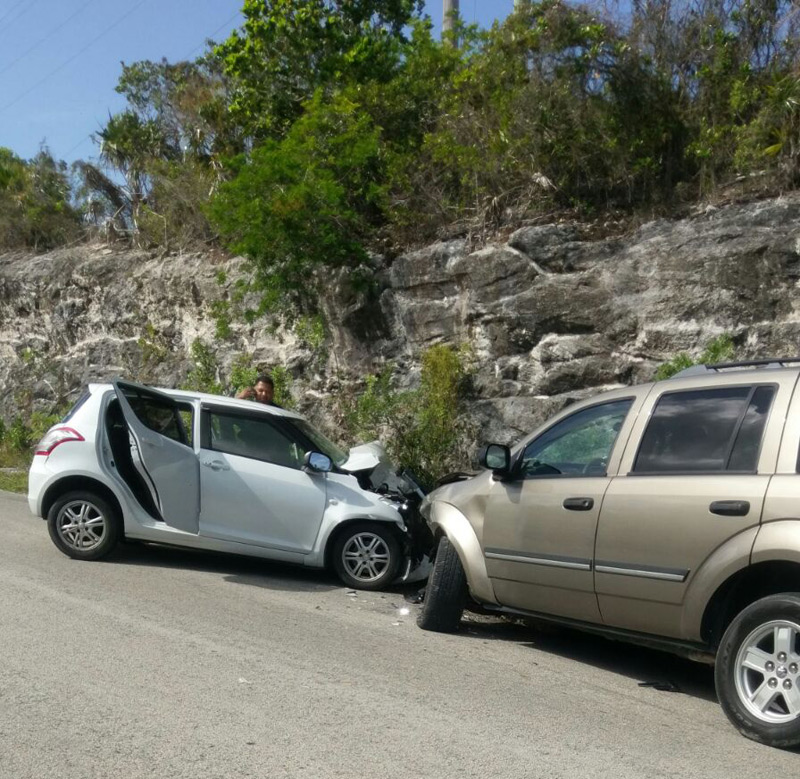 (Eleuthera, The Bahamas) Police in Eleuthera responded to another road accident involving a tourist driving on the wrong side on Sunday morning, July 23rd, 2017 at about 10am, which had resulted in a head-on-collision, just north of Lord Byron's Hardware in the Governor's Harbour area.
An anonymous caller contacted the Governor's Harbour Police station, reporting that a traffic accident had occurred on the Eleuthera main road involving two vehicles.  At the scene, officers observed both vehicles on the western side of the road in the north bound lane.
A white Suzuki Swift had been driven by an Eleutheran adult male, who was accompanied by an Eleutheran adult female passenger, traveling north.  They reported to have observed a brown Dodge Durango, driven at the time by an adult male visitor who had four passengers, traveling south on the wrong side of the road, before both vehicles collided into each other.
All of the occupants of both vehicles were transported to the Levy Medical Clinic in Governor's Harbour for medical attention. Dr. Y. Timothee indicated that none of the injuries were life threatening. However, the driver and passenger of the Suzuki Swift and two passengers from the Durango were airlifted for further medical attention.
Just one week ago, on July 15th, near the Governor's Harbour airport, two sets of tourists collided head on, as a result of one party driving on the wrong side of the road.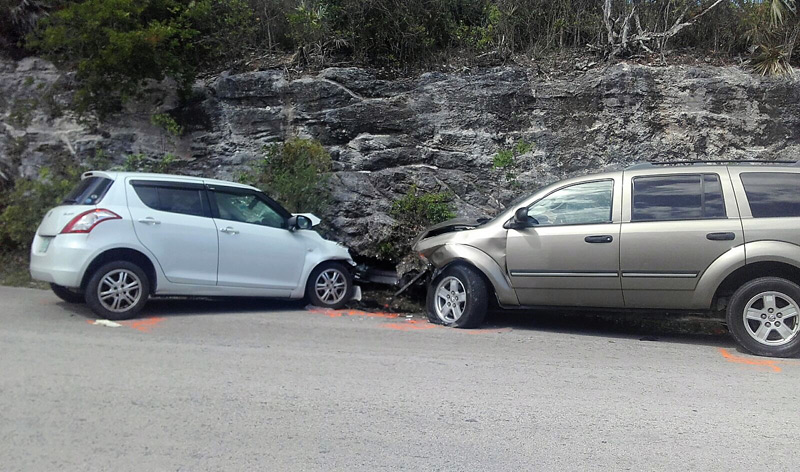 UPDATE: Third Wrong Side Driving Accident reported by witness, confirmed by authorities
At 1:55pm on Friday 21st July 2017, an anonymous caller contacted the Governors Harbour Police Station via telephone and reported that a traffic accident involving two vehicles had occurred near North Shore Drive in the area of the Old Club Med Resort in Governor's Harbour.
Officers responded and found an accident scene involving two motor vehicles on Bank's Road, Governor's Harbour – a white 2008 Toyota Camry  driven by an adult male,  and a black  2008 Jeep Wrangler  driven by  an adult male tourist. Both vehicles sustained major damages.
The local resident driver of the Camry was said to have reported seeing the Wrangler approaching him on the wrong side of the road, and attempted to pull off, but was still hit by the rented Jeep Wrangler driver.