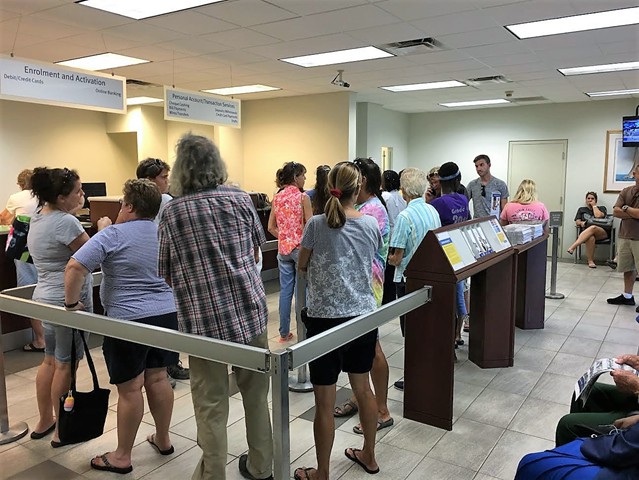 The Royal Bank of Canada (RBC) branch in Spanish Wells was a crowded scene on Monday, May 29th, as scores of residents towed a long line to wrap up their banking services with RBC as the institution readied to close its doors to the community for the final time at the end of the business day on Wednesday, May 31st, ahead of the Labour Day/Whit Monday holiday weekend.
Some customers stated that they had spent hours in line on Monday morning, before being served, because of the sheer volume of people.  Others expressed a lingering sense of disbelief that RBC, which had been a fixture on the island for so many years, was actually closing out and leaving, especially with the level of business they perceived had been done with the bank on the island.  Robert Roberts, Chief Councillor for Spanish Wells, shortly after the RBC Spanish Wells branch closure was announced in early March 2017, commented that RBC had been present in Spanish Wells for more than 50 years.
In mid-April 2017, Commonwealth Bank officially announced its intention to open a new branch in Spanish Wells, taking full advantage of RBC's closure in this market.  Bank President Ian Jennings, said at that time, that Commonwealth Bank had been warmly welcomed by the Spanish Wells community, adding, "This move to Spanish Wells increases our presence to four islands and we look forward to serving the Spanish Wells community as we do so."  The bank has branches in New Providence, Grand Bahama and Abaco, and has some 6,000 shareholders and over 500 staff members.
With the exception of one employee near retirement, current employees at the closing RBC Spanish Wells branch are said to have been taken on by Commonwealth bank, which is scheduled to open in Spanish Wells on Tuesday, June 6th, immediately following the Labour Day/Whit Monday holiday weekend.