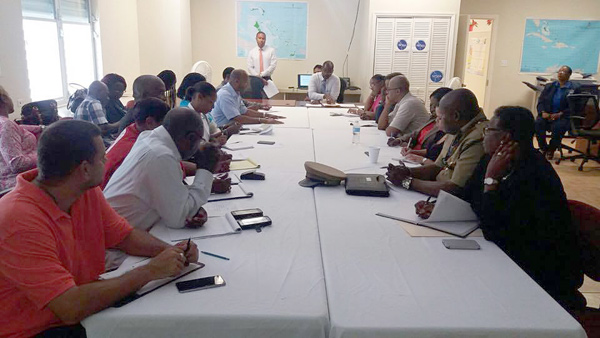 NASSAU, The Bahamas – The National Emergency Management Agency, NEMA, is bracing for another hurricane season, focusing on the watchwords, "Maintaining Disaster Resilience Throughout the Communities."
June 11 – June 18, 2017 is 'National Disaster Preparedness Week,' and the public is being urged to do their part in preparing for any disaster, natural or manmade this season.
However, the public is being reminded that the Hurricane Season is June 1 to November 30. A number of public relations activities are being planned to bring about a new sense of awareness.
Captain Stephen Russell, Director of NEMA is mindful that communities are still rebuilding from the devastation caused by Hurricane Matthew, which struck in October 2016 leaving damage in the millions in its wake throughout the Northwest Bahamas. Those islands mostly impacted were New Providence, Grand Bahama, Andros, Abaco, Eleuthera, Bimini and the Berry Islands.
On Friday, May 26, the national disaster committee held its regular monthly meeting during which representatives of the Emergency Support Function (ESF) groups reported on their respective levels of readiness ahead of the hurricane season.
"Most communities are still in recovery phase post Hurricane Joaquin (2015) and Hurricane Matthew (2016)," Captain Russell said. "We are encouraging residents to be mindful of the 2017 hurricane season and they must be prepared for what might occur during the upcoming season."
The official Atlantic Hurricane Season begins June 1 and runs through November 30. Occasionally, storms can form outside those months as happened this year with Tropical Storm Arlene, which formed in April. And though it posed no threat to land, the Met Department through NEMA kept the public informed of its movements.
Captain Russell underscored the importance of lessons learned from Hurricane Mathew last year.
"People must adhere to warnings issued by the disaster management officials, particularly if it relates to evacuating certain areas; and take measures in a timely manner to safeguard their properties as best they can." He further advised, "Residents also need to have an a disaster plan for their families and not wait until the last minute to find out where they have to go, in the event their homes would be compromised."
To the Family Island communities, Captain Russell reminded Local Government officials that they should have already met with their respective disaster consultative committees regarding level of preparedness.
Capt. Russell thanked members of the disaster management committee, and donors, for their continued support of the national disaster programme. NEMA and its support agencies will continue to monitor events as the agency aims to continue to disseminate information in a timely manner.
NEMA also intends to upgrade its social media mechanism of alerting the public through Facebook, text messaging, Instagram and other means.
The Colorado State University Tropical Meteorology Project Outlook, headed by Dr. Phil Klotzbach, calls for 11 named storms, 4 hurricanes, and 2 to become major hurricanes. However, the National Oceanic and Atmospheric Administration (NOAA) is predicting 11-17 named storms, 5-9 hurricanes, 2-4 becoming major hurricanes.
The 2017 Storm names are: Arlene, Bret, Cindy, Don, Emily, Franklin, Gert, Harvey, Irma, Jose, Katia, Lee, Maria, Nate, Ophelia, Philippe, Rina, Sean, Tammy, Vince and Whitney.