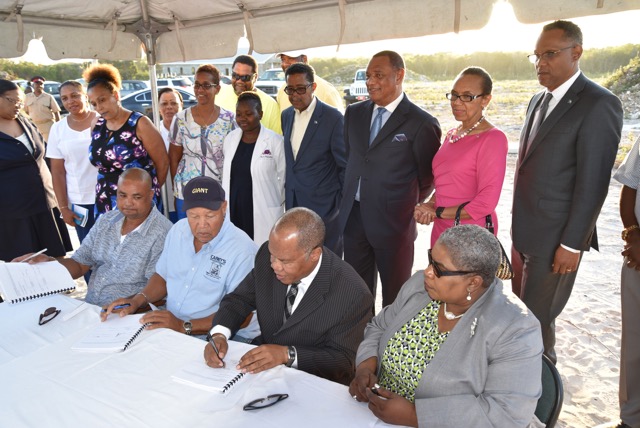 PALMETTO POINT, Eleuthera, The Bahamas — Prime Minister and Minister of Finance the Rt. Hon. Perry Christie said, on May 8, 2017, that he was pleased to announce the Public Hospitals Authority (PHA), under his auspices as Prime Minister, would execute a formal agreement for the preliminary works that would ready the site upon which he was speaking for the upcoming construction of the Eleuthera Healthcare Centre, in Palmetto Point.
"At a cost of some $865,000, these initial earthworks will prepare the way for a state of the art 33,000-square-foot healthcare centre [that] will provide for some 10 in-patient beds, as well as an operating suite, a dental care facility, physiotherapy, a morgue and an emergency and trauma room — which will allow for patients to be stabilized prior to referral and transport to a tertiary institution," Prime Minister Christie said during the Mobilization Ceremony for the Centre.
"This facility, when it is completed will cost almost $30,000,000 and it will represent an unprecedented upgrade with respect to the public health capacities of this island and its adjacent cays," he added.
Prime Minister Christie said that, as with other health infrastructure projects, the subsequent phases of construction of the Eleuthera Healthcare Centre will demand the "best efforts" of the Department of Public Health, the PHA, the Ministry of Health and other public sector agencies — with the contractor and other private sector stakeholders coming together and working together for the best interests of the Bahamian people.
"This deliberate effort at collaborative synergies speaks to our commitment to achieve the maximum benefit for the communities this public health facility will serve, while ensuring that we obtain the maximum value for the investments made," he said.
"We are continuing to transform our public healthcare system."
Prime Minister Christie noted that the Eleuthera Healthcare Centre represented a continuing commitment by my government to the people of this island, to "all the islands in our beautiful Bahamaland," and that the government was committed to seeing that access to quality healthcare in the nation would not be limited by geography or financial status.
Across the archipelago, he stated, a "profound transformation" was reshaping the delivery of healthcare.
"This transformation is being realized by the steady progress that we are achieving in every area of our public health system; progress that we celebrate today with the signing of the contract for the construction of the Eleuthera Healthcare Centre," Prime Minister Christie said.
"Today, my fellow Eleutherans, I share your pride in what is the first step towards the construction of a new healthcare facility," he added. "It is an honour that I retain not only as Prime Minister, but a son of the soil.
"So it is for me to say thank you very much, may God bless you and may God continue to bless the Commonwealth of The Bahamas."
By Eric Rose
Bahamas Information Services