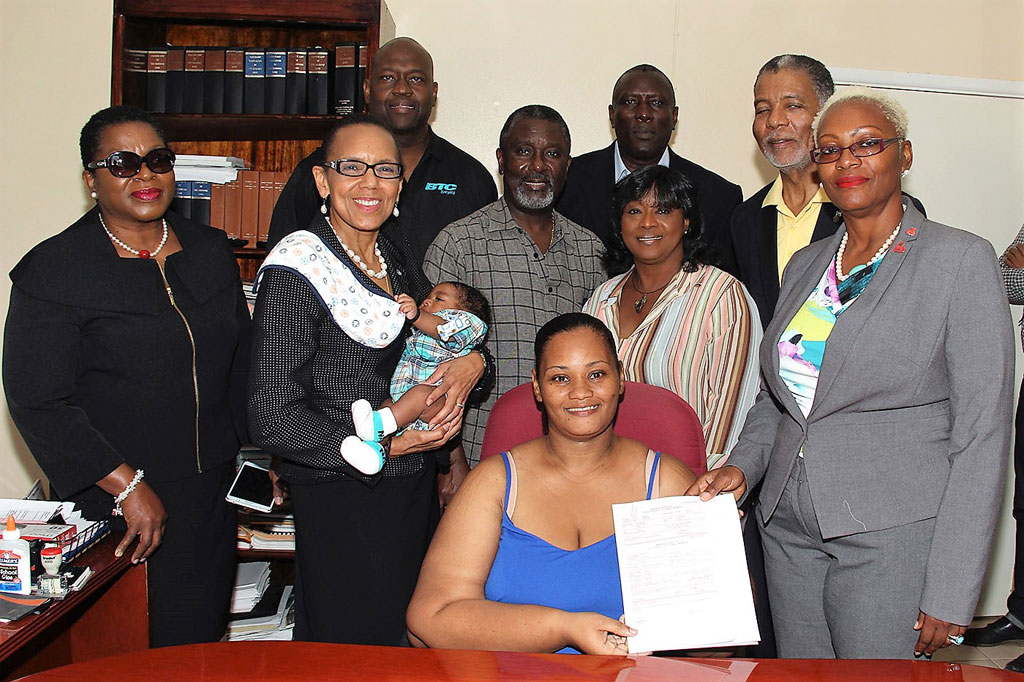 (Eleuthera, Bahamas) – Hensley Bethel is the first baby in Governor's Harbor, Eleuthera, to be registered, and receive a printed certified birth certificate – online — accompanied by his proud mother, Elka Bethel, using the new online registration services of the government's public-private partnership with BTC.
On Friday, March 3, 2017, Attorney General and Minister of Legal Affairs, Senator the Hon. Allyson Maynard Gibson, QC re-established the Registrar General's ability to locally issue certified copies of official documents and, for the first time, launched the registering of births at the Governor's Harbor Government Complex.  Family Island Administration staff can now process birth registration and certification without the need for travel to Nassau.
Mrs. Gibson said that as an archipelago, the government must use technology that can make life easier for those on the Family Islands.  As an example, because of the cooperation between BTC, the Department of Public Health, and the Passport Office, a resident of Eleuthera will now be able to get a certified copy of a birth certificate in Eleuthera; and when the Passport Office mobile unit comes to Eleuthera — also get an electronic passport, in their own community.
Accompanying the Attorney General were: Permanent Secretary Marco Rolle, Director of Legal Affairs Antoinette Bonamy, Acting Registrar Deirdre Clarke Maycock, Deputy Registrar Darian Creary, BTC CEO Leon Williams, BTC Vice-President for Family Island Development Talbot Collie, and local officials.
Source: BIS