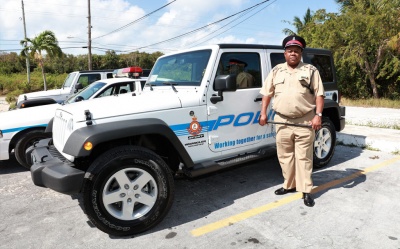 (Eleuthera, Bahamas) – The Royal Bahamas Police Force (RBPF) in the Eleuthera District, headed by Superintendent Christopher Wright, recently had three new vehicles added to their fleet, bringing the total number of vehicles available to the team to eight.
"The government has lived up to their commitment to supply the Police Force with operational vehicles to fight the crime situation," announced Superintendent Wright, on Monday morning, February 27th, 2017.  He explained, "We in the Family Islands have not received brand new vehicles in a very long time.  The ones we presently have, have a lot of wear and tear, and they from time to time give us mechanical problems.  So we are very grateful to the Commissioner of Police who recognized the need for the Eleuthera Division to have some vehicles, and he has supplied us with three brand new 2016 Jeep Wranglers."
"They will be distributed throughout the various districts for the smooth running of the Eleuthera Division," Wright added, and continued, "It will definitely enhance our policing ability, because every station will now have a vehicle readily available to respond to our calls. This will help us greatly."
Anglican Rector, Fr. Ivan (Tim) Eldon was invited by Superintendent Wright and his executive team on Monday, February 27th, to pray for the safe and productive use of the new Jeeps.