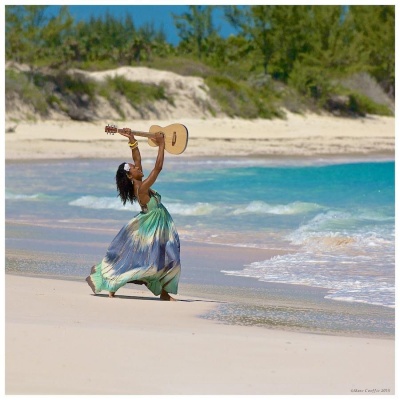 Now in their 5th year of the "Eleuthera… All That Jazz" event, organizers sent out a special thank you to all of their sponsors, highlighting Damianos Sotheby's Realty and Holowesko, Pyfrom and Fletcher law firm, for their loyal support from the very first year.  This year's "Eleuthera… All That Jazz" is promised to be as amazing and dynamic as ever!
About the 2017 event, Founder and Chairman, Patricia Oakes Leigh-Wood, commented, "This year's exciting line-up includes some fresh sounds from Europe… popular singer, Myra-Maud, (www.myramaud.com) based in Germany, who everyone so enjoyed in 2014. Since then, her career has taken her to exciting places and extended her amazing repertoire.  From Milan, Italy, Tomasso Starace (www.tommasostarace.com) on sax and other horns, performing with Masimmo Colombo (www.masimmocolombo.com) on piano. They will also be backing Myra as well as performing as a duo!  From Toronto, Canada we have Steve Koven's Trio (www.stevekoven.com) who will perform their own original compositions,  as well as backing Bahamas' own wonderful singers,  Anuschka Wright and Osano Neely."
"Joining the above artists will be the wonderfully talented musicians from Nassau… Already confirmed are Adrian D'Aguilar on bass, Kevin Dean on drums  and Tino Richardson on sax.  Naturally, our super talented Musical Director, Johnny Schütten, so much a part of the musical scene on Eleuthera, will be playing the piano whenever he can," Mrs. Leigh-Wood added!
During the 2016, "Eleuthera… All That Jazz", guest musicians took part in a 'Meet the Instrument' event, held on the Saturday morning at the Haynes Library, where dozens of children were given the opportunity to meet the jazz artists and their instruments face to face in small groups.  A high school student who had taught themselves how to play the piano, was fascinated by the skill and depth of knowledge displayed by the jazz pianist and composer, Art Hirahara.  With local BGCSE national exams coming up, and Music on the list, the brave teen jumped at the opportunity to learn more.  After speaking with Art following the presentations, he agreed to give of his time while on island and gave a one on one lesson to boost the student's practical skills in preparation for their Music BGCSE exam.  They went on to receive an A result, and shared that the short time afforded with such a talented musician had been invaluable.
Described as a "Pillar of the community in Central Eleuthera", all profits are said to go to enable the Haynes Library, in Governor's Harbour to offer a number of diverse programs throughout the year to children, adults, residents and visitors alike.  To find out more about the ongoing work at the Haynes Library, click on: https://vimeo.com/162898510.  Online tickets can be purchased at: https://www.eventbrite.com/e/eleuthera-all-that-jazz…, or at the Haynes Library in Governor's Harbour.
Schedule of Events is as follows:
Wednesday, March 29th to Sunday, April 2nd, 2017
Mar.29 Wednesday 6pm, Sunset Concert  LeoRose, James' Cistern – $20 cover charge
Mar.30 Thursday

5:15pm  Jazz Vespers, St. Patrick's Church, Governor's Harbour
7:45 pm  1648 Restaurant, Governor's Harbour – $20 cover charge
Mar.31.  Friday  7:15pm Jammin' at Fish Fry, Governor's Harbour
Apr. 1  Saturday

10am Meet the Instrument, Haynes Library, Governor's Harbour
7:15pm Levy Concert (tickets)
Apr.2. Sunday 12:30pm – On the Rocks  Lunchtime Concert (tickets)