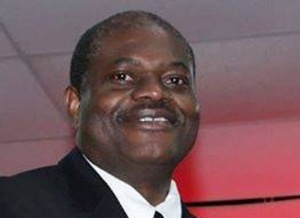 CHRISTIE RETURNED AS PLP LEADER IN LANDSLIDE VICTORY
In what party chairman Bradley B. Roberts characterized as a magnificent display of democracy, incumbent party leader and Prime Minister the Rt. Hon. Perry G. Christie was returned as leader of the Progressive Liberal Party after elections were held during the party's 52nd National General Convention held at the Melia Nassau Beach Resort on Thursday the 26th January. Mr. Christie defeated former cabinet colleague and candidate for Fort Charlotte, Alfred Sears.
With over 1,400 delegates voting, the official results are 1,264 votes cast for Mr. Christie and 169 for Mr. Sears.
In other electoral news, Deputy Party Leader the Hon. Philip Brave Davis and Deputy Chairman, Alexander Storr were returned to their respective posts unopposed. Joseph Curry and Ruby-Ann Darling were elected Trustees of the party, joining Valentine Grimes, Henry F. Storr and Tom Basden. The party's constitution provides for five trustees. Curry and Darling replaced Leander Minnis and Doris Burrows, both deceased.
Paul Bevans was elected as Treasurer unopposed.
The four newly elected Leadership Council Members are Darren Rodgers, V. Theresa Burrows, K. Renaldo Collie and Aarone Sargent.
Additionally, a total of twelve Vice Chairs were elected and appointed. They were Obie Roberts, Samantha Rolle, Quintin Lightbourne, Shelley Sweeting, Pia Glover-Rolle, Sharine Poitier-Johnson, Anton Braynen, Patricia Deveaux, Keenan Johnson, Ramadan
McKenzie, Diana Coakley and Kayla Mortimer.
PLP EMERGES COMMITTED TO "MOVING FORWARD TOGETHER"
The Progressive Liberal Party closed out its 52nd National General Convention on Thursday with thousands of supporters in attendance. Session Chairwoman Cheryl Bazard opened the night emphasizing the party is united behind Party Leader and Prime Minister the Rt. Hon. Perry G. Christie – who defeated Alfred Sears in an internal party vote Thursday afternoon 1264 to 169. Sears conceded, and the Party declared it is committed to moving FORWARD TOGETHER – the theme of the final night.
Hon. V. Alfred Grey, Minister of Agriculture and Marine Resources spoke about the benefits of BAMSI, "BAMSI empowers people to become employers not employees."
Chester Cooper took the stage with strong contingent of Exuma constituents, sharing why he is a member of the Progressive Liberal Party. "Why the PLP?" he asked, "because it's a story of empowerment." 
Dr. Bernard Nottage, Minister of National Security acknowledged that despite the progress in the last 5 years, there was still much to do on crime. "There must be prevention, detection and effective prosecution and rehabilitation." Keith Bell, Minister of State, echoed by saying "all the institutions must work together…Even if it's one murder it's one too much."
Obie Wilchcombe, Minister of Tourism lauded the progress of the tourism industry, saying "There is no island country in the world that has had so many brand hotels come to their country."
Prime Minister Perry Christie embraced a message of moving forward and tackling the difficult issues that affect Bahamians. He spoke candidly about the progress the PLP has started, but indicated there is still more to do. "People are expecting more from their government and from each other…but we are now able to move forward."
The Prime Minister continued by indicating he has the best team, "They have not let me down, and they have not let you down," pointed to major innovations like NHI, BAMSI and NTA – though there is room for more. He reaffirmed that new jobs were created across the country, with record levels of investment. On security, he said new courts and new anti-gang units have helped double conviction rates, as did strengthening of swift justice. All this, but there is still more to do. "We must keep going and we must go further."

AG THANKS DAME ALLEN FOR "VISIONARY LEADERSHIP"
Speaking at a special sitting of the Court of Appeal on Thursday of this week, Attorney General and Legal Affairs Minister Senator Allyson Maynard-Gibson thanked Appeals Court President Dame Anita Allen for her years of "visionary leadership" as president of the Court of Appeal.  
"When you became President you enunciated a vision that included the expansion of Court of Appeal facilities, greater use of technology and streamlining of this Court's processes. We stand here today in one of 3 courts that now exist in the Court of Appeal (up from 1 in 2012)" said the Attorney General as she paid tribute to the Dame.
Highlighting some of the accomplishments of the judiciary, Mrs. Maynard-Gibson pointed to the concurrent sitting of 10 criminal courts; 114 more matters disposed of in 2015 than in 2012; and a doubling of the conviction rate from 31% in 2012 to 66% in 2016 (with the conviction rate for murder being 72% in 2016)."
The Attorney General also hailed Justice Allen's defense of the judiciary's integrity, indicating that in 2014, Allen cautioned that "concomitant with judicial independence is judicial accountability", and that the judiciary must be as "punctilious" about its accountability to the Bahamian people as it is about "asserting its independence."
ENHANCED BAHAMAS E-PASSPORT SYSTEM GOES LIVE
Canadian Bank Note (CBN), the company awarded the $18 million contract to produce a comprehensive border management system, was in Nassau this week to launch the new security enhanced e-passport system. The press conference was held at the Passport Office on Thursday of this week.
Foreign Affairs Minister the Hon. Fred Mitchell who has responsibility for passports promised improved customer service generally as the department moves to expedite the backlog of passport applications.
CBN representatives said the new laser based system can generate fifty passports per hour and can facilitate an application in five to eight days. There is a mobile facility that will move through the family of islands, meeting the needs of Bahamians there. Additionally, the team of seventy-two will make house calls for senior citizens and other Bahamians with physical mobility issues.
There are still 29,000 Bahamian passport holders with hand-written passports who are urged to upgrade their travel documents to e-passports. Current e-passport holders are not affected by this new roll out – they are fine until the expiration date and the fees remain unchanged. 
NEW BOARD FOR BAHAMAS CIVIL AVIATION AUTHORITY NAMED
On Friday the Minister of Transport & Aviation, the Hon. Glenys Hanna Martin announced the appointment of three distinguished Bahamians to the Board of the Bahamas Civil Aviation Authority.
"The principal functions of the Board will be to develop policies, and to give general directions on the implementation and achievement of the objectives of the newly-formed Bahamas Civil Aviation Authority (BCAA) and the Bahamas Air Navigation Services Division" said the Ministry in a press statement.
The board will be chaired by thirty-eight year banking veteran Mrs. Wendy Craigg CBE, former Governor and Chairman of the Board of the Central Bank of The Bahamas.
The two remaining board appointees include attorney and aviation legal expert Mr. Michael Allen of Higgs and Johnson law firm and industry veteran and former owner of SkyBahamas Limited the Rev. Heuter Rolle, currently the pastor of Salem Union Baptist Church. 
Minister Hanna Martin offered high praise for this "distinguished team of professional Bahamian trailblazers," expressing confidence that the team will "serve with distinction, in ensuring the necessary regulatory oversight of the aviation sector, and the continued development of air navigation services in the country."  
In Passing…
Seeking to energize supporters ahead of national convention, Prime Minister Christie last Sunday declared that his administration has created nearly 32,000 jobs this term. Mr. Christie said the figure was supported by data released from the Department of Statistics, and evidenced that the country was on the path to recovery notwithstanding the devastation wrought by two major hurricanes.  
The Bahamas "does not tolerate" tax crimes and "cannot operate in isolation from rest of the world" in financial services said Minister of Financial Services Hope Strachan, warning that it must respond to evolving international regulatory standards if it is to remain competitive. She also said that the country will remain compliant. She was responding to an AP article.
Former Deputy Police Commissioner Marvin Dames Monday called on the Government to install metal detectors in every junior and senior high school and have all students screened in the wake of a stabbing at Government High School. In responding, Southwestern District Superintendent Julian Anderson said he did not believe that would arrest the problem permeating on school campuses.
Following an altercation at Government High School last week that resulted in one student being stabbed and two others injured, FNM candidate for Montagu Dionisio D'Aguilar yesterday suggested public schools be removed from government responsibility and placed under private control.
Qualified residents in Mayaguana will receive their Visa prepaid cards by February 3, 2017, Minister of Social Services and Community Development Melanie Griffin announced on January 20, at a Department of Social Services motivational seminar at Church of God Auditorium.
The Valley Boys Junkanoo group plans to take legal action against the Junkanoo Corporation of New Providence (JCNP) over the change in the 2017 New Year's Junkanoo Parade results, after the Roots Junkanoo group was declared the official winner of that event.
Police Commissioner Greenslade has denied claims that Thursday's (19th January) stabbing incident at Government High School was linked to gang-related activities, insisting that the students involved were "wannabes".
The Government has committed $2.5 million to speeding up repairs on Freeport's Memories resort, with its operator part of a potential $110 million bid to acquire the Grand Lucayan property. Obie Wilchcombe, Minister of Tourism, confirmed the size of the government (taxpayer) investment in accelerating Memories' reopening during a brief interview with Tribune Business Sunday.
The Government's revamped mortgage relief program has assisted 350 Bahamian homeowners since it was reintroduced, Prime Minister Christie revealed yesterday. With less than five months until the next general election, Mr. Christie said this facet of the Government's program reduced the homeowners' monthly payments by 25 per cent making them now affordable – where they were once unmanageable.
Transport and Aviation Minister Hanna-Martin on Monday refuted assertions that accused the PLP government of being responsible for the country's loss of millions of dollars in overflight fees, charging that The Tribune is engaging in "fake news" and a "perverse misrepresentation of the facts."
The University of the Bahamas (UB) is moving to expand its consultancy and research capacity, a top official said yesterday, adding that its Government and Public Policy Institute will be launched in the next few weeks.
Simon Townsend of KPMG (Bahamas) partner urged the Government on Monday to privatize management of its 100 public health clinics, opining that there was "no reason" for the government-owned clinics to be managed and operated as they are currently.
Responding to complaints from Alfred Sears that he was being shut out at convention, PLP Trustee Valentine Grimes yesterday said "no candidate" is allowed to speak at the party's convention this week.
Prime Minister Christie promised on Monday to introduce more relief for struggling Bahamian homeowners before his administration's term in office expires, as he touted the revised Mortgage Relief Plan for assisting 350 borrowers to-date. He also revealed that the Government has approved $8 billion in tourism projects that will eventually create 15,000 new jobs in the country. Speaking at the annual Bahamas Business Outlook, Christie outlined several development projects that his administration has entered into that will boost employment numbers in the country. He also pledged that NHI will be a "positive boost" to the Bahamian economy, saying this was supported by a recently-completed study from the Government's KPMG consultants.
Bahamasair Chairman Valentine Grimes shot down questioning on whether taxpayers were footing the bill for PLP supporters travelling on the airline to attend the ratification of Prime Minister Christie and others last week.
The financial services industry was said to be in the "initial stages" of determining whether The Bahamas' 'no tax' model and "closed Bar" provide the best platform for ensuring its survival.
Baha Mar's new owner on Monday said it had finalized an agreement for Grand Hyatt to manage 1,800 rooms at two of its hotels, adding that its acquisition of the project was "not a one-shot opportunity".  
FNM MP Edison Key, one of the "rebel" seven Opposition MPs, declared he was "done and finished" with the FNM, while praising the governing PLP as an organization with a strong base that seemed to be doing "good things." He attended the 52nd PLP convention.
Official Opposition Leader Butler-Turner yesterday confirmed that she will run in Long Island as an independent candidate.
Prime Minister Christie last night dismissed concerns from leadership challenger Alfred Sears, QC, that the deck has been stacked against him at the PLP's convention, telling The Tribune that the former attorney general has had more time to canvass party delegates that he has. 
Kenred Dorsett, Minister of Environment, Tuesday admitted that while the Bahamas may have been "slow out of the gate" on renewable energy, it was not moving aggressively to close the gap.
In an attempt to silence repeated calls for the Government to detail exactly how VAT revenue has been spent since its implementation in 2015, Minister of State for Finance Michael Halkitis provided a breakdown of what he claimed was the Government's use of the money when he addressed the PLP convention Tuesday night.
Deputy Prime Minister Philip Davis said Tuesday night he is grateful for the trust and confidence the party and its leader, Prime Minister Christie, have reposed in him and he is privileged to serve as deputy leader, contending that in the PLP "we ain't like the other side."
Labor Minister Shane Gibson Tuesday defended Prime Minister Christie's announcement that the Christie administration created 32,000 jobs this term. Amid criticisms that the figures were exaggerated, Gibson said people are quick to question the accuracy of the Department of Statistics whenever it shows improvement made by the Christie administration.
The Government has warned almost three years ago that most Family Island airports could not continue operating as they were, and that "significant attention" was needed to address multiple deficiencies. A report by the consultancy group, Stantec, says it delivered "a strong message" to the Government and key aviation industry stakeholders on April 30, 2014, when it presented its initial technical assessments on some of the 28 airport facilities.
CEO and Executive Director of the Bahamas Financial Services Board (BFSB) Tanya McCartney said that efforts made to implement the common reporting standard in 2018 along with other compliance regimes should lessen the risk of The Bahamas by the European Union.
Prime Minister Christie suggested Wednesday that he is not yet ready to set an election date, telling The Tribune shortly after being re-elected party leader that the pace of voter registration was still too slow.
Former FNM Cabinet Minister Phenton Neymour suggested that he was denied the nomination to run as the party's candidate for Exuma in the upcoming general election because of FNM Leader Dr. Minnis' attempts to purge the party of those individuals who served under the previous Ingraham administration.
Foreign Affairs and Immigration Minister Fred Mitchell Wednesday night promised that the PLP would triple the country's immigration force, expanding it from "300 to 900" in the next term if elected. The Foreign Minister also delivered a scathing speech about Fred Smith, QC, and his organization, including Save The Bays (STB), urging the House of Assembly's Committee on Privilege to investigate its funding and activities, insisting "this is a matter of this PLP's survival".
Minister of Education Jerome Fitzgerald touted the PLP's record on education over the last four and a half years, boasting that the government doubled the investment in scholarships, overseen the transition of The College of the Bahamas to a revered university and spent more than $6 million to modernize the learning tools in public schools throughout the country.
The Inter-American Development Bank (IDB) has approved a $35m loan designed to improve infrastructure at four airports on the Family Islands. According to a press release from the IDB, the loan will contribute to the archipelago's regional and international integration through upgrades at the airports of Exuma, North Eleuthera and two in Abaco: Marsh Harbour and Treasure Cay.
The Bahamas was rated as being least corrupt in the Caribbean Community (Caricom), according to the latest figures released by Transparency International on Wednesday.
Court of Appeal President Justice Dame Anita Allen on Thursday boasted a 70 percent completion of more than 1,700 appeals since her appointment to the post in November 2010. Speaking to members of the judiciary and other guests during the annual special sitting of the Court of Appeal, Dame Anita revealed that it would be her last as she confirmed that she is set to retire from the bench in December.
Attorneys for Prime Minister Christie have filed a motion in the Supreme Court asking that Justice Rhonda Bain recuse herself from hearing an ongoing judicial review into allegations that Lyford Cay resident Peter Nygard illegally increased the size of his property. 
One of the country's top judges has commended the executive for creating the reality of the Office of Public Defender, which she had called for as early as four years ago. The Office of the Public Defender was officially opened on January 19 and was part of a $20m Citizen Security and Justice Programme loan facilitated by the IDB.
Trade Union leaders Thursday slammed the Government's proposal to create a legal impediment to strike polls as "taking the labor movement back to pre-1942". Obie Ferguson and Bernard Evans were united in their "vehement opposition" to the proposed Industrial Relations Act amendment. 
Nurses at several clinics in The Bahamas called in sick Thursday after becoming "fed up" with the Government's failure to address several longstanding issues, according to Bahamas Nurses Union (BNU) President Amancha Williams.
After receiving a petition signed by over 100 customs officers requesting they be paid money agreed to by the Bahamas Customs and Immigration Allied Workers Union (BCIAWU), Labour Minister Shane Gibson said yesterday that he has recommended that the officers be paid, despite the union's failure to conclude and sign an industrial agreement.