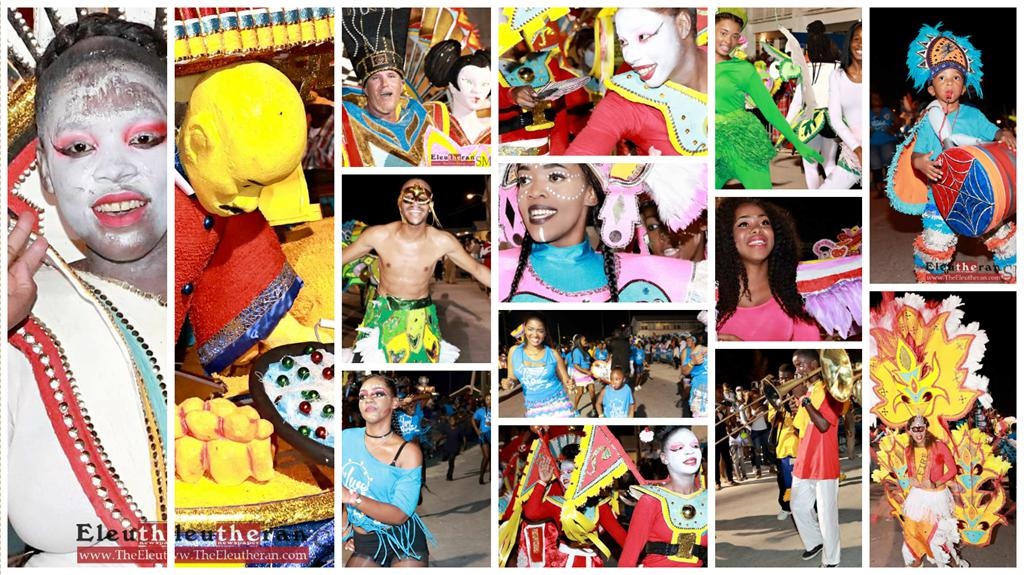 Five colourful groups from all ends of the island were brought together in a very enjoyable, energy filled junkanoo parade competition on Saturday evening, January 7th at The Eleuthera Junkanoo Festival, hosted in Governor's Harbour during the weekend leading into the Majority Rule Day holiday, by the Governor's Harbour Cultural & Community Organization (GHCCO) and sponsored by BTC.
Local Eleutherans as well as tourists on island were out in full force in support of the Junkanoo Parade, demonstrating an island wide appreciation of this unique facet of Bahamian culture.
Competing groups included the Harbour Island Warriors from North Eleuthera, the Savannah Sound Lucayans and the Harbour Boys from Central Eleuthera, as well as the Tarpum Bay Unity Builders and Rock Sound's New Vision out of South Eleuthera.  The Lucayans and the Unity Builders were smaller groups with fewer costumes, however the music and energy of the performance made up for what they didn't have in size.
The three larger groups – Warriors, Harbour Boys and New Vision, each brought a wonderful variety of junkanoo costume creations, including dance troupe performances, individual dancers, off the shoulder costume pieces, standalone pieces, and banners.  Design and craftsmanship demonstrated were impressive and original themes ranged from the ancient Aztecs, to Chinese culture and Christian religious expression.  In the end, the Warriors claimed the top spot with their high quality mix of beautiful costuming, music, dance and thematic presentation.  Following them in second were the New Vision.  In third were the Harbour Boys, followed by the Lucayans and the Unity Builders.
A key organizer with the GHCCO commented after the event, saying, "This weekend was phenomenal for the patrons and participants!  Next year we hope to have even more avenues for others to experience what we have to offer here by way of participation or by simply being an active bystander.  Overall we hope to exceed everything that has been done so far!"
Overall Results: 1st – Harbour Island Warriors – 1188; 2nd – Rock Sound New Vision – 979; 3rd – GH Harbour Boys – 959; 4th – Savannah Sound Lucayans – 474; 5th – Tarpum Bay Unity Builders – 422
IMAGE GALLERY
 Hundreds of  pictures in the 5 categories.
(Click the gallery category at the top to load specific galleries, click photos to enlarge, click top icon on popup to enlarge even more.)