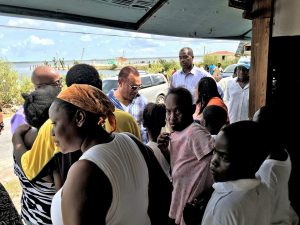 NASSAU, The Bahamas – The National Emergency Management Agency, NEMA, is conducting an Initial Situation Overview (ISO) of the areas mostly impacted by  the powerful Hurricane Matthew.
On Saturday morning, October 8, 2016, the team, onboard a Bahamasair charter flight, went to Lowe Sound, in North Andros and then Grand Bahama, the areas hardest by the Category 4 storm with winds up to 140-mph.  Another flight, Pineapple Air took essential supplies such as baby items, canned goods and water into North Andros.
The team comprises: The Rt Hon Perry Christie, Prime Minister; The Hon Dr Hubert Minnis, Leader of the Official Opposition; Captain Stephen Russell, Director, NEMA; the Hon Shane Gibson, Minister of Housing, the Hon Melanie Gibson, Minister of Social Services, the Hon Alison Maynard-Gibson, Attorney General; the Hon Jerome Fitzgerald, Minister of Education, Science and Technology;  Creswell Sturrup, Permanent Secretary, Office of the Prime Minister; Jack Thompson, Permanent Secretary; Commodore Tellis Bethel, Commander of the Royal Bahamas Defence Force; Lillian Quant-Forbes, Director of Social Services, George Hutchinson, Director, Ministry of Works & Urban Development officials from the Bahamas Environment Educational Foundation (BREEF), the National Repair and Reconstruction Unit (NRRU);   Archbishop Patrick Pinder, Catholic Diocese of Nassau; Bishop Laish Boyd, Anglican Diocese of The Bahamas and the Turks and Caicos Islands, Rev Randford Patterson, President, Bahamas Christian Council, other members of the clergy, BTC, BPL and other technical and infrastructural officials, psychologists, the media and other officials.
This team will quickly assess the damage of infrastructure, see how many people are displaced and inspect critical facilities with a view to how quickly life can be restored to some sense of normalcy.
NEMA has also mobilized officials to the most significantly impacted areas on New Providence, specifically Marshall Road, Misty Gardens, Pastel Gardens and other areas along the south and southwestern shores to assess damage and to make recommendations to the Government regarding relief, recovery and reconstruction.
This important assessment process allows NEMA to understand the greatest needs of residents and recommend the most effective strategies for further recovery mobilization.
This process, also allows NEMA to properly advise the Government on the level of damage and the need for an Exigency Order to be granted to allow Bahamians to replace their supplies, duty free for designated period.