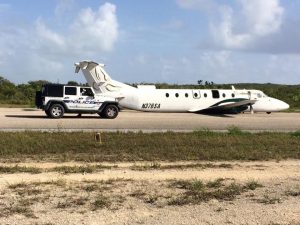 (Long Island, Bahamas) – A Southern Air flight from Nassau to  Long Island crash-landed on the airport in Deadman's Cay, with its landing gear not deployed.  
According to the Civil Aviation Department (CAD), none of the 11 people on board the aircraft were injured during the incident.
CAD released the following statement on Saturday October 1, 2016:
On September 30, 2016 at approximately 10:00 am the Air Accident Investigation Unit of the Civil Aviation Department was notified about an incident involving Southern Air Charter Limited; a Certificated Bahamas Air Operator Certificate Holder
 Reports received indicated that aircraft N376SA landed with its gears in the up position. Reports also indicated there were eleven [11] souls on board – 9 passengers and 2 pilots – at the time of the occurrence. No injuries occurred to occupants of the aircraft. Due to the position of the occurrence, the only main runway and hence the airport was closed for several hours. The flight originated in Nassau. The airport has since been reopened. The Accident Investigation Unit is currently investigating this occurrence. Further information will be forthcoming when it is available.