Update, Sept 16th, 2018 : MURDER SUSPECT TO BE ARRAIGNED
POLICE are pleased to announce that an adult male will be arraigned in Magistrate Court at 1:00pm on Monday, 17th September, 2018 in connection with a murder investigation. A 48 year old male will be arraigned on a charge of murder, in connection with the death of Police Inspector Carlis Blatch, who was killed on Wednesday, 12th September, 2018, while at Dolphin Drive. The Royal Bahamas Police Force thanks members of the public for assisting with information, which has led to the arrest of a suspect in this matter. We are encouraged by your support and ask that you continue to partner with us as we work diligently to create safer communities.
-end-
Initial Report: Sep 13, 2018
(Nassau, Bahamas)  The Ministry of National Security on Wednesday night, September 12th, 2018, confirmed that an island-wide manhunt is underway for the gunman in Wednesday's murder of Inspector Carlis Blatch. Ministry officials said: "We are appealing to the public to come forward with any information they may have, no matter how small it may be, to help us in solving this horrific murder.
"These kinds of senseless killings remind us that we still have far to go in the fight against violent crime, and our thoughts and prayers are with the family and loved ones of Inspector Blatch, who are left to try to understand this tragic incident.
"The Ministry once again appeals to residents to contact a police station with any information they might have or to contact Crimestoppers on 328-TIPS."
FROM THE RBPF
POLICE have launched an intensive manhunt for the male responsible for the fatal shooting of a Police Inspector, Wednesday, 12th September, 2018. Reports are that around 3:00pm, the Inspector, who has been identified as Carlis Blatch, was sitting in a vehicle along with his daughter, in the vicinity of a Junior High School, in the western district of New Providence, when he was approached by a male armed with a firearm, who ordered him out of his vehicle. As the officer was exiting the vehicle, the gunman shot him, got into the vehicle and drove away. Inspector Blatch was transported to Hospital by Paramedics and later pronounced dead. His daughter was able to escape from the vehicle unharmed. A short time later, the Officer's vehicle was recovered on Trelawny Garden off Farrington Road.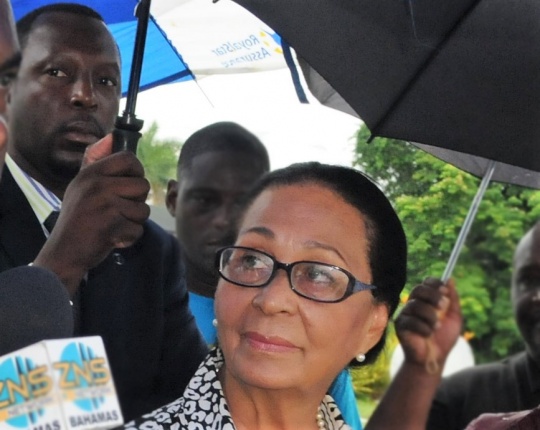 STATEMENT FROM THE OFFICE OF THE GOVERNOR-GENERAL
Her Excellency, the Governor-General,Dame Marguerite Pindling,  has been informed of the tragic death of Inspector Carlis Blatch, who has served as Aide-de-Camp (ADC) for the past four years. Her Excellency is deeply saddened by this event, inasmuch as Inspector Blatch worked very closely with her in all State matters.
The Governor-General particularly extends sincere sympathy to Mrs. Crystal Blatch and their children and wishes to assure them of her prayers during this time of their bereavement.
Inspector Blatch has been on the staff of the Governor-General for the past 14 years, serving with distinction as the officer in charge of protocol, then as ADC to the Governor-General. His service at Government House was marked by his expert understanding of the procedures which attend the affairs at Government House, and as ADC to the Governor-General. He always took great care to pass on his expertise to other staff, among whom he was highly regarded. His interactions with the public also made him respected and admired.
In light of this sudden and unfortunate event, the Office of the Governor-General has postponed the ceremonies of the award of Honours scheduled for Thursday 13th September. A new date will be set for these ceremonies shortly, and an official announcement will be made accordingly.