BY THE HON. LANISHA ROLLE, MINISTER OF YOUTH, SPORTS AND CULTURE
Bahamian cultural, legend, icon and warrior James Julius Catalyn passed away on Saturday August 18, 2018. He was 78 years old.
James Julius Catalyn was born on January 6th, 1940 in the Pond of East Shirley Street near to St. Matthews Parish to the late Theresa Elizabeth Major formerly of Roses Long Island. James received his education at the Sands School, the Worrell School and Eastern Senior School where he graduated in 1956. He began writing poetry and plays at the age of 16 years. His first major play was written in 1970, which he named 'Courtship'. He also wrote the 'Best Dressed Man', which he performed with Noel Hamilton at the Cabaret Theater. This play left a lasting impact upon the Bahamian public.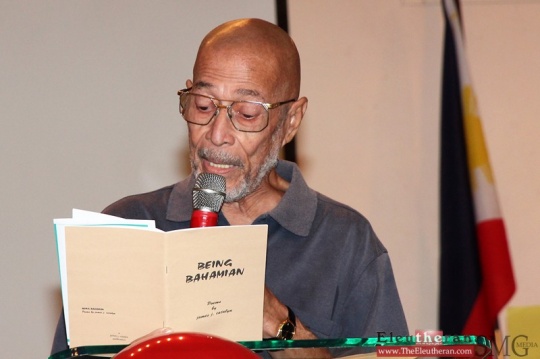 In August of 1968 he traveled with the National Dance School and Mrs. Shirley Hall Bass where he got his first international performance in a play called L'il Abner in Chicago, Illinois. They performed at the Harper's Court Theatre.
Mr. Catalyn was a playwright, actor, adjudicator, poet, producer, director and satirist among other things. He studied drama under the tutelage of the late Meta Davis Cumberbatch and the late B.E.A. Saunders. He also studied at the University of the West Indies Extra Mural Department, The Sammy Dyer School of Theatre and Stage One, both in Chicago Illinois.
Mr. Catalyn wrote political and social drama and poetry and used his writings to preserve the Bahamian dialect, which he termed 'Bahamianese'. He founded James Catalyn and Friends in 1979 and was immediately invited by ZNS to perform on a ZNS TV 13 weekly series. Mr. Catalyn's group traveled extensively both locally and internationally promoting Bahamian culture through his skits, plays and poetry.
Every year in June and September he performed two major productions at the Dundas Center for the Performing Arts. His September revue "Summer Madness" is well-established on the Bahamas' Cultural Calendar.
James was employed at the Ministry of Tourism for 32 years until he retired in 2000. He is considered to be one of the pillars of the Tourism industry. He has served as coordinator of the International Cultural Festival, and the adjudicator for the drama segment of the E. Clement Bethel National Arts Festival for many years.
Mr. Catalyn has had his finger on the pulse of Bahamian culture for decades writing about the uniqueness of who we are. He received his OBE in the Queen's 2016 New Year's Honours.
On behalf of the Government of The Bahamas, the Ministry of Youth, Sports and Culture and indeed the people of The Bahamas we offer our sincere condolences to his family, relatives, friends and many fans.
May his soul rest in peace.
Nassau, The Bahamas
August 19, 2018