The 'Seagillians' out of Spanish Wells continue to develop a strong tradition of cycling on the island, with their participation in another successful 100 mile tour across Eleuthera, on Saturday, May 26th, 2018.  Among the 45 riders peddling the rolling hills and long roads in this year's 4th Annual 'Tour De Lootra', were two sets of families who sported three generations of riders, namely;  the Albury's, headed by patriarch, Bill Albury, with his son Chad Albury, Chad's wife Marla and their son, Drake Albury and;  The Sawyer's family headed by patriarch, Rupert Sawyer, with his two sons Loren and Cassidy Sawyer, as well as Cassidy's son, Jamon.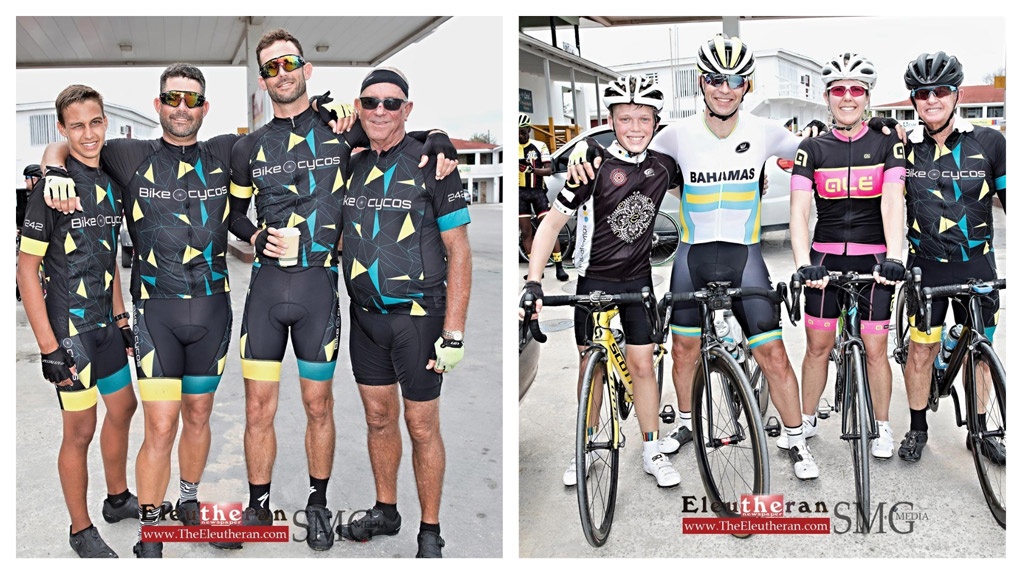 The group of riders left Cape Eleuthera during the early Saturday morning hours to cycle the 100-mile trek to Gene's Bay in this cycling event started by Chad Albury, an Eleutheran from Spanish Wells – an avid rider, who had competed internationally with the Bahamas National Cycling team for many years. This year's Tour took place with a twist, because of the weather, explained Chad, "Last week, the forecast was showing rain for today and 35mph winds, so I was really worried and thought that I may have had to cancel it." So, the course which for the past three years took riders south from Gene's Bay to Cape Eleuthera, was flipped. As a result, riders this year started out at Cape Eleuthera, heading ultimately for Gene's Bay in the north.
The weather turned out to not be too much of a hindrance, but the change was still favourable, said Chad, "It started looking better and better, dry and not raining… But, it was good that we changed it, because if we had been going south against today's 15 to 18-mile headwinds from the southeast, the ride would have gotten harder during the day, especially as winds picked up."
Next year, Chad sees the Tour continuing to grow, saying, "This was the fourth year of 'Tour De Lootra'. First year there were eight of us riders, that took the chance. The next year there were about twenty-two people. Last year there were 40 riders, and then there were 45 this year, so we are growing… The goal next year is to double our numbers, we want to have 50 Bahamians and 50 foreigners coming in for the ride." This year's group of riders came in from cycling clubs in Grand Bahama, New Providence, and Spanish Wells, as well as four riders from as far away as Canada.
Kenton Roker, a lecturer with BTVI in Grand Bahama, standing with two other teachers out of Freeport with the Grand Bahama cycling club – Sylvia Bateman and Ricardo Major, remarked during the group's midway break in Governor's Harbour, "It's a great event, and one of the things I like is the charity that they are dealing with – all the funds stay in Eleuthera, so the locals are benefitting from it, unlike some other events, where the money goes out." The local charity benefitting from this year's event was Pastor Frank Perry's 'Care Center' in Spanish Wells.
Commenting on what was her second 'Tour De Lootra' ride across Eleuthera's rolling hills, 20-year-old Antonice Simmons with the Enjoy cycling club in New Providence, said "The ride for me this year was more challenging, as there was less wind at my back, and a slower pace, but what we did before coming was some extra training going across the Nassau/Paradise Island bridge, in preparation for Eleuthera's hills." She was joined in Eleuthera by 13 other Enjoy cycling club members for the 2018 Tour.