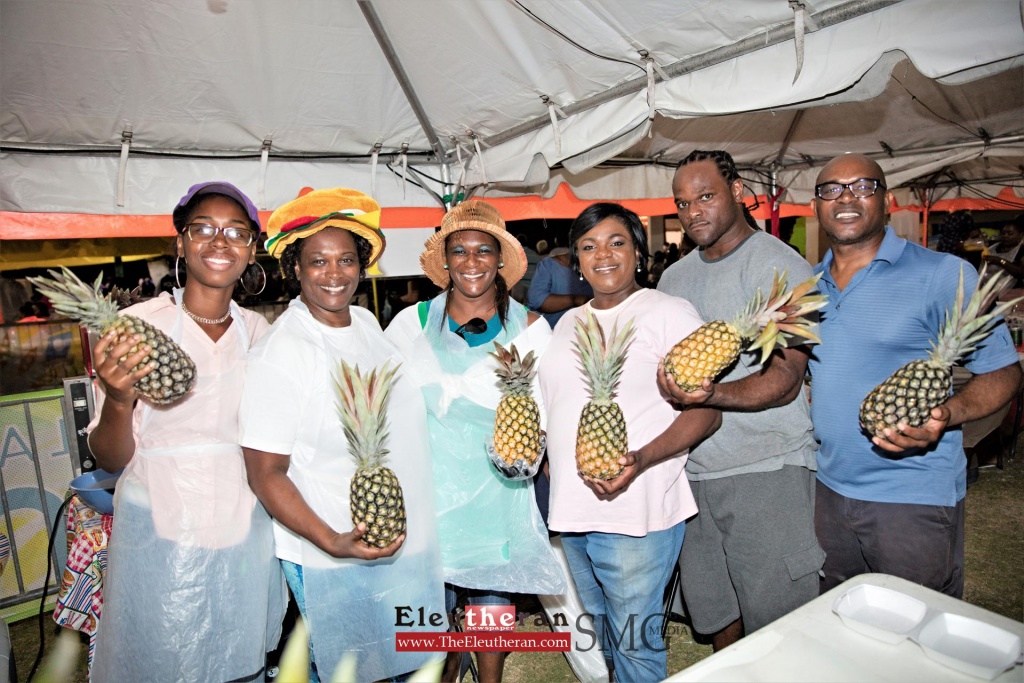 The 31st Annual Pineapple Festival, hosted this year in Gregory Town during the Sir Randol Fawkes Labour Day holiday weekend, from Thursday evening, May 31st, until Saturday, June 3rd, 2018, saw large crowds enjoying the exciting lineup of activities and entertainment.  A signature 'Summer Festivals' event by the Ministry of Tourism in Eleuthera, the Pineapple Fest has continued to make a strong come back, since its venue change three years ago.
The Eleuthera Ministry of Tourism team, led by Jacqueline Gibson, expressed that festival goers have responded in a very positive way to the site set up, now sporting four main quadrants in the comfortably grassed and enclosed site space.  The four main areas now encompass a 'kid's world', where children's games, snacks stands, bouncing castles and the like were placed together for children to enjoy throughout the weekend.  Food and drinks vendors, including those selling fresh pineapples and pineapple inspired dishes could be found in another section, with liquors and other spirits available altogether in another area of the park.
Gallery
A large tented spot with seating and picnic benches was strategically placed in the center of the Festival site, with a clear view of the entertainment stage, and all other surrounding areas, to comfortably enjoy food and drinks while taking in the Fest's ongoing evening activities and on-stage entertainment.  Near the Festival entrance, a group of local vendors showcasing native crafts and cottage lines, from creative straw-works, shell crafts, jewelry and paintings, to bush teas and luxurious native salt scrubs, could also be found for an authentic Bahamian shopping experience.
A large, professional stage and lighting set up was the focal point for this year's music entertainment by the Defence Force Pop band, and a bevy of Bahamian performing artists, like Veronica Bishop on Friday evening, followed up on Saturday by headliners Stileet and D-Mac.  Crowds also enjoyed performances by the Eleuthera Freedom Marching band, as well as Junkanoo rush-outs. Local fashion designer, Verda Gardiner, featured recycled fashion creations on Friday evening, to delight of onlookers, and Saturday's audience was treated to a comeback of the Junior Miss Pineapple pageant, which saw Ms. Neikeeleah Johnson of Hatchet Bay take home the winning title.
Freedom Marching Band