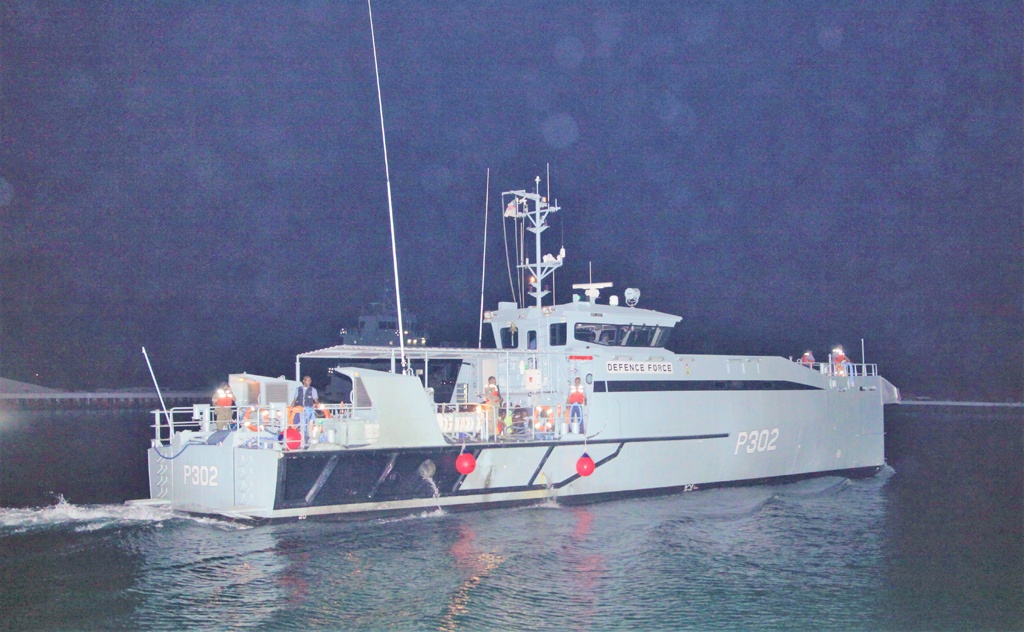 One day after they were apprehended by HMBS Cascarilla under the command of Lieutenant Commander Clinton Johnson, 89 Haitian Nationals were charged before the courts in Eleuthera on Thursday, March 29th for violation of the Immigration Act.
The 89 migrants (11 children, 14 females, and 64 males) who were apprehended in their vessel on Wednesday off Governor's Harbour, were charged with illegal landing (No children were charged before the Magistrates Court. Only adults over the age of 18 years were charged). They all pled guilty and were sentenced to conditional deportation. They were all deported directly to Haiti the same day.
An additional 2 Haitian nationals were also charged before the courts in Eleuthera after they were found in a 30-ft cabin cruiser off Half Moon Cay, located off San Salvador by the crew members of HMBS Cascarilla. One of them, Kevin Lafrance, did not have the proper document and was charged with Illegal landing. He was sentenced to 15 months in jail and would be deferred to Immigration Department for deportation after serving his time.  According to authorities he had spent three years living in the Bahamas illegally, with Abaco as the last known address.
The other Haitian national, Emilien Haly, confirmed as the owner of the vessel, who possessed a spousal permit, was charged with harbouring an illegal person. He was given a 1-year imprisonment term and a $3,000.00 fine. His vessel was also seized and confiscated. He was also a resident of Abaco.
Another Haitian national, Joseph Abram, who had been taken into custody in the Gregory Town area in Central Eleuthera on Tuesday morning, March 27th, was also charged before the courts in Eleuthera with illegal landing. He had resided illegally in the Bahamas for 6 months. He was sentenced to 9 months in jail. Chief Magistrate Joy Ann Ferguson Pratt presided over the court proceedings in Eleuthera.
The Interception: (Wednesday, March 28th)
Local authorities in Eleuthera reported that around 3:20 pm on Tuesday afternoon, March 27, 2018, an anonymous man contacted the Governor's Harbour Police Station by telephone. The man said that he was presently on a vessel off of the southern coast of Eleuthera, and that it was taking on water. He also told Police that the vessel had a number of Haitian immigrants on board.
As a result of the information, Chief Superintendent Stephen Adderley and a team of Police Officers, along with Chief Immigration Officer, Mrs. Shema Darling, traveled to South Eleuthera, where they conducted surveillance with negative results. Chief Superintendent Adderley contacted Operation Bahamas Turks and Caicos (OPBAT) and the Royal Bahamas Defence Force, and requested their assistance in conducting aerial and sea searches.
Sometime after 9pm on Tuesday evening, the U.S. Coast Guard fixed wing spotter aircraft was able to locate the vessel. As a result the Royal Bahamas Defence Force vessel, HMBS Cascarilla under the command of Lieutenant Commander Clinton Johnson proceeded to the area.
The HMBS Cascarilla intercepted the craft, which was an American sailing vessel during the early morning hours on Wednesday, March 28th, 2018, approximately 16 nautical miles southwest of Governor's Harbour. Eighty nine (89) undocumented Haitian immigrants were reported to have been on board the vessel.
Chief Superintendent Adderley, shortly after 9am on Wednesday morning, confirmed that the immigrants taken into custody were being transferred to Rock Sound, South Eleuthera, where they would be processed by Immigration authorities, and charged before the magistrate in Eleuthera before their repatriation to Haiti.
The Defence Force said that they have increased their monitoring and patrolling efforts in the Southern Bahamas, which is considered a gateway for much of the illegal activity that takes place within the Bahamas' borders. Migrants, they said, are using a variety of means to transit Bahamian waters, including traditional sailing sloops, smaller conventional sailing yachts, and motorized go fasts with collapsible sails.
For the year to date, 281 migrants have been apprehended, with two arrests made consecutively near Inagua on March 11th, another 69 apprehended off Long Island in January and the over 20 that were arrested after they came ashore in Marshall Road.
Immigration authorities in Eleuthera further reported on Wednesday morning that another smaller vessel in distress near Half Moon Cay with two people of Haitian nationality on board had been taken into custody. Also, during regular patrols on island on Tuesday morning, one additional undocumented Haitian immigrant had been arrested in Gregory Town. Immigration authorities reported a total of 92 people in custody on Wednesday morning.