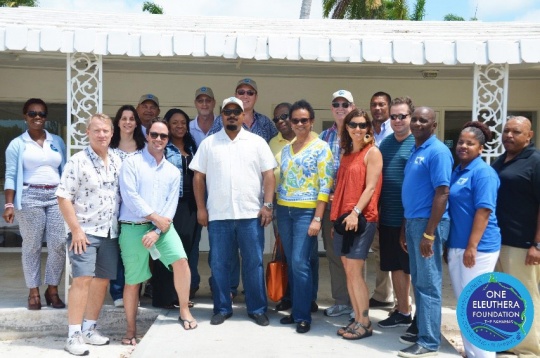 Eleuthera, Bahamas– Twelve members of the Young Presidents Organization (YPO) Bahamas Chapter visited Eleuthera during the weekend of May 20, 2017. YPO is a nonprofit organization that is a World Premier peer network comprised of Chief Executives and Business Leaders. The YPO global network is said to 'empower' more than 24,000 members representing over 130 countries to encourage and inspire growth and impact in businesses and the community at large. Their core mission is 'Better Leaders through Lifelong Learning and Idea Exchange'.
The group of business persons visited Eleuthera with the intention of learning more about various projects of interest on Eleuthera. Their first stop was the Centre for Training and Innovation (CTI), which is just three minutes north of the Rock Sound Airport. Once on property, the group enjoyed breakfast while in discussions with One Eleuthera Foundation's (OEF) CEO, Shaun Ingraham and other personnel.
One Eleuthera Foundation is a nonprofit organization that invests in organizations, projects, initiatives and programs with a common goal of strengthening Eleuthera's communities and empowering its people. In OEF's Shared Vision its 5 focus areas include Economic Development, Cultural and Heritage Development, Health and Wellness, Partners in Education and Environmental Protection.
Under the One Eleuthera umbrella is the Centre for Training and Innovation (CTI). Over the past 18 months, 60 students have been enrolled in a 'Learn and Earn Program'. Students are given the opportunity to learn a trade while they earn a wage/stipend. Areas of study include Housekeeping and Front Desk Operations, Plumbing, Carpentry, Electrical and Landscaping.  With an aim of improving food security, sustainable agriculture and affordability of produce on the island of Eleuthera, the program also has an agricultural component with an active farm, an objective of the One Eleuthera Shared Vision.  CTI seeks to expand in the not too distant future into the agri-tourism market. It should be noted that CTI is now the only training hotel in the country.
The YPO group visited the site to hear firsthand about the projects and to explore opportunities for future successes. The CEO of OEF, Shaun Ingraham, Errol McPhee CEO of CTI, along with others from the programs shared updates on the projects from inception to present with the visiting group. The interaction was enlightening for all and the visit ended with a tour of the CTI property given by CTI's student guides.
Shaun Ingraham, CEO of OEF stated, " As a startup enterprise it was an honour to present to and be examined by some of the smartest minds and most successful business leaders in the Bahamas. It was invigorating and gave us great ideas on how we can strengthen our model."
Rafique Symonette, YPO Bahamas member, said, "One Eleuthera Foundation was an inspiration in terms of the future of where non-profits should go in the Bahamas".
Patricia Hermanns, also a YPO member stated, "The visit was an eye opener. It was certainly very educational in terms of the work that's being done down there in Eleuthera".